About Zoho Campaigns
Zoho Campaigns is a cloud-based email marketing and SMS marketing software from Zoho's suite of applications. This product enables businesses to reach out and engage with their customers by automating the marketing process, from the creation of custom email-based and SMS campaigns to maintaining and segregating lists for sending, automating, and analyzing emails and SMS. Zoho Campaigns lets users create email campaigns using either pre-defined or customized templates. The system features mass mailing to lists, including the tracking and reporting of emails and SMS campaigns to improve audience engagement. Zoho Campaigns provides integration with third-party applications like Sugar CRM, SurveyMonkey, GoToWebinar, etc. It also provides integration with in-house applications like Zoho CRM, Zoho Meeting, Zoho Survey, Bigin by Zoho CRM, etc. Users can share their campaigns on social media platforms. Zoho offers a forever free plan where 6000 emails can be sent to 2000 contacts. Other plans are Professional, Standard, and Pay-as-you-go pricing plans. Moreover, support is offered via phone, email, and live chat. Now mix your marketing efforts with SMS and email marketing since Zoho Campaigns provides its own gateway for sending out SMS. Broaden your reach by sending short messages to your contacts. Zoho Campaigns' own gateway helps you send messages without even having any third-party integrations.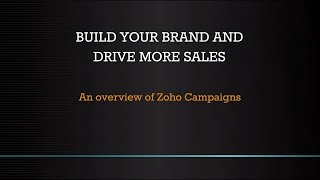 Zoho Campaigns has a free version and offers a free trial. Zoho Campaigns paid version starts at €4.00/month.
Starting Price:
€4.00/month
Alternatives to Zoho Campaigns
Industry: Information Technology & Services
Company size: 201–500 Employees
Used

Weekly

for

1+ year

Review Source
---
Simplest way to stay connected with all your customers
Zoho Campaigns can easily integrate with other Zoho apps which allows for centralizing all our work. This improves our overall working efficiency
Pros
It is very easy to design and schedule email campaigns using Zoho campaigns. The reports are very much extensive which enables us to draw very cool and in-depth insights. Also loading contact lists and segmenting them is pretty awesome and easy.
Cons
Honestly, I do not have any dislike for Zoho Campaigns
Reasons for Choosing Zoho Campaigns
More features were required
Industry: Biotechnology
Company size: 5,001–10,000 Employees
Used

Weekly

for

1+ year

Review Source
---
Best option email marketing for small business
Wide verity of options available in the tool and their constant improvement of the product. I can campare the tool which I was using in 2009 and the difference now. There are more in terms of features introduced and look and feel of the platform has been changed a lot. This is one of the best Indian based platform for small and medium business
Pros
Continues improvement of the product and more number of features available to manage your email marketing campaigns. the ability to test the dynamic content is one of the good feature they added to the list. Predefined automation flow which sync with CRM toll is one of the great feature.
Cons
Sometime, the platform runs slow. It's really pain to manage when it perform very slow. Some of the templates looks good on the platform where as the same have issues. Specifically the compatibility across multiple email platforms need to be improved.
Reasons for Choosing Zoho Campaigns
We used to face the campaign get block and reason they state as spam. It get hold for some time and we used to connect with support team multiple time.
Reasons for Switching to Zoho Campaigns
We started used way back in 2007. That time we used to have all the features for free and Zoho is the first option use to chose and also we were using Zoho CRM before we start using the campaigns.
Industry: Marketing & Advertising
Company size: 5,001–10,000 Employees
Used

Weekly

for

1+ year

Review Source
---
An Effective Tool for Automated Email Marketing
My overall experience with Zoho Campaigns has been positive. I found the platform to be user-friendly and easy to navigate. I was able to quickly get up and running with the platform, as it offers helpful tutorials and support. I appreciated the automation features, which enabled me to save time and increase efficiency. I also found the reporting and analytics to be useful in tracking the performance of my campaigns. That being said, I did find the design options to be limited and the price to be a bit higher than some of its competitors.
Pros
1. Automation Capabilities: Zoho Campaigns offers triggers and scheduled emails, allowing users to increase efficiency by automating their campaigns.2. Connectivity: With Zoho Campaigns, users can sync data across their entire organization, as it integrates with a variety of third-party apps, such as Salesforce and Google Analytics.3. Detailed Reports: The platform provides users with in-depth reporting and analytics to track the performance of their campaigns.4. A/B Testing: Zoho Campaigns enables users to compare different versions of their emails to determine which performs the best.5. Mobile Optimization: Zoho Campaigns emails have been optimized for mobile devices, so that recipients can view them clearly on their phones or tablets.
Cons
1. Contact List Limitations: Zoho Campaigns does not support contact list imports from external sources.2. Design Restrictions: The platform does not offer a wide range of design options, which may reduce the creativity of users.3. Automation Limitations: Depending on the size of a user's contact list, the automation capabilities of Zoho Campaigns may be limited.4. Limited Support: Zoho Campaigns does not offer telephone support, making it difficult for users to get assistance quickly.
Industry: Media Production
Company size: 2–10 Employees
Used

Daily

for

6-12 months

Review Source
---
I feel like I'm a beta tester.
Clunky, slow and an overall terrible user experience.
From a distance, it looks shiny with a ton of functionality. But when you actually start using it, you'll see a myiad of small aesthetics that don't look right (loading bar doesn't extend full width, loading dots are blurred) and the loading times are among the slowest for any software I've ever used.
Now all of those things are OK, because functionality is what matters the most, right?
This would be true if the functionality of the platform actually worked as intended. We've run into issues like:
-Duplicating a workflow gets stuck and never duplicates. The bug required Zoho team to fix it on their side which took 3-5 business days.
-Changing a font color for an HTML email doesn't work. You'll see the updated font color in the HTML code, and in the email preview you will see the font color you want. But when you send the email, the font color is almost always wrong.
-Their simple condition filter in their workflow component didn't work originally. I had to speak to their engineering team twice to show them the problem, and then they fixed it 5 days later.
The list goes on and on. I wish this program just worked and I didn't have to write this review.
The one good thing about this software is that their customer service team is very responsive, and they normally fix the problems. But again, I feel like I'm a beta tester working with them through all of these bugs.
I don't recommend this software to anyone.
Pros
Campains has a lot of features out of the box and is a very affordable option for startups looking for an email solution.
Cons
This entire platform is riddled with bugs, quirks, and errors that make your job so much harder. When things don't work, you normally assume you're doing it wrong with most software. Not with Zoho Campaigns.
When things don't work, it's most likely broken on their side. 3 months into using this software every day, and we've already reported 3 different instances where their software was not working as intended.
If I was getting this software for free, that would be OK. But since we're paying hundreds of dollars each month to use it, this is not acceptable.
Reasons for Switching to Zoho Campaigns
Because campaigns was cheaper and had similar functionality. Plus, we are using Zoho CRM so we wanted the two programs to have a seamless sync.
Industry: Leisure, Travel & Tourism
Company size: 201–500 Employees
Used

Daily

for

2+ years

Review Source
---
Great tool to create professional emails
Pros
The interface is user friendly and allows you to create nice email without having to be tech savvy