About Zoho CRM
Zoho CRM is a cloud-based business management platform that caters to businesses of all sizes. It offers sales and marketing automation tools with helpdesk, analytics and customer support functions. Zoho CRM helps users respond to customers across channels in real-time. Zia, Zoho CRM's AI-powered sales assistant, can predict an appropriate time to contact customers. It scans emails for urgency and can display relevant statistics or documents when performing searches. Users can integrate with G Suite, WordPress, MailChimp, Evernote, Unbounce and other third-party systems. Zoho CRM's software development kits provide tools to build custom functions to add to the CRM. Zoho CRM is available on monthly or annual subscriptions and support is extended via phone, email, documentation and other online measures.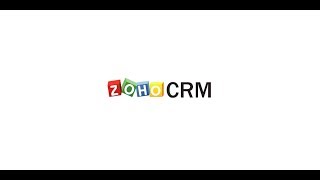 Zoho CRM has a free version and offers a free trial. Zoho CRM paid version starts at US$20.00/month.
Starting Price:
US$20.00/month
Industry: Information Technology & Services
Company size: 11–50 Employees
Used

Monthly

for

2+ years

Review Source
---
A CRM for the Masses
Overall, I would strongly recommend ANY business to try it out. Check out the free version and you'll still get a lot of value out of it.
Their Paid versions are absolutely worth it.
We started off with a Free version and then graduated into 3 Pro Users and it was a great experience.
The Customer Support Team is EXCELLENT and they really spend the time with you to get you up and running and will offer other real-world examples. I feel they really want their product to work so they're dedicated in assisting even the novice amongst us.
Pros
This is a very low-cost CRM for Small Businesses that are interested in tying out to see if this can really work for them.
It beautifully and seamlessly integrates with Outlook and you can use ZohoCRM for most (if not all) your communications with clients and prospects.
The interface is easy to understand and you can get most things done intuitively.
Cons
Extracting out a list of all your prospects/customers into ONE Excel sheet became a painful experience because as simple as we assumed it to be it actually become fairly cumbersome. Maybe we didn't have the in-depth experience.
Reasons for Choosing Zoho CRM
Dynamics CRM was just too HUGE and complicated. So was Salesforce. I feel those Enterprise CRMs rely on hiring a team to work out the operational logistics and create their dream-CRM from scratch. Zoho had so much out-of-the-box. THAT truly won us over.
Reasons for Switching to Zoho CRM
Zoho was just way simpler to implement and launch. We literally started working on it on day One.
Industry: Marketing & Advertising
Company size: 501–1,000 Employees
Used

Daily

for

6-12 months

Review Source
---
"Streamlining Your Business with Zoho CRM: A Comprehensive and Customizable Platform for...
Particularly for managing leads and clients, Zoho CRM offers a platform that is highly flexible and packed with features. Users can manage their prospects and move them through the sales funnel more easily because to the platform's automation, lead scoring, and lead nurturing tools. Also, users who need to swiftly follow up on leads from various sources frequently choose Zoho CRM because to its interfaces with other software platforms and real-time notifications.Despite the many advantages of Zoho's software products, there are certain drawbacks to be aware of, including a learning curve, restricted reporting options, and email campaign management tools that might not be as sophisticated as those of some rivals. Furthermore, certain users could find the support limits difficult.Overall, Zoho is a great option for organizations trying to simplify their operations and increase productivity because it offers a full and configurable suite of software solutions at an inexpensive pricing point.
Pros
Customer relationship management (CRM), accounting, project management, email marketing, and other business software solutions are all offered by Zoho. Businesses may now manage their operations more effectively from a single platform thanks to this. Aside from it being a comprehensive suite, the features of Zoho software can be specifically adapted to a business's needs and are extremely adaptable. This makes it possible for enterprises to design a solution that is tailored to their particular needs. Lastly, the pricing options for Zoho software are flexible and reasonable, making them suitable for small enterprises. Moreover straightforward and without any additional fees or costs for the pricing plans.
Cons
Despite the fact that Zoho CRM is user-friendly, some users could find it difficult to become familiar with all the features and capabilities of the software. While Zoho CRM integrates with many popular software tools, some users may find that certain integrations they need are not available. Some users can find it difficult to acquire the assistance they require when they run into problems with the platform because Zoho's customer care staff occasionally responds slowly.
Industry: Information Technology & Services
Company size: 2–10 Employees
Used

Daily

for

Free Trial

Review Source
---
Not enough info yet and quetions need to be answed from upport
To long to get answers to questions!
Pros
Invoicing, stille valuating Lack of info of actual cost
Cons
Lack of info of actual cost Invoicing, stille valuating
Industry: Marketing & Advertising
Company size: 11–50 Employees
Used

Daily

for

1+ year

Review Source
---
Robust CRM, Great Value
Overall good experience. But do suggest the offer higher limits for customization and options such as Zoho Campaigns etc.
Pros
Easy to use every day, and options are simple to manage.
Cons
Customizations can be tricky, and it does have certain limits that you will need to increase, but Zoho support is great to work with.
Reasons for Choosing Zoho CRM
Wanted to have a single CRM for contact management, invoicing, tracking etc.
Reasons for Switching to Zoho CRM
Ease of use, flexibility, and pricing.
Industry: Automotive
Company size: Self Employed
Used

Daily

for

Free Trial

Review Source
---
review about Zoho CRM
Overall, Zoho CRM is a solid choice for businesses looking for an affordable, user-friendly CRM solution. While it may not have all the bells and whistles of some of its more expensive competitors, it offers a great balance of functionality and affordability that can meet the needs of most small to medium-sized businesses
Pros
Zoho CRM offers a wide range of features that help businesses manage their customer relationships effectively, such as lead and contact management, sales forecasting, marketing automation, and analytics. Additionally, Zoho CRM has a user-friendly interface that makes it easy for users to navigate and use its various features. The platform also allows for customization, allowing businesses to tailor it to their specific needs
Cons
Zoho CRM include its limited mobile functionality, occasional technical glitches, and a steep learning curve for some of its more advanced features. While Zoho CRM has a mobile app, sometime it lacks certain features and can be difficult to use on smaller screens. Additionally, I have experienced technical issues, such as slow loading times or system crashes, which can be frustrating