About Podio
Citrix Podio is a project management and social collaboration tool. It allows businesses to create custom applications to best meet unique business requirements and preferred workflow—without the need for technical skills or development resources. The Podio App Market grants users access to hundreds of free apps, pre-built by Podio users to satisfy a range of industry-specific requirements and project management functions, such as task management, project portfolio management and issue management. There are also apps for functions such as customer relationship management (CRM) and applicant tracking. Across all apps, Podio offers a range of social collaboration features, including Facebook-esque "likes" and file-sharing anywhere within the system, as well as internal instant messaging and video chat. Podio's app-building capabilities make it a good fit for smaller organizations that require a high degree of customization—particularly those looking to manage multiple business processes within a single system.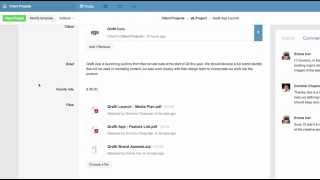 Podio has a free version and offers a free trial. Podio paid version starts at US$9.00/month.
Starting Price:
US$9.00/month
Industry: Computer Software
Company size: 1,001–5,000 Employees
Used

Daily

for

2+ years

Review Source
---
Podio is the best tracking software for the multiple projects.
Podio is the best to keep track all of our important emails, tasks and projects in a simple manner. Podio is an outstanding software for the project and management. I can share all of my important projects with my friends and team members but one by one. It really allow me to manage all of my important tasks and store the important information in a one place such as assign projects. My project management activities are easily handle by the extreme planner software. Wen I complete all of my tasks assignment and multiple projects, then I always choose the Podio software. Podio is the great for the project and tasks assignments. I would recommended this software to everyone.
Pros
Podio is the great customizable software. The best thing about the Podio software is that we can track all of our important tasks and multiple projects at a one time and it is the only possible through the Podio software. We can easily collaborate with our team members and colleagues in a more efficient way. I can always use this efficient software for better manage my personal projects.Podio is one of the best project management software. The another great advantage of this software is that we can easily organized all of our important projects and assignment tasks in a group and colleagues. This software has outstanding features such as it has the great ability to create the custom folders in a more efficient way. Through this software, it is so easy for us to create a tasks and store a large amount of information in a project software.
Cons
The disadvantage of this software is that for the new users that they faced a lot of problem about the sharing of the multiple projects with our colleagues and team members at a one time. Hence, sharing of projects is so difficult for the beginners and users. This software lack a lot of features which is very essential for the new users. Podio software is not so easy to use. For the beginners, it is a little challenges for us to create a tasks and better manage our projects . It is so difficult in learning to use many of the features in a properly manner. But otherwise it is very simple for us to create a tasks to the specific projects.
Industry: Education Management
Company size: 51–200 Employees
Used

Daily

for

2+ years

Review Source
---
a good collaboration tool for begginners of companies that can spend a lot of time in it
it is quite good, the best for us was to share information about leads
Pros
we can have in one place all the leads we have and all the workers can upload information about that lead, so we check there all we have from them.
Cons
the support it is not very good, the price it is quite high and at the end we were moving to MNprogram but we still could not do the change
Reasons for Choosing Podio
because MNprogram still do not have the form in english with the fields we need in our leads.
Reasons for Switching to Podio
because podio can edit the form and have the connection with sage for accounting.
Industry: Information Technology & Services
Company size: 11–50 Employees
Used

Daily

for

1+ year

Review Source
---
Very flexible software, but increasingly unreliable
Overall, pretty good for a budget CRM. But it feels like a platform with its better days behind it.
Pros
Podio is designed for project managers, but we used it as our CRM - which shows how flexible it is.
It worked well, the UI is nice, the workflows save you a lot of time and you can link up items well for automation (e.g. if you close a deal, mark the associated company item as 'customer').
The reporting worked quite well too. You can pull data into reports and create nice dashboards. And you can export to Excel.
Cons
Citrix aren't investing in Podio - it looks the same as when we started using it years ago. It's also increasingly unreliable - there have been numerous all-day outages in 2018. This is frustrating when you depend on Podio to run your business.
We have since moved onto a different CRM software because of these issues.
Response from

Cloud Software Group

Thanks for sharing your review of Podio! We are dedicated to improve the reliability and performance of Podio in the future. Please read more details here: https://blog.podio.com/2018/01/10/2017-year-in-review/

Replied 29/10/2018
Industry: Construction
Company size: 11–50 Employees
Used

Daily

for

2+ years

Review Source
---
Podio - solid and reliable CRM customised to our needs
I compared at least 5 or 6 products. I chose podio, citrix being known to me and found it good. I got support via messaging and phone and quickly had the system setup to meet admin needs and job tracking. 8 years later, have full access to all jobs, cloud based, can download backup and its a part of our IT system used byb4 users daily.
Pros
Having used podio for over 8 years (!) As CRM and also as means of sharing tasks with certain staff it is perfect. I can setup projects, import excel, csv and track one-off jobs or larger contracts, sharing with workforce.
Cons
Not much negative to say. We tried some features but overcomplicated our own ways of working. It does what we want it to anc now rely on it.
Industry: Real Estate
Company size: 201–500 Employees
Used

Daily

for

2+ years

Review Source
---
A great tool to keep all your projects in order, serves it's purpose.
In the time that I have been using it, it solve many communication problems, I was able to record and track each action or request that is made throughout, for example, a month, and it allows an easy way to remember and collect the data of each last month.
Pros
First of all, it adapts to the user in an amazing way, I really liked that. Whether for a small company or a very large one, and not only companies, also anyone who wants to have their projects organized.
The cost is affordable, makes it accessible to companies of all kinds.
Finally, I must say that it's great to share real-time progress of projects with clients to confidently engage them in work productivity.
Cons
They could improve document sharing, which is a bit tricky. They should improve the mobile app. It could also be integrated with other apps to sharing over there.