About Podio
Citrix Podio is a project management and social collaboration tool. It allows businesses to create custom applications to best meet unique business requirements and preferred workflow—without the need for technical skills or development resources. The Podio App Market grants users access to hundreds of free apps, pre-built by Podio users to satisfy a range of industry-specific requirements and project management functions, such as task management, project portfolio management and issue management. There are also apps for functions such as customer relationship management (CRM) and applicant tracking. Across all apps, Podio offers a range of social collaboration features, including Facebook-esque "likes" and file-sharing anywhere within the system, as well as internal instant messaging and video chat. Podio's app-building capabilities make it a good fit for smaller organizations that require a high degree of customization—particularly those looking to manage multiple business processes within a single system.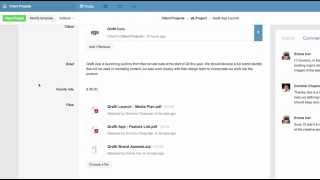 Podio has a free version and offers a free trial. Podio paid version starts at US$9.00/month.
Starting Price:
US$9.00/month
Industry: Computer Software
Company size: 1,001–5,000 Employees
Used

Daily

for

2+ years

Review Source
---
Podio is the best tracking software for the multiple projects.
Podio is the best to keep track all of our important emails, tasks and projects in a simple manner. Podio is an outstanding software for the project and management. I can share all of my important projects with my friends and team members but one by one. It really allow me to manage all of my important tasks and store the important information in a one place such as assign projects. My project management activities are easily handle by the extreme planner software. Wen I complete all of my tasks assignment and multiple projects, then I always choose the Podio software. Podio is the great for the project and tasks assignments. I would recommended this software to everyone.
Pros
Podio is the great customizable software. The best thing about the Podio software is that we can track all of our important tasks and multiple projects at a one time and it is the only possible through the Podio software. We can easily collaborate with our team members and colleagues in a more efficient way. I can always use this efficient software for better manage my personal projects.Podio is one of the best project management software. The another great advantage of this software is that we can easily organized all of our important projects and assignment tasks in a group and colleagues. This software has outstanding features such as it has the great ability to create the custom folders in a more efficient way. Through this software, it is so easy for us to create a tasks and store a large amount of information in a project software.
Cons
The disadvantage of this software is that for the new users that they faced a lot of problem about the sharing of the multiple projects with our colleagues and team members at a one time. Hence, sharing of projects is so difficult for the beginners and users. This software lack a lot of features which is very essential for the new users. Podio software is not so easy to use. For the beginners, it is a little challenges for us to create a tasks and better manage our projects . It is so difficult in learning to use many of the features in a properly manner. But otherwise it is very simple for us to create a tasks to the specific projects.
Industry: Real Estate
Company size: 2–10 Employees
Used

Daily

for

2+ years

Review Source
---
Podio is the best CRM
Overall Podio is so much better than every other CRM we have used. I've recommended it to everyone in my industry.
Pros
I love how we can customize everything and how many integrations are supported.
Cons
Not a fan of the UI. Looks outdated and can be confusing for new users.
Industry: Information Technology & Services
Company size: 11–50 Employees
Used

Daily

for

1+ year

Review Source
---
Very flexible software, but increasingly unreliable
Overall, pretty good for a budget CRM. But it feels like a platform with its better days behind it.
Pros
Podio is designed for project managers, but we used it as our CRM - which shows how flexible it is.
It worked well, the UI is nice, the workflows save you a lot of time and you can link up items well for automation (e.g. if you close a deal, mark the associated company item as 'customer').
The reporting worked quite well too. You can pull data into reports and create nice dashboards. And you can export to Excel.
Cons
Citrix aren't investing in Podio - it looks the same as when we started using it years ago. It's also increasingly unreliable - there have been numerous all-day outages in 2018. This is frustrating when you depend on Podio to run your business.
We have since moved onto a different CRM software because of these issues.
Response from

Cloud Software Group

Thanks for sharing your review of Podio! We are dedicated to improve the reliability and performance of Podio in the future. Please read more details here: https://blog.podio.com/2018/01/10/2017-year-in-review/

Replied 29/10/2018
Industry: Computer Software
Company size: Self Employed
Used

Daily

for

2+ years

Review Source
---
An In-Depth Review of the Cloud-Based Project Management and Collaboration Tool
Citrix Podio is an exceptionally adaptable and extensive task the board and joint effort arrangement that offers a scope of advantages for groups. Nonetheless, its restricted detailing capacities, high expectation to absorb information, restricted mixes, and client assistance issues might be disadvantages for certain clients.
Pros
Adaptable: Citrix Podio offers a serious level of customization, permitting groups to make custom work processes, structures, and applications to accommodate their particular necessities. This makes it a profoundly versatile answer for groups with different requirements and work processes.Easy to understand interface: The product has a spotless and simple to-utilize interface that makes it open to clients of all expertise levels.Far reaching highlights: Citrix Podio offers a scope of elements intended to smooth out project the executives and cooperation, including task the board, document sharing, schedule combination, and continuous visit.Versatile availability: The product is open on both work area and cell phones, permitting groups to remain associated and work in a hurry.Solid security: Citrix Podio focuses on security and offers a scope of measures to safeguard client information, including two-factor validation and encryption.
Cons
Restricted announcing capacities: Citrix Podio's detailing and investigation abilities are to some degree restricted contrasted with other venture the board and joint effort apparatuses. Groups might have to depend on outsider apparatuses to acquire top to bottom bits of knowledge into their work.High expectation to absorb information: While Citrix Podio is easy to understand, it can require some investment for groups to figure out how to utilize the elements really, especially on the off chance that they are all new to project the board and joint effort apparatuses.Restricted combinations: Citrix Podio offers incorporations with different instruments, however the scope of mixes is fairly restricted contrasted with other undertaking the executives and coordinated effort arrangements.Client service: A few clients have revealed troubles with client service, especially as far as reaction time and issue goal.
Industry: Information Technology & Services
Company size: 2–10 Employees
Used

Weekly

for

2+ years

Review Source
---
Podio - Flexible collaboration tool for teams
It's difficult to describe Podio in a few sentences as it's flexibility and extensibility through the addition of apps from the library or creating your own means that it can be used for many different things.
We've used it for project management and as a simple space to hold and share information when several external parties are involved. It means everyone can see what needs to be shared and current status with compromising internal systems and worrying about correct security settings for various parties.
Podio isn't always first choice for team collaboration as there may already be solutions in place that clients prefer (for example, Microsoft Teams), but it is a quick way to pull disparate people and data together and get working quickly.
As with all collaboration tools, it needs a bit of planning to configure it best for the type of project you want to use it for, but once you have used it a couple of times setup should be quick. For 'standard' users who have a degree of competence with collaboration software, the interface is intuitive and they should get up to speed pretty quickly.
If you work in an Agile environment, all the tools are there to configure an Agile project and get started quickly.
Some people love Podio immediately, others don't get it. Try out with a couple of small projects to get familiar with it; keep it as simple as possible - Podio's greatest strength is that you don't need to add more features/apps than are suited to the job.
Pros
Fast to configure for team collaboration on a variety of tasks - from the simple to fully featured Agile project management.
Adding only the apps you need means you can have a flexible and bespoke approach to each project depending on the requirements.
Easy to share with external users.
Cons
The flexibility that can be a strength can also be a weakness. There needs to be strong leadership over configuration and apps included.
The number of apps that can be added and the configurable options can lead to unnecessary complexity in the hands of inexperienced users.
If you have complex security requirements, configuration can be a pain.