About Zoho Desk
Zoho Desk is a cloud-based help desk solution from Zoho Corporation, catering to businesses of all sizes. Key features include management of customer support tickets, a customer support portal, contract management and report creation. Zoho Desk collates interactions from various media (email, phone, chat, social media, a self-service portal, forums and forms) and presents them in one place. Tasks such as ticket assignment, service escalations, notification rules and time-based actions can be automated by setting workflow rules. The solution provides customizable and scheduled reports, happiness ratings and a graphical dashboard for analyzing customer satisfaction. Integration with Zoho customer relationship management (CRM) facilitates feeding of customer information into tickets logged in Zoho Desk, which enables service agents to know more about the customers. The solution also enables users to make custom changes, such as renaming tabs, adding new departments, customizing email templates, defining business hours and adding of help folders. Zoho Desk can also be integrated with clients' in-house systems.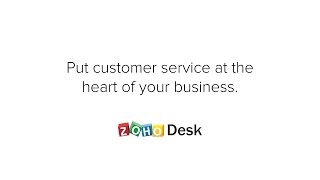 Zoho Desk has a free version and offers a free trial. Zoho Desk paid version starts at US$14.00/month.
Starting Price:
US$14.00/month
Alternatives to Zoho Desk
Industry: Information Technology & Services
Company size: 51–200 Employees
Used

Weekly

for

6-12 months

Review Source
---
Amazing Suit for Customer Support
The Zoho desk is very versatile and simple to set up. You get a great helpdesk system for any small- to medium-sized organisation for the price.
Pros
The system's user interface makes it simple to understand. We will be able to significantly mature our customer service operations and scale with our expansion over time because to the configuration choices, which seem to be limitless. For our 18 retail locations, we intend to use the system to handle all client inquiries.
Cons
Although the pricing is a little unclear, altogether the cost is fairly affordable. Our experience has been incredibly gratifying other from that.
Industry: Computer Software
Company size: 11–50 Employees
Used

Daily

for

6-12 months

Review Source
---
A positive customer experience is possible thanks to Zoho Desk's unified platform for...
Especially for mid-sized enterprises, Zoho Desk is widely recognised as a reliable help desk solution with a strong feature set. The platform's ticket management system, collaboration tools, and reporting capabilities are well-liked by users. In addition, Zoho Desk is renowned for being reasonably priced, with a variety of pricing options to meet various corporate needs.As was already indicated, there are certain issues with the platform's complexity, its lack of integrations, and the functionality of its mobile apps. These problems could be more severe for smaller companies or teams with less technological know-how. In addition, some users have complained that the platform performs slowly or with bugs.In general, Zoho Desk is a recognised help desk solution that may assist companies in effectively managing customer support requests and enhancing the client experience. However,
Pros
Improved customer experience: Zoho Desk provides a unified platform for managing customer support requests, which can help improve response times and provide a better customer experience.Increased team productivity: The automation and collaboration features can help reduce manual tasks and improve team efficiency, allowing them to handle more requests in less time.Better data insights: The reporting and analytics features can help businesses gain insights into customer needs and preferences, and identify areas for improvement.Customization: The ability to customize the platform can help businesses tailor their support workflows to their unique needs.
Cons
Complexity: While setting up automation rules and configuring the platform, some users may find the software to be a little challenging. Small organisations or teams with little technical experience may find it difficult to start because of this.Restricted integrations: For companies that depend on particular third-party technologies, Zoho Desk's lack of connectors with other help desk solutions can be a drawback.Restricted mobile app features: In comparison to the desktop version, the Zoho Desk mobile app includes less features. This can make it difficult for support personnel that must function while moving about.Despite Zoho Desk's ability to customise fields and tags, there are few options available for customising the platform's overall appearance.
Industry: Computer & Network Security
Company size: Self Employed
Used

Daily

for

1-5 months

Review Source
---
Everything is in BETA, after you are sold into a purchase...
I realized I need a product that will fully integrate with my Google contacts and calendar, be able to track time spent on site or on a remote support session and be able to do this without switching and spending 5 minutes trying to get all of the information together for an invoice from: contacts; reentering the same job in Invoices instead of it linking to Desk, and move on to the next client.
Pros
It was pretty easy to setup, they did have issues on their end with the custom domain pointing, but were willing to help out.
HTTPS had to be requested and is not a part of the package unless you call up and request it.
Cons
I purchased a package from Zoho – Desk and Invoicing – so I can bill clients for time spent on a service call. Calls can be a remote support session or onsite.

After trying out their product and setting everything up with just Desk, their sales pitch led me to believe that their Invoicing product would be needed to integrate with Desk in order to bill clients directly.

The company then sent me an invoice to pay for an annual subscription for Desk and Invoice. I was told multiple times that I could use it on my phone and on the web. It would led me open a timesheet and connect it to the Desk ticket. Nope. Not on the phone though I was told otherwise.

So far, everything does not work as advertised.

The support reps keep telling me that their integrations are in BETA.

BETA was never mentioned during any of the calls or email until it did NOT work as advertised. I even have screen shots of the word BETA on the screens.

I would not recommend this product and would put up an advisory on your website indicating that most of their "integrations" are in BETA.

I am further contacting my bank and the Attorney General for California.

I don't pay for BETA software.

Is there another company that actually fulfills their sales pitches?
Industry: Staffing & Recruiting
Company size: Self Employed
Used

Daily

for

1+ year

Review Source
---
The best Ticket dealing with stage that is a business fundamental device"
Many highlights and various ways of communicating with potential client base. As a web engineer, coordinating it into my site was shockingly simple and smooth. We see a ton of potential for smoothing out our deals cycle decreasing information section errands while having the option to arrive at additional clients consistently, without the requirement for a meddlesome contact structure and call that a ton of the more youthful customers are staying away from in these business sectors.
Pros
There is no Work area application for Zoho Work area, a vital missing element. The alternate route symbol for Late things might have been set better, perhaps in the top header menu rather than in the footer. The footer menu should be more noticeable, as it is unrecognizable on more modest size screens.
Cons
The easy to use android and IOS applications are one of the most outstanding elements of Zoho Work area, which I like the most. Different highlights which I likewise respect are-It furnishes a basic gadget code with a couple of snaps once you choose to coordinate it with your site or application; you can undoubtedly follow your tickets in general and specialists from the dashboard interface; you can embed labels with each pass to bunch them into explicit classifications for examination and investigating.
Reasons for Switching to Zoho Desk
We were at that point involving Zoho for their salesIQ so we know its a strong stage. I was dazzled with the combination to our exisiting frameworks ( I have right now sent it on a test site, hoping to go live presently)The tagging framework is fantastic and permits a decent level of customisation. There is additionally less time engaged with going live rather than similar frameworks presented by Engagebay or utilizing power computerize on Office.The CRM abilities are the ideal good to beat all for us, yet we haven't utilized this capability a lot as of now.The folks additionally have great instructional exercises accessible, which responded to a large portion of my inquiries, so I have not needed to connect with help (yet).
Industry: Animation
Company size: 2–10 Employees
Used

Daily

for

1-5 months

Review Source
---
The one-stop solution for our customer service woes!
It has not only assisted us in successfully resolving client inquiries and requests, but it has also supplied us with useful insights and data to enhance our procedures. I would strongly advise any small business wanting to optimise their customer support operations to use Zoho Desk.
Pros
Customer satisfaction is at the top of my priority list as a small business owner. My team and I were trying to successfully handle customer queries, requests, and comments using spreadsheets and emails. That's when we came across Zoho Desk. We were able to optimise our customer support operations by utilising its powerful ticketing system, which ensured that each request was monitored and addressed in a timely way. The platform also provided several modification possibilities, allowing to personalise it to specific unique requirements. Another significant advantage is its sophisticated reporting and analytics capability. The platform gives us insights into our customer service performance, allowing us to discover areas for development. You can also measure client satisfaction and make data-driven decisions to improve your customer service practises.
Cons
Additional features such as chatbots and AI-powered support might potentially benefit the platform, improving the customer support experience. Furthermore, the site might improve its mobile experience, as accessing all functions on mobile devices can be tough. Finally, the platform's reporting and analytics features could use some more flexibility. We would like to see more flexibility in producing and editing reports, as well as the possibility to export data in various formats.
Alternatives Considered
Groove