About Microsoft Project
Microsoft Project is a project management software designed for enterprises of all sizes. The tool includes project scheduling features, which allow management to create a project schedule, define and assign each project task, manage employee scheduling, and track project status. The software provides customizable templates and visual roadmaps for project planning. Microsoft Project also works as a resource for project budgeting, which can help management estimate costs for a complex project to determine resource allocation. Additionally, this tool offers project portfolio management (Microsoft PPM) features. Project proposals can be analyzed and compared based on strategic business drivers and resource management data. Microsoft Project provides interactive dashboards and reporting functionalities for managing projects. Management can use this tool to prepare insightful reports and make decisions about project proposals, project timeline, and employee scheduling. Scheduling features like a Gantt chart and pre-populated pulldown menu help maximize project scheduling and simplify the planning process for multiple projects. Microsoft Project can be deployed on-premise with a user license or on the cloud with a monthly subscription. The web-based solution allows management to collaborate with a remote project team using Microsoft apps via mobile devices.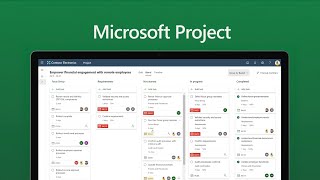 Microsoft Project pricing
Microsoft Project does not have a free version but does offer a free trial. Microsoft Project paid version starts at US$10.00/month.
Starting Price:
US$10.00/month
Alternatives to Microsoft Project
Microsoft Project Reviews
Industry: E-Learning
Company size: 2–10 Employees
Used

Weekly

for

2+ years

Review Source
---
Good alternative, but a bit pricey
As an experienced user, I've never had any major issue. The bottom line is that it works, and it does its job. I just wish they will upgrade the experience, in regards to interface design.
Pros
For many years, it was the de facto software for project management and if you were in the field, you had to use it. So many older users like me, use it mostly because of this reason.
Besides that, it's well designed and a solid alternative. For experienced users, is one of the best tools in the market. And in this case, it's quite easy to start a new project.
Cons
It looks like Microsoft Project got stuck in time. Newer alternatives are easier to use, and the design is prettier. Microsoft Project like other Office apps, are just to boxed into the Office style apps. In other words, it lacks innovations and doesn't help the users' creativity.
Reasons for Switching to Microsoft Project
Many years ago, it was the de facto project management tool, so I didn't have many options. And I got hooked and have been a user since then.
Industry: Telecommunications
Company size: 5,001–10,000 Employees
Used

Daily

for

1+ year

Review Source
---
Saves time in planning and collaborating project
This software has help me and my colleague to create shortcuts to planning, creating and deploying project.
The task can be marked with time frame and the system will send notification if the task is still not completed before the due date.
Pros
I really like template that are provided by Microsoft Project, it is highly customized to my project objective and my liking. The feature that i use the most can be pinned on the dashboard interface and keep it organized. Most of the user are using it, and there are no issue to shares the project file to my other colleague and they can open it without any compatibility problem.
Cons
Microsoft Project is quite pricey as we can't subscribe only the Microsoft Project itself, we have to buy all the software on the Microsoft suite to use it. If only they can let user to separately subscribing it, more user can will use it. Other thing that i dislike is, no video tutorial provided to teach user how to use the feature in the software.
Industry: Arts & Crafts
Company size: 2–10 Employees
Used

Daily

for

2+ years

Review Source
---
Microsoft Project to make work more simple and quick
Pros
Use simple, the function is powerful, rich project template, can help the team to solve the examination and approval, newsletters, manage a lot of work
Cons
Although the Project has a very powerful features, but it is not suitable for all Project management
Industry: Mental Health Care
Company size: 201–500 Employees
Used

Daily

for

2+ years

Review Source
---
MS Project is good for what it is, but is still lacking in areas
We are managing projects across our whole agency. The big problem we can solve is being able to view resource availability and project priority across all project simultaneously.
Pros
The myriad of features that it has when it comes to project management and tracking. At least if you have a single PM managing a whole project. It's possible to setup project with Sharepoint and PWA to allow for collaborative project access and the ability to share progress and having resources update tasks. There also tends to be a lot of plugins and support for Project.
Cons
The philosophy of MS Project is a little stuck in the past. There are too many project management software offerings between MS Project Desktop, Project Online, Planner that it's hard to decern what the use case is for each one. It would be great if they had some interaction between them. It would be amazing if Microsoft allowed planner tasks to roll up to Project tasks for updates.
Reasons for Switching to Microsoft Project
It's still an industry standard and our PM's are used to working in it.
Industry: Health, Wellness & Fitness
Company size: Self Employed
Used

Daily

for

2+ years

Review Source
---
Empowering Project Management with Precision and Efficiency
Microsoft Project is a project management software developed by Microsoft. It is designed to help project managers and teams plan, track, and control projects effectively. The software provides a range of tools and features to assist in managing tasks, resources, timelines, and budgets.One of the key features of Microsoft Project is its ability to create project schedules and Gantt charts. These visual representations allow project managers to define project tasks, assign resources, and set dependencies between tasks. This helps in understanding the project's overall timeline, critical paths, and resource allocations.Microsoft Project also allows users to track and monitor project progress. It enables project managers to update task statuses, record actual work completed, and compare it with the planned schedule. This helps in identifying any deviations, delays, or bottlenecks, allowing managers to take necessary corrective actions.
Pros
Transforming possibilities into realities, Microsoft Project empowers teams to conquer complexity and achieve greatness. Seamlessly plan, collaborate, and execute with precision, unlocking the full potential of every project. From inception to completion, let Microsoft Project be your guiding light on the path to success."
Cons
One aspect that some users may find challenging with Microsoft Project is the complexity in customizing it to meet the specific needs of their project management team. The software may lack flexibility when it comes to tailoring it to unique workflows or innovative approaches.