About Blackboard Learn
Help learners, instructors and institutions achieve their goals with Blackboard Learn by Anthology, a market-leading Learning Management System (LMS). Blackboard Learn runs from course development to assessments and integrates with the world's most holistic EdTech ecosystem. Powered by a community of millions of learners, instructors and administrators across more than 70 countries, Blackboard Learn has been redesigned in collaboration with educators, and is even better than before. A mobile-first design offers learners the flexibility to access courses on the go - no matter what device they may be using. Thoughtfully designed, Blackboard Learn extends pedagogical freedom with flexible assessment types, personalized feedback for learners, peer assessments, group and individual assignments, discussion boards, messaging and more, all while operating reliably across your current tools and integrations. With an emphasis on positive student outcomes, the new Blackboard Learn provides actionable data and insights embedded right into student and instructor workflows. This makes it easier to track progress, highlight areas of opportunity, and identify struggling students early on. Blackboard Learn offers best-in-class technology to educators, admins, and institutions. Our network of over 200 partners allows organizations to extend the LMS functionality to meet their specific needs, while native integrations with the tools instructors use most allow more engaging and collaborative instruction. A cloud-based offering, Anthology makes regular, frequent updates for enhanced security and improvements, and redundant architecture supports business continuity - so your team can focus on more forward-thinking efforts. See what else is new at Anthology.com/Learn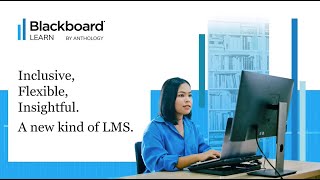 Blackboard Learn does not have a free version but does offer a free trial.
Alternatives to Blackboard Learn
Industry: Renewables & Environment
Company size: Self Employed
Used

Daily

for

2+ years

Review Source
---
Blackboard, learn in a complex fashion
If you compare this to operating systems, blackboard provides a more linux/windows experience. The platform is robust and complex with a lot to offer, but this pro at the same time makes it a downside since it is not user friendly compared to other market competitors. As a student who used it for 3+ years. I understand and appreciate what the platform provides but I prefer simplicity over complexity.
Pros
The big scale design of the platform is ideal to have all your academic needs in one. Access to a combine calendar allowing for easy visualization of homeworks, projects and tasks. Easy view of currents classes and course materials. With the years of experience this platform is reliable and complete.
Cons
Even though the complexity is robust, sometimes it can be overwhelming for students and ease of access across the platform is not the best compared to other market competitors.
Industry: Computer Software
Company size: 11–50 Employees
Used

Daily

for

2+ years

Review Source
---
Reliable where it counts
Pros
Blackboard is a rather intuitive learning platform, packed with a huge amount of features. If you need it for your school, it can be done. There were also a number of training materials and good customer support. It's reliable, which means students and instructors will know when to expect outages and prepare accordingly.
Cons
The UI, until recently, was a bit stale and outdated in appearance. Thankfully this has been updated and seems more modernistic now. It is also a bit more expensive than alternatives.
Alternatives Considered
Moodle
Reasons for Choosing Blackboard Learn
Moodle didn't have enough of what we needed and experienced a lot of down time.
Reasons for Switching to Blackboard Learn
It had more features and seemed more reliable based on our experience.
Industry: Higher Education
Company size: 1,001–5,000 Employees
Review Source
---
a Long Term User's Honest Experience
Quick background, was in high tech sales and marketing for many years prior to teaching and heavily involved with custom Computer Graphics systems since Time Arts Lumena was around (predecessor to Photoshop). Check out my LinkedIn profile for more details.
On to the product review -- I've been using Blackboard for *many* years, and have been teaching (and doing) Web Design and Development since 1993. I'm retiring shortly, so I can be absolutely frank and honest about my experience with this app without fear of upsetting IT folks or admins that I would have to work with in the future.
Truthfully, the ONLY reason I use this app is because I have no alternative at the College where I teach and it gives the students easy access to information, but so would any LMS (Learning Management System).
The UIX (User Interface Experience) is incredibly archaic and counter-intuitive. It's also painfully slow to use, as it does constant server requests (just paste the URL for a Blackboard connection into http://www.webpagetest.org/ for testing).
Sometimes one single click every 15 seconds is all the system will react to when I'm using the grade book, etc. -- in the "real" world, without captive users, no one would ever return to a site with those response times. To be fair to Blackboard, part of that may (or may not) be our schools network or Blackboard interface setup.
As far as usability, Blackboard needs to let the User Interface and UIX designers (if they even had any) direct the techs and coders. It's *very* obvious that it's been the reverse, . They should 'steal' some Apple UIX people and give them some *real* power to direct how the app works and what it looks like.
I've just finished using Blackboard for 3 hours+ doing things that should have taken 1 hour or less had the interface been optimized and more thought out. For example, under the 'Assignments' and 'Course Documents' sections there is no easy way to reorder or batch select using something basic like check boxes or a multi-select hot keys.
Also, any NEW assignment or document post goes to the BOTTOM (the absolute reverse of a Blog post) So I need to drag it back to the top (where it logically should go). However, even that is awkward, since when I drag to the top of the browser the window does not auto-scroll. I have to hold the left mouse button at the same time as I use my middle finger to roll the mouse wheel -- duh!!.
There IS a small text window pop-up accessed via an archaic icon to reorder posts, however, that shows only 5 assignment titles at a time (no window resize function to show more than 5). I can reorder them there, but need to do a single mouse click each time it moves up one position, but again, with no way to see more than 5 and no way to multi-select. So, if I have 50 course documents and want to shift 5 new documents to the top (where they belong) that's almost 250 mouse clicks to re-position 5 documents to where they should be in the first place - duh!!
In Gradebook it only shows 10 students listed by default. I can change the setting up to 50 but the next time I go back it's back or need to refresh something -- it's back to 10. It doesn't save defaults or give me a choice. This may seem to be nit-picking, but over the period of a 14 week semester that's a lot of wasted time time and clicks.
I'm going to end my review here as I have more work to do, but when I saw a 4 star review for this LMS being the solo review I had to balance it out. Bottom line is, the concept is good -- many, many modules/tools in a LMS bundled package but the execution is absolutely awful.
Just Google search 'Blackboard sucks' or 'I hate Blackboard' if you want real faculty and user opinions sans any marketing spin. Other telltale signs are when a company start to lose long-term clients. Ryerson University in Toronto just did a switch from Blackboard after "a multi-year consultation process". More on that process is here http://lms.blog.ryerson.ca/
Hopefully that last paragraph doesn't get censored, because that's the source of raw truth.
Pros
1. it's an LMS and something is better than nothing.
2. It's full of examples I can show my students on how not to do UI and UIX
3. Well established company is behind it
4. Modular front-end
5. Many bells and whistles
Cons
1. Counter intuitive, clunky, awkard UI (User Interface) - improve it by hiring UI/UIX experts and giving them actual control over the app interface and functions.
2. Slow (even when on the same network node or high speed cable connection) - needs a code rewrite/optimization.
3. Ancient aesthetics (although some design elements are now "flat design-ish") - hire UI and UIX designers and actually allow them to direct the final interface.
4. Many glitches (I've a folder full of screen-shots, if you want proof) - again a code rewrite needed, or ideally a complete start-over with newer code philosophies and methods.
Industry: Construction
Company size: 201–500 Employees
Used

Daily

for

1+ year

Review Source
---
Easy to use and user friendly platform
Blackboard is a very advanced tool to help elevate the online learning experience and it's also easy to use.
Pros
It's impressive how online learning can be easily managed by utilizing key features. It's virtual classroom and assignment/tests are one of the best in the industry.
Cons
Sometimes it takes too long to load the documents or lags when all the students log in at the same time for a common use like test or group activity.
Industry: Higher Education
Company size: 501–1,000 Employees
Used

Daily

for

2+ years

Review Source
---
A decent LMS, but there are better ones out there that have less workability issues
I have used both Blackboard and Moodle in the past, and I found them very similar for what they offered. I would have been fine using Blackboard indefinitely had I not found out about Canvas, which is what we are using now and I am absolutely it's biggest fan!
Pros
I used Blackboard for almost 10 years, and it was a decent LMS for my needs. When Blackboard Collaborate came out, it was even better because it added a new layer of possibilities (I could have several webinar/conversations going, merge conversations, and/or present to different groups at one time). However, there were always bugs in the system, even though we updated constantly. The Blackboard app was also very limited.
Cons
Too many bugs and freezes; many of my students had issues with accessing links when they used different internet browsers. Good for a small school or business, but not larger ones.