About Basecamp
Basecamp is a real-time communication tool that helps teams stay on the same page; it's less for traditional project management tasks (e.g., resource planning and long-term scheduling). With to-do-lists, calendaring, due dates and file-sharing, Basecamp provides a way for teams to keep track of priorities and actionable items. Since 2004, Basecamp has focused on developing a simple interface in which users can create projects, document progress and manage tasks. It is a web-based software, allowing users to sign in anywhere, any time, either through a web browser or through apps compatible with a large number of mobile devices. Not specific to a single industry, Basecamp can be deployed by any organization that needs to manage a group, including nonprofits, startups and client service firms—and it can even be used by freelancers. Subscriptions are scalable, with tiers for varying amounts of storage and numbers of users.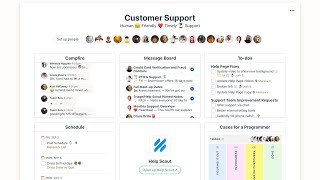 Basecamp has a free version and offers a free trial. Basecamp paid version starts at US$11.00/month.
Starting Price:
US$11.00/month
Industry: Marketing & Advertising
Company size: 2-10 Employees
Used

Weekly

for

2+ years

Review Source
---
Basecamp is great for remote teams to track and accomplish recurring projects
Been using this for several years, I do like how simple it is to organize and accomplish tasks across the board. I would say, if you're looking for a project management solution for recurring tasks and projects, this is a great fit.
Pros
I really love how it organizes conversations around tasks. Each task has a permanent record of the discussion going on for it, which keeps the discussion focused and organized.
Cons
There are three versions of basecamp, and they don't talk to each other. I have suppliers using all three versions, and I have to log in separately for each.When you have multiple projects, the project updates can be hard to follow--it's not immediately clear which project has which update, I have to read the whole sentence to find what I need. Would like something easier, maybe color coding?
Alternatives Considered
Trello
Reasons for Choosing Basecamp
Trello is great, but it's too open. Needed something more structured.
Reasons for Switching to Basecamp
Structure, organization, popular among others in the industry.
Industry: Design
Company size: 11-50 Employees
Used

Daily

for

2+ years

Review Source
---
Great tool, but unfortunately the price is one of the highest values
Pros
Basecamp is an incredibly strong task management tool. Great for small teams. As far as resource management and any medium sized projects basecamp lacks behind its competitors. With all this said, I love basecamp as it is nostalgic for decades now of work that I've been able to implement easy with teams and organizations.
Cons
resource management, alignment, lack of scheduling, confusing interface that forces users to just use search, upgrades and updates... although good, only make it harder to leave and not actually fix needed overhauls.
Reasons for Choosing Basecamp
So Asana, was better designed back in 2018 or so, but was also very buggy at the time, and still lacked in scheduling and other areas, we made the switch and have been happy, but now basecamp is needing another overhaul to keep up with alternatives.Sad to say but their pricing model (back then) was unmatched and now they are switching that up to be per user/month like everyone else. I'd suggest they stick in their lane, but alas.
Reasons for Switching to Basecamp
sad to say but it was pricing. Now as we've grown we need more value that basecamp cannot keep up with.
Industry: Writing & Editing
Company size: Self Employed
Used

Daily

for

6-12 months

Review Source
---
Easy to use, but missing important features
I enjoyed basecamp a lot except for the disorganization with the task lists. I would use it again if I could customize my lists more.
Pros
I like that is it easy to use, and add projects and tasks, and to communicate with team members. I like the way tasks can be set up, and easy to read and see information regarding the tasks.
Cons
When you complete a task, it doesn't go away or move to the bottom of the list, so it gets very disorganized and filled with complete and incomplete tasks mixed together. I tried to find ways to customize this, but I couldn't find one. It seems obvious that completed tasks should be moved at least to the bottom of a list.
Industry: Staffing & Recruiting
Company size: 11-50 Employees
Used

Daily

for

1+ year

Review Source
---
The Best task allocation and monitoring tool available in the market
In remote workplaces, it becomes very difficult to monitor and track the progress of your peers or teammates. Basecamp has been a saviour as it helps us not only monitor and allocate tasks but also becomes a source of communication for internal teams to get the work done. We recommend Basecamp to any IT company which has multiple projects and resources to handle.
Pros
Basecamp has been a great tool for our team as all the projects and tasks are allocated by the managers and peers on this platform and then it becomes easy for everyone to keep a track of it. Basecamp provides an easy communication via threads that make it very convenient to use. We at Wise IT inc have been using basecamp as a project management and collaboration tool and love how it makes our lives easier. It also has a mobile app which makes it more easier to keep a check on your phone when you are away from work.
Cons
Basecamp does not have video conferencing option yet which has become a very important feature for companies that are working from home. Apart form this, I have never faced any problem using Basecamp.
Alternatives Considered
Asana
Reasons for Choosing Basecamp
The interface of Basecamp is easier than Asana. Also in terms of features, Basecamp currently leads the market.
Reasons for Switching to Basecamp
Pricing and features are better for Basecamp compared to other alternatives available.
Industry: Computer Software
Company size: 11-50 Employees
Used

Daily

for

2+ years

Review Source
---
Basecamp - suitable project management software
Good friendly interface. You can learn how to use it very quickly, so you can organize your business and improve the productivity with good tracking tools.
Pros
Basecamp is easy to implement, easy to use in a team.
Cons
It is quite expensive for small business, 11$ per user with no other options.
Alternatives Considered
Trello
Reasons for Choosing Basecamp
It was only the question of taste for the interface and usability.
Reasons for Switching to Basecamp
It was not much more expensive as I used it for a small business