About Jira
Jira Software is a business process management tool used by agile teams to plan, track and release software. Jira Software supports Scrum, Kanban, a hybrid model or another unique workflow. Jira enables users to create project roadmaps to map out all projects in progress. The project board includes a drag-and-drop interface that allows teams to manage every project detail. The system offers functionality to create user stories and issues, plan sprints and distribute tasks across the team. Users also have access to information from thousands of business apps, from design and monitoring tools to source code and productivity apps. A mobile app is available for Android and iOS devices. Pricing is per user per month. Support is available through an online support portal, online documentation and tutorial videos.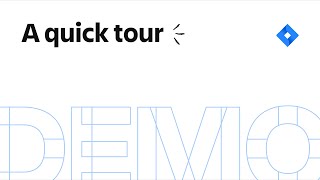 Jira has a free version and offers a free trial. Jira paid version starts at US$7.75/month.
Starting Price:
US$7.75/month
Industry: Computer Software
Company size: 51–200 Employees
Used

Daily

for

2+ years

Review Source
---
A steep learning curve, but an invaluable tool worth the investment
Pros
I love Jira because of the Atlassian ecosystem. Our Product Management team lives out of Jira for our day-to-day task management, and we work in a 2-week Scrum style. We use Confluence for our documentation and product requirement documents, then Jira Product Discovery for road mapping, prioritization and idea tracking. All products in the Atlassian ecosystem work seamlessly together.
Jira gets a lot of hate for being complicated and hard to implement, but like many things, its biggest strength is also its biggest weakness. I love Jira because its flexibility means it's a tool that our whole company uses, from Development to Customer Support to Product Management. This makes it easy to collaborate with other teams, without having to jump between and learn other platforms. Having a couple of people in the company who know Jira inside out mitigates any implementation challenges some may complain about.
Cons
I despise that Jira third-party tools/addons are billed by the number of active Jira users you have. This means that if you want to use an addon for a small team of 5 users, but you have 100 Jira users, you have to pay for 100 licenses. This billing model makes no sense and means it is financially not feasible to use most addons, which our teams could greatly benefit from using
Industry: Financial Services
Company size: 1,001–5,000 Employees
Used

Daily

for

2+ years

Review Source
---
Jira is a fantastic issue tracker for any company
We use Jira for everything to do with our teams and we couldn't function without it. We love it and I definitely recommend it to any company, any size. It keeps us organized and efficient.
Pros
I love how customizable and configurable Jira is for my company and our teams. All teams have different needs, whether it's kanban or scrum and Jira can handle any need we have. It keeps us organized and ensures we capture all requirements and all bugs so we don't miss anything. The reporting and queries are fantastic and so are the dashboard capabilities.
Cons
The queries are great, but I would like better reporting - we had to add Jira apps to our instance in order to get good reports. I do think Jira is pricey as well.
Reasons for Choosing Jira
TFS was clunky and outdated - it didn't fill our needs and we were not interested in upgrading.
Reasons for Switching to Jira
Jira is easier to use and we liked the UI better.
Industry: Financial Services
Company size: 51–200 Employees
Used

Daily

for

2+ years

Review Source
---
Jira gets the job done
Pros
I like how Jira is so simple to use. For normal users, the most important functionality is to manage their tasks/tickets and Jira does this seamlessly. Other functionalities like integration with confluence, text formatting options and real-time notifications set it apart from other products.
Cons
The responsiveness of the UI is slow and needs to be improved upon.
Industry: Apparel & Fashion
Company size: 11–50 Employees
Used

Daily

for

6-12 months

Review Source
---
Jira Review
It has helped us to align as a team and maintain ownership over our tasks. It has also enabled us to prioritise better and split or share tasks if required.
Pros
Jira helps all teams in the company to align for the size of company we are. The business team can see what happens in tech/product and the tech/product can see what's going on in the business team. Visibility is key to provide feedback on both ends.
Cons
It has to be set up by an admin, it's less flexible for the team to take ownership over.
Reasons for Choosing Jira
Kanban was more suitable in Jira and the product/tech team wanted visibility.
Reasons for Switching to Jira
Price and a product already used by another team.
Industry: Computer Software
Company size: 1,001–5,000 Employees
Used

Daily

for

2+ years

Review Source
---
Jira used by a software test manager
Overall experience is Good with Jira while using and managing a full fledged Project along with following scrum boards or agile methodologies.
Pros
We can easily create tasks and stories to manage the project and plan the sprints.
Once sprint is done, we can generate the reports to see the burndown charts.
We can check the sprint capacity dynamically by assigning the sprint to our tasks or stories.
Can generate different types of dashboards for issues or tasks by using JQL quires.
Cons
Need to learn JQL to create advanced filters or dashboards.
Sometimes adding a new column to a filter little tricky.
Exporting the data to excel is also sometimes not easy.