About Moodle
Moodle is an open source, feature-rich, secure and scalable learning management system that integrates seamlessly with other platforms and can be customised for any teaching or training method you choose. With fresh and intuitive interfaces, Moodle has solutions suitable for K-12, higher education, vocational training, corporates, and all types of enterprise learning. From improving your teaching and student outcomes to streamlining training, onboarding, and compliance management, you'll build more active and engaging online learning spaces with Moodle. When you choose Moodle, you become part of a global community of people who love our online learning platform and our values. You can get support from our active community forums, access Moodle's certified integrations, and explore over 1900 open source plugins. For expert advice and end-to-end support and service, get in touch with one of the Moodle Certified Partners and Service Providers in our global network.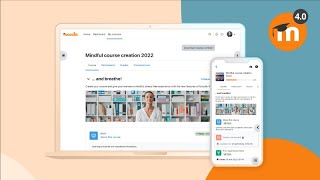 Moodle has a free version and offers a free trial.
Industry: Computer Software
Company size: Self Employed
Used for

6-12 months

Review Source
---
The e-learning platform for 100+ students
In the beginning, I would say it's a bit harder to learn but after I read their documentation and refer some guides I become a master of Moodle. There are a good amount of helping documentations with Moodle you can find almost anything on their documentation. I'm happy to say that still our students using it daily. If you have a small budget this is a great choice. I'm very satisfied on Moodle and I can recommend for anyone those who are looking for a good LMS platform
Pros
I have used Moodle for an organization to implement an e-learning platform. I have searched for may LMS and finally, I selected Moodle because it's open source and very customizable for our requirements. While I am using the Moodle I can list down some pros according to my experience
- Moodle has Multilingual capability that allows users to use multi-language it was a great feature for me.
- Manage user roles and permission, You can define roles to users and manage user access
- Bulk course creation and easy to backup
- Customizable or create our own themes
- Very useful calendar to track course deadlines, meetings and many more
- Admin user can Install and disable 3rd party plugins
Cons
Though Moodle offers many features there are some things that I don't like much. I can list a few cons of Moodle
- The learning curve is a bit higher for administration and building Moodle courses for First-time users
- If you need to customize some functionalities requires a Moodle programmer
- The look and feel a bit outdated even if you use a theme it feels like bit older
- I faced some upgrading issues it's not that easy for me
Reasons for Switching to Moodle
Moodle is free and customizable for our needs and we can host it anywhere we want.
Industry: E-Learning
Company size: 2–10 Employees
Used

Daily

for

1+ year

Review Source
---
Easy to made learning platform
My overall experience with Moodle is really worthy. me and my team are creating new class, courses and tests on Moodle and it takes very small amount of time. Course management is really nice and User interface of Moodle is really understandable to students.
Pros
1. Free and effective open source learning.
2. Create easy assignments and learning management as per subject and as per class.
Cons
1. Bulky and heavy User interface.
2. No end to end security provided.
3. No option to signup user accounts automatically.
Reasons for Choosing Moodle
Google Classroom, another useful tool from Google. I switched to Moodle because Moodle is open source and interface is understandable to students.
Reasons for Switching to Moodle
I choose Moodle over these alternative because, Moodle is open source and highly customizable as per requirement.
Industry: Banking
Company size: 51–200 Employees
Used

Daily

for

1+ year

Review Source
---
Best student platform for higher education
Moodle is a powerful and flexible LMS that is suitable for educators and organizations.However, it has a steep learning curve and limited design options. It may also have limited mobilesupport and third-party integrations compared to other LMS platforms.
Pros
1. Open-source and customizable: Moodle is open-source software, which means that it can befreely downloaded and customized to fit the specific needs of the user.2. Large community: Moodle has a large and active community of users, developers, andeducators who share resources and provide support.3. Wide range of features: Moodle offers a wide range of features such as assignmentsubmission, gradebook, quizzes, and forums that can be used to create engaging andinteractive online learning experiences.4. Accessible: Moodle is designed to be accessible for users with disabilities and it has beendeveloped to support web accessibility standards.5. Scalable: Moodle can handle large amounts of content and users, making it suitable for largeorganizations and institutions.
Cons
1. Steep learning curve: Moodle can be complex and has a steep learning curve for new users,it may take some time to learn how to use all the features and customize it to suit yourneeds.2. Limited design options: Moodle has limited design options and it may not be as visuallyappealing as some other LMS platforms.3. Limited mobile support: While Moodle is mobile-responsive, some users have reported thatthe mobile experience is not as polished as the desktop experience.4. Limited third-party integrations: Moodle has a limited number of third-party integrationscompared to other LMS platforms, which can make it difficult to integrate with other systemsand tools.5. Limited support: While the Moodle community is large and active, some users have reportedthat the support provided by the developer is limited.
Response from

Moodle

Thank you for your review. We appreciate your feedback. At Moodle, we are constantly working on new ways to improve our solutions to deliver the best learning outcomes. Discover Moodle 4.0's fresh and intuitive user experience. https://bit.ly/3bgVsDC Regards.

Replied 6/2/2023
Industry: Computer Software
Company size: 11–50 Employees
Used

Daily

for

2+ years

Review Source
---
Too Inconsistent
We ended up switching from Blackboard to Moodle and then back to Blackboard again.
Pros
Moodle is pretty inexpensive, which is why we were willing to give it a try. It had quite a bit for the low cost.
Cons
Moodle has the potential to be wonderful, but there are just a number of inconsistencies that made us end up seeking a better solution. The User Interface is not terribly intuitive, leading to a number of complaints by end users. There were also quite unexpected outages or bugs that frustrated our team and students. It's just too inconsistent to rely on.
Reasons for Choosing Moodle
Moodle was saving us $20,000 a year to use over Blackboard.
Reasons for Switching to Moodle
It was inexpensive
Industry: Biotechnology
Company size: 1,001–5,000 Employees
Used

Daily

for

2+ years

Review Source
---
The free Software that saved my Education
As an African student who managed to get a Scholarship to study in India during the Pandemic, it sounded almost impossible to continue my education. I was back home sending emails to the [SENSITIVE CONTENT] at my Uni practically every week regarding travel restrictions, and his response was always, "The school got it covered; you will be able to learn from home." Previously, I knew people with terrible experiences with online education, so I was scared the same thing would apply to me. The school had already opened an account for every student, My first day in class was fantastic. My course materials, classroom links , deadlines for submission, quizzes, and so many features that made my education transition smooth. Now I'm in India thanks to Moodle; I did my quiz today during halftime of football with no difficulties. that is how much Moodle has helped me so far.
Pros
Whether you are a student, Lecturer, Employer, or Employee, Moodle has almost everything traditional Education can offer. The fact that it notifies me about my deadlines is a win, and it's almost impossible to miss out on submissions; I can easily track every step I have made through my educational journey with just one login. It also allows you to choose what you want to appear on your dashboard. And for professionals, Moodle is highly secured, allows you to be versatile and offers good Customer support.
Cons
I feel the software can be made more attractive to student. Though most people use it for educational purposes, I personally think there is still room to make it more attractive.
Response from

Moodle

Thank you for your review. We appreciate your feedback. In Moodle, we are constantly working on new ways to improve our solutions to deliver the best learning outcomes. Discover Moodle 4.0's fresh and intuitive user experience. https://bit.ly/3bgVsDC Regards.

Replied 10/1/2023