About kvCORE
Ranked #1 by over 250K Agents - kvCORE is a complete real estate platform that empowers brokerages, teams, and agents to scale and grow faster than than their competition: MORE Agents & Teams Choose Brokerages with kvCORE. Here's why: 1) Dedicated IDX websites for all offices, teams, and agents - equipped behavioral intelligence, automation, and chat. 2) Smart CRM bubbles up top priorities for agents in one single dashboard. 3) Mobile app enables agents to wake up to warm leads right on their phone everyday. 4) Marketing automation system empowers agents with mass email + text, video messaging, power dialer, pond accounts, and more. 5) Social sharing tools seamlessly drive exposure of listings. 6) Business analytics suite creates tight transaction integration and automation for quick and easy payouts. If you are looking to take your real estate business to the next level, then schedule your demo of kvCORE and get pricing information.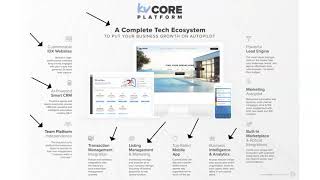 kvCORE does not have a free version.
Industry: Real Estate
Company size: 10,000+ Employees
Used

Daily

for

1+ year

Review Source
---
This Software is VERY helpful!
Great!!!! Would definitely recommend and I will always use this program!
Pros
I love everything about this program. I get most of my business from here, its very easy to use and makes me look professional.
Cons
Nothing really, I can't think of a single problem I've ever had with this software and I have used it for some time now.
Industry: Real Estate
Company size: 10,000+ Employees
Used

Daily

for

1+ year

Review Source
---
Easy & User friendly
Overall...after the "need to get used to a new platform" phase, this is a really professional and efficient platform which I enjoy to use. Being able to send a lead several listing in one "click" is great.
Pros
The way it enables you to see an overview of your business, your leads and their activity is excellent. Easy to filter and contact the leads through the platform. The chat support is excellent and timely, and always ready for any questions and requests...no matter how silly!
Cons
Some features are not so easily visible and one needs to know where to look which can be frustrating. When sending emails with attachments you need to remember to go into advanced editing mode and "know" that the attachment needs to be placed in a "button"....which complicates the process. Please make this more user friendly!
Industry: Real Estate
Company size: 11–50 Employees
Used

Daily

for

1-5 months

Review Source
---
Save your money...or burn it instead. But skip kvCore
Awful. Customer service is non-existent. Platform was not as advertised, promises made by salespeople were completely unattainable. Worst business experience of my life.
Pros
kvCore is no different than any other CRM, and may in fact be worse due to cost, complexity, and complete lack of support by personnel. Every conversation is with an AI bot. If you're looking to minimize human interaction and spend unnecessary amounts of money to do exactly what every other CRM does, this is the perfect platform for you.
Cons
Zero support after the sale. Took 3 weeks just to get the website up and running, and even then it was still wrong. Tech support is slow to respond (if at all). Their template for uploading contacts doesn't work. They will happily take your money and lock you into a 14-month contract then forget all about you. They brag about how good their SEO is, but it's all hype... (just check their social media...minimal engagement on their site). Platform doesn't do anything better or faster than any other CRM out there. I've used 4 CRMs and kvCore is the absolute worst. Don't waste your money.
Industry: Real Estate
Company size: 11–50 Employees
Used

Daily

for

6-12 months

Review Source
---
KV core review including core back office management
Overall a very good experience and 100 times better than the system I was using before
Pros
Clear integration with SkySlope and QuickBooks
Cons
Not all data from SkySlope is yet programmed to core back office. Example the W9's that are uploaded into SkySlope that will eventually need 1099s filed do not have a bucket to upload to into the back office… This Has to be a manual process for us
Industry: Real Estate
Company size: Self Employed
Used

Daily

for

1-5 months

Review Source
---
I switched my business model to work with KVcore at eXp Realty
Simply the best.
Pros
It is very easy to use and ideal for my industry of real estate.
Cons
I wish I could see what campaigns have ran and ended with certain clients so I don't repeat on accident. Also it would be nice to have a feature to send the property valuations over text messages.
Reasons for Choosing kvCORE
Their product was cumbersome and did not work easily. Also it was very restrictive and had to much automation.
Reasons for Switching to kvCORE
Price.