About Google Drive
Google Drive helps users store company data in one place. Users can access files from desktop and mobile devices and control how team members share these files. The platform provides a central admin panel, data-loss prevention and a vault for the drive to ensure compliance and file sharing between users. Google Drive offers team collaboration tools such as Docs, Sheets and Slides. Teams can create new documents and share them with members. They can also engage in real-time document editing and leave comments to update members of changes. It includes machine-learning technology to help users predict future needs. Google Drive provides features like a natural-language search and optical character recognition (OCR). Google Drive integrates with third-party applications including DocuSign for e-signatures, CloudLock for additional security layers and LucidCharts for mockups. Users can open different file types like PDFs and MPEG4s, and they can work on Microsoft Word files straight from the drive. Pricing is per month. Support is provided via online chat, email and the phone.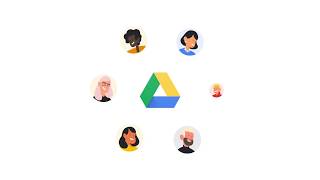 Google Drive has a free version. Google Drive paid version starts at US$6.00/month.
Starting Price:
US$6.00/month
Alternatives to Google Drive
Industry: Civil Engineering
Company size: 51-200 Employees
Used

Daily

for

2+ years

Review Source
---
Cheapest way to store documents in cloud.
I mainly using Google drive for storing my personal data and backup my photos from Pixel device.
I can connect multiple device with my account, as a result I can easily operate from any where.
Sharing data to my teammates is very quick, never have to worry about privacy of my documents.
Gives 15 gb free storage, if needed some extra storage ,comparing with other service provider it comes in low cost.
Pros
User friendly interface and easy to understand.
Folders can be organized perfectly.
Uploading and sharing document from any device is possible .
Real time synchronization of Google drive is very fast.
15 gb free storage available, we can upgrade extra storage for very low amount of money.
Security of my data is perfectly protected.
Storing personal data from my mobile and other device possible.
Cons
I don't find that much cons of Google drive.
Some times it takes time to load .
Industry: Education Management
Company size: 501-1,000 Employees
Used

Daily

for

2+ years

Review Source
---
A market leader with its own limitations
Simple and smooth. You install the client, choose what folders you want to backup and can view (and edit!) from any machine via a simple web-based interface. You can also access files from a second PC, although the process is not as simple as it used to be with the old "backup and sync" client that Google decided to ditch one year ago. You can easily share individual files with your contacts (read-only or with edit privileges).
Pros
Drive is powerful, cross-platform and flexible: you can choose what folders you want to backup and share on the cloud and change this easily over time. Also, the PC client accepts multiple users, so you can have a Drive access for personal files and another one related to office ones.
Cons
As is usual with Google, they change the rules after the game has started. First photos did not count against your storage limit, then they did. First you could use a simple and effective "backup and sync" PC client, then you had to migrate to a more cumberome "Google Drive" client that is not as flexible as the previous one used to be, etc. But overall the service is cheap and robust, if you don't mind being taken "hostage" by their marketing/technological changes from time to time.
Reasons for Choosing Google Drive
OneDrive is cheap but rigid. Also, I don't want Microsoft to have too much control on my PC.
Reasons for Switching to Google Drive
Drive looked (and still looks) more flexible than OneDrive and more reliable than Sugarsync
Industry: Broadcast Media
Company size: 1,001-5,000 Employees
Used

Daily

for

2+ years

Review Source
---
Google drive experience
It still works , but as I said above becasue certain user felexibilities were removed , it's no longer fun to use but rather used as a worst case scenario tool .
Pros
it does what other cloud storage options does at their core which is preserve your content at the moment of failure across ypur devices .
Cons
you used to be able to specify EXACTLY which files / folders you could sync years ago . However due to poor decisions by Google you options have become limited .
The priec of 2TB for 1 month is ridiculous and it has been that way for years .
Industry: Photography
Company size: 2-10 Employees
Used

Daily

for

1+ year

Review Source
---
Long time Dropbox user now a dedicated Google Drive user!
Much of what I do in Google Drive is for managing the workflow of photography projects that engage contractor work.
I create project rosters for larger companies and invite the project lead to help with the expectations of headshot project timelines. It also allows the companies to be more involved. Amongst other file sharing it just works really well for me and most people have a google account or google access to easily hop into the spreadsheets or handouts.
I also work with contractors in the US for editing and contractors for smaller jobs on Fiverr. Google Drive allows me to share files that need to be worked on with an easy link in our production app (Airtable) to get files around.
Pros
I love so many things about using Google Drive. I use it for my business on a daily basis. I come from a long long relationship with Dropbox, but finally switched over. I find that more people are able to understand using Google Drive when I collaborate or share documents and images. I also love that Google Drive comes with native Word Processing (Docs) and Spreadsheets (Sheets) for quick client project management.
I find it is very easy to understand the UX, layout, easy to organize my files, easy to share files at a variety of security levels, easy to login and access... and I love that I can use Emoji's in my folder names and color coding.
Cons
In the near past, I have been a little annoyed with the sharing functionality until I realized how it worked. I have a google workspace custom email domain and my admin is connected to my Google Drive -- that said, it stops and asks if I want to share outside my organization. I do know they have changed the share features recently for the better to make it a cleaner, easier experience. I am glad that this is one of the areas they chose to improve. Otherwise, I have been very happy with my Google Drive experience.
Industry: Events Services
Company size: 11-50 Employees
Used

Daily

for

2+ years

Review Source
---
One of the best out there
One of the best tools for file sharing and management.
Pros
Easy to set up. Works offline quite well. The search is quite good. Allows for good user management.
Cons
I use the Google Drive app a lot on iPad. It's missing quite a few of the web features.
Reasons for Choosing Google Drive
Google Drive is part of Google Workspace. We choose Google Workspace as our productivity and collaboration suite of tools.