About Google Drive
Google Drive helps users store company data in one place. Users can access files from desktop and mobile devices and control how team members share these files. The platform provides a central admin panel, data-loss prevention and a vault for the drive to ensure compliance and file sharing between users. Google Drive offers team collaboration tools such as Docs, Sheets and Slides. Teams can create new documents and share them with members. They can also engage in real-time document editing and leave comments to update members of changes. It includes machine-learning technology to help users predict future needs. Google Drive provides features like a natural-language search and optical character recognition (OCR). Google Drive integrates with third-party applications including DocuSign for e-signatures, CloudLock for additional security layers and LucidCharts for mockups. Users can open different file types like PDFs and MPEG4s, and they can work on Microsoft Word files straight from the drive. Pricing is per month. Support is provided via online chat, email and the phone.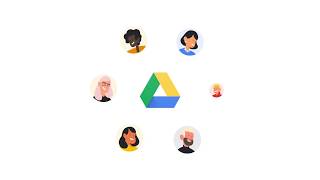 Google Drive has a free version. Google Drive paid version starts at US$6.00/month.
Starting Price:
US$6.00/month
Alternatives to Google Drive
Industry: Education Management
Company size: Self Employed
Used

Weekly

for

2+ years

Review Source
---
This teacher runs on Google Drive
Before Drive, my students andi emailed files to one another. If a file was too large, or there were many, it may take several emails. Large files (such as long papers, etc) had to be saved as more than one document and sent separately. There was no way to record comments on documents. And there's always been the issue of file incompatibility between users' computers. Using Drive solves all of that.
Pros
Less paper cluttering up my world, it's fantastic to be able to have students submit work to me electronically and write comments on it, return it to them, etc., as well as have students do that with one another. The storage feature that is accessible by logging into my Google account from anywhere is also fantastic.
Cons
The search and filter feature has much to be desired. Over the years I have amassed literally thousands of files, and it's very difficult, no matter the organization method, to be able to find what I need without searching.
Industry: Computer Software
Company size: 501-1,000 Employees
Used

Daily

for

2+ years

Review Source
---
Extensive and reliable cloud document storage solution
Overall Google drive is a good solution and the UX makes it even better because it is crafted excellently.
Pros
Cross-platform availability and ease of access are also a genius UX.
Cons
One feature I want that Google Drive should also incorporate is integrations among several platforms like if someone has some document stored on Microsoft's OneDrive and want to store it, move it or use it in Google Drive then there should be an integration available in the Google Drive that will facilitate this use case.Although it will be a huge leap itself because the feature I suggested requires two different platforms to cooperate but I think it is possible.
Reasons for Choosing Google Drive
Because my work requires that and also I had a windows phone in past but when I switched to Android then Google Drive became the best option for the usecase.
Reasons for Switching to Google Drive
Because Google drive has a lot to offer than just cloud storage.
Industry: Information Services
Company size: 10,000+ Employees
Used

Weekly

for

1+ year

Review Source
---
On the go cloud saving.
Deliteful without a doubt.
Pros
I am able to save all my items in the cloud from any device linked to the account.
Cons
The price of the program is a little high.
Reasons for Switching to Google Drive
The space cpacity of the free version is more.
Industry: Newspapers
Company size: 11-50 Employees
Used

Daily

for

2+ years

Review Source
---
A must have!
I am an avid user of Google Drive for storing documents and files that I need to access on the go or to share with other people or collaborate on. It's been a solid, available and life-saving companion for many years, and I'm going to continue to use it for a long time!
Pros
Google Drive is fast, easy, secure and plenty powerful, with competitive prices and a wide user base. Couldn't really as for more for such a service, unless maybe if you have very big or special needs
Cons
There's not much to dislike from a consumer perspective, really. Maybe the "Material Design" interface could be made more coherent with current trends?
Reasons for Choosing Google Drive
Google drive has many more features and storage sizes available, it's not only meant to store files but to work actively on them
Industry: Civil Engineering
Company size: 201-500 Employees
Used

Daily

for

2+ years

Review Source
---
Google Drive is an incredibly useful tool.
Overall, Google Drive is a convenient and powerful cloud storage service, but it does have some limitations that may not be suitable for all users.
Pros
The interface is user-friendly and easy to navigate, making it accessible for users of all skill levels. The ability to collaborate on documents in real-time is a game-changer for both personal and professional projects. The integration with other Google apps like Docs, Sheets, and Slides is seamless and allows for a streamlined workflow. The automatic syncing and backup feature ensures that your important files are safe and always up-to-date.
Cons
Limited storage space: Free accounts come with only 15 GB of storage, which may not be enough for users with large amounts of data. Paid plans are available, but they can be expensive for those needing a lot of storage.Slow upload and download speeds: Depending on your internet connection, uploading and downloading files on Google Drive can be quite slow.Limited file types: Google Drive has some limitations on the types of files that can be uploaded, such as executable files and certain media formats.Lack of privacy: Since Google Drive is a cloud-based service, some users may be concerned about the privacy of their data. While Google does offer some security features, it still has access to your data and could be forced to share it with governments or other third parties.Prone to errors: There have been numerous reports of errors and issues with Google Drive, such as files not syncing properly or getting deleted accidentally.No offline access: Google Drive does not have an offline mode, which means you need to be connected to the internet to access your files.