About QuickBooks Desktop Enterprise
QuickBooks Enterprise is an accounting solution designed for SMBs across different industry verticals such as construction, nonprofit distribution, manufacturing, and retail. With QB Enterprise solution, any business owner can expand business operations using advanced inventory, reporting, and invoice tools, in addition to premium support from Enterprise's CS and Payroll teams. Quickbooks includes inventory management, inventory tracking, expense tracking, payroll management, invoicing, multi-user management, advanced reporting tools, and more. QuickBooks Enterprise offers customizable reporting tools that help users analyze data and make informed business decisions. With over 200+ auto-filled templates and 70 industry-specific reports, this Quickbooks accounting software helps businesses find the QuickBooks data to solve any business issue. Quickbooks advanced inventory tools allow businesses to gain visibility and control over the inventory management process with the ability to track inventory movement, automatically scan and update inventory items, manage any purchase order/sales order from one dashboard, and plenty more. QuickBooks Enterprise also allows businesses to control, customize, and automate financial transactions with job costing tools, batch invoicing, invoice tracking, cash flow management, fixed asset tracking, sales tracking, payment processing, and more. Businesses also have to ability to scan and attach multiple documents including receipts and quotes for multiple accounting tasks. The tool enables businesses to arrange documents into categories and keep track of important accounting files. This solution also maintains a change log to record changes within each document with the proper date and time stamp. QB also offers different QuickBooks software such as QuickBooks Premier and QuickBooks Pro that includes include different functionality and features.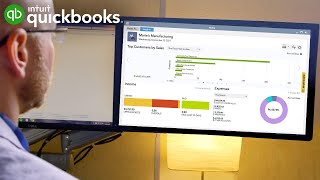 QuickBooks Desktop Enterprise pricing
QuickBooks Desktop Enterprise does not have a free version but does offer a free trial.
Alternatives to QuickBooks Desktop Enterprise
QuickBooks Desktop Enterprise Reviews
Industry: Financial Services
Company size: 11–50 Employees
Used

Daily

for

2+ years

Review Source
---
Fast, Simple to use, Easy to Integrate, Support is light, and price is a touch higher than...
Overall, I have no intention of leaving QuickBooks.
Pros
QuickBooks is easy to import into, export out of and directly integrate with certain platforms. The software was built with the user experience in mind.
Cons
The price is a bit higher than the competition, so technically its a con. However, I don't consider this a negative because sometimes you get what you pay for and I found QBO to have better features and a better reputation as a whole.
The support is not as easy to work with as I would like. But compared to some of the competiton, its better than not having any.
Reasons for Choosing QuickBooks Desktop Enterprise
Excel even with automations doesn't cut the mustard as an accounting solution.
Reasons for Switching to QuickBooks Desktop Enterprise
Reputation was the primary reason. Secondary to that, it is well known in the industry and integrates with other related solutions.
Response from

Intuit

Hey, William. Thanks for being such a loyal member of the QuickBooks family. We appreciate all the kind words you have to say about our product. Aside from phone and chat support, you can also go to the Community for assistance (https://community.intuit.com/). Once there, you can communicate with other users as well as our experts. All the best in your business endeavors.
Caitlyn, The QuickBooks Team

Replied 6/8/2020
Industry: Facilities Services
Company size: 201–500 Employees
Used

Daily

for

2+ years

Review Source
---
QuickBooks Desktop Enterprise
Tracking payroll and benefits is excellent. I like everything this software does, very user friendly and easy to teach to Lay persons
Pros
How all of the 'modules' interact with each other
Cons
I have used QuickBooks since 1995 and I don't like having to talk to CSRs who have to go through a flipchart. I need to go to someone who is most knowledgeable.
Reasons for Switching to QuickBooks Desktop Enterprise
easier to teach others to use
Industry: Health, Wellness & Fitness
Company size: 11–50 Employees
Used

Daily

for

1+ year

Review Source
---
Beware before importing transactions! There's no way to bulk delete them!
My bad experience erased all the good that could've come from Quickbooks. I just wasted two years of bookkeeping, two weeks of non-stop work in QBs preparing my 2017 Tax return that is on extension and I'm now going to get penalty fees from the IRS. They can't pay me for those fees and they can't give me back my time, but the least they can do is refund me for the two years of service fees that their representatives have rendered useless to me. I can't get any higher than a Supervisor Kayson in the Accounting Dept. I've begged and pleaded and told her that I know Quickbooks doesn't want this for their customers and that they should be informed of this disaster to make sure it doesn't happen to anyone else and she refused, after begging for almost an hour, she said there was no one higher she could pass me onto. It just can't be possible, but that's how I was treated when the worst possible thing could happen to me and my business. It's not worth the risk. Please do your research and make sure this doesn't happen to you!
Pros
No pun intended, but for the features that actually work well, they are very intuitive. They accommodate such a huge range of detail and diversity in what each business would require. Beautiful interface.
Cons
No one should use this product if you have to import a lot of transactions! 1. There is no way to batch delete transactions that you may import by mistake or that you decide later on you don't want (which is likely to happen because once you get over the learning curve and figure out how you want to use the software, you may have entered data that you no longer want). I found this out the hard way. After two years of data was entered, I was encountering issues related to how I originally added the transactions to my register and that I needed help fixing. But then multiple representatives kept only solving small portions of the problem. After the fourth or fifth rep saw my issue, she said that I had to start all over again entering two years of data into QBs. She had me disconnect my bank accounts, then "delete" them from the Chart of Accounts. This makes the account "inactive" BUT she failed to tell me that those transactions would never actually go away. They stay there in the background and mess up your reports. So because she had me then reconnect all my accounts and re-import two years of data for me to start over again, it essentially duplicated every transaction (thousands of them). Now my only option is to either manually delete every duplicate, which is not possible OR cancel my acct, create a new one and start over again. All the reps and supervisors I have spoken to have blocked me from anyone higher in the company. They refuse to refund me for any more than 1 mo.
Response from

Intuit

Hi Jullian. You've been through quite the ordeal, so I appreciate you leaving this honest and thorough review. I want to exhaust my resources to turn this around, so please know I have the tools and visibility to help. I encourage you to reach out to me at your earliest convenience ([email protected]). That's my inbox, and I'd like to dig into your account and ensure these data entry and import issues are cleared away once and for all. I'll help you do so with the least amount of strain on you and your time, as I realize you have a thousand other things to do than delete duplicates. You deserve better, and I'll see to it that happens.

I'll be on the lookout for your message, and I thank you in advance.

Jess, The QuickBooks Team

Replied 28/9/2018
Industry: Marketing & Advertising
Company size: 11–50 Employees
Used

Weekly

for

6-12 months

Review Source
---
Review of QuickBooks Desktop Enterprise
Pros
Robust reporting capabilities, allowing users to generate customised financial reports, track key performance indicators (KPIs), and analyse business data.
Cons
QuickBooks Desktop Enterprise has specific system requirements, including hardware and software specifications, that need to be met for optimal performance.
Reasons for Switching to QuickBooks Desktop Enterprise
It is a well known software . I didn't even think twice to choose this over anything
Industry: Information Technology & Services
Company size: 11–50 Employees
Used

Weekly

for

6-12 months

Review Source
---
My Genuine Opinion about the Strength of QuickBooks Desktop Enterprise.
Overall, I've had a great experience using QuickBooks Desktop Enterprise. For my business, the program has proven to be a trustworthy and effective accounting solution. I have seen a significant improvement in my financial management steps, and I really appreciate for its extensive features and customization options. Despite the higher cost, which could be a drawback but the advantages it offers in terms of functionality. In general, QuickBooks has been an excellent software for my personal uses. forever. Thanks
Pros
In QuickBooks Desktop Enterprise, it includes many advanced inventory management, pricing and reporting capabilities and is also some advanced feature in it. Its design is made to meet the accounting needs of growing businesses and can manage a significant amount of data for users. Here, users can create their custom reports, forms, and workflows based on their business needs. So it can be the better options for any individual or business man. It also provided strong security features to protect your any type of data.
Cons
This software may be a bit difficult to use for personal or small business purposes because it is more expensive than other QuickBooks versions.. This software's limitation is that it can only be used on the computer which is installed on itself, which may not be suitable for a traveller. If you want to work remotely or in any different location, you can't access. In low ram Pc its works very slowly which makes very frustrating to use. Sometimes you need to update this software manually.