About Capsule
Capsule from Zestia is a cloud-based CRM application that enables small and midsize organizations to keep track of the people and organizations they do business with, along with their interactions and opportunities in the sales pipeline. Capsule also provides a ticket management module to help employees resolve customer support inquiries. Tasks and notifications assigned to contacts, deals and cases help users understand what needs to be done when. Capsule offers many customization options to help tailor the system to meet the needs of different businesses, including custom fields, tags and branding options. It also allows users to define sales processes with configurable milestones for each stage of the pipeline. Each milestone is linked with a success criterion that is used to generate revenue forecasts. Capsule supports integrations with a range of leading small-business solutions for customer support, email marketing, document management and accounting. The solution is available on a per user per month subscription basis.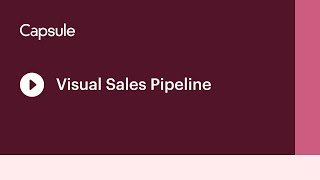 Capsule has a free version and offers a free trial. Capsule paid version starts at US$18.00/month.
Industry: Printing
Company size: 2–10 Employees
Used

Daily

for

2+ years

Review Source
---
One of the applications I run my business on
This is one of three applications that I am in daily. I couldn't have grown my business without it.
Pros
I like how you can have separate contacts, organizations, and opportunities but that you can connect them all. Unlike some contact management tools, this gives you a ton of flexibility in tracking interactions and todos.
Cons
I wish there were a way to attach the same individual to multiple organizations. There is a workaround by embedding a URL in the info for each entity, but it would be nice to be able to see an individual and separate out the different communications based on the organization they are involved with.
Response from

Zestia

Hi there Jeff,

Chloe from Capsule here. Thanks for taking the time to write a review - we really appreciate it. We're so glad to hear Capsule gives you the flexibility you need to track tasks and interactions. We're sorry we don't have better news on attaching the same individual to multiple organisations but we're happy to hear that it's helped you grow your business anyway.

Replied 9/8/2022
Industry: Real Estate
Company size: 2–10 Employees
Used

Daily

for

6-12 months

Review Source
---
Capsule Review
Pros
Very easy to set up
Easy and intuitive to use
It is flexible enough so that it can be moulded around a requirement or purpose, even if that function isn't immediately obvious.
The support staff are great at coming up with solutions and work arounds
Support staff are very quick to respond.
The close links with Mailchimp and Zapier are great and really easy to merge different systems.
Cons
You can't 'drag and drop' documents from the system to emails.
There's no 'pre-opportunity' stage - i.e. no way of registering an interest in a product (linking a client and product or organisation) without it being a formal 'opportunity' - there needs to be a 'pre-opportunity' facility to ease admin in the system.
There's no way of retaining a record of a meeting in the calendar.
There's no one to stand behind my husband and remind him to record notes in the system! :-)
Reasons for Switching to Capsule
it worked better for our requirements, customer support was personal and significantly better and the price was better.
Response from

Zestia

Hi Rebecca,

Chloe from Capsule here. Thanks for your review - I'll be sure to pass on your feedback to our team. As for the pre-opportunity problem, you could use a Case for that and then you can link that case to an Opportunity if it does move into the pipeline. That way you can have a clear record of it, but it isn't impacting conversion rates or anything like that. You can read more about Cases here:
https://capsulecrm.com/support/projects-and-events/understanding-cases/. While you can't see your past tasks in the Calendar, you can go to the task list view and filter for completed tasks. Here you'll be able to see a list of everything that's been completed. While we can't put someone behind your husband and nudge him - you could set up a task for a certain time each day that recurs every week (5 recurring tasks), basically just as a prod to remind him to add notes? I hope that gives you some tips and if you need any extra support you can always reach out to us.

Replied 16/10/2020
Industry: Nonprofit Organisation Management
Company size: 2–10 Employees
Used for

6-12 months

Review Source
---
Not Ideal for a Charity CRM
I think it is a fine program that didn't suit the needs of a national charity.
Pros
I think you you were using this software for school or a business that required registration of sorts it might be ideal but the marketing features were not strong enough for us. We used the program for 1 year and then switch over that had a better UX, marketing integration and that automatically process tax receipts.
Cons
The UX wasn't great. It wasn't intuitive for our team.
Alternatives Considered
Keela
Reasons for Switching to Capsule
We had an employee that had some experience with it and could navigate the program. We stuck with it for 1 year and switched over to Keela.
Response from

Zestia

Hi Taryn,

Chloe here from Capsule. Thanks for taking the time to review us, we really appreciate the feedback. While we do have a number of charities using Capsule we understand it isn't the right fit for everyone - we're happy you've found another solution that works for you!

Replied 1/10/2020
Industry: Professional Training & Coaching
Company size: Self Employed
Used

Daily

for

2+ years

Review Source
---
Simple and Functional
My needs for tracking client opportunities are simple and this CRM does everything I need of it. I mainly use it for recording my meetings and coaching sessions with my clients. This functionality is easy to use and it is easy to search clients later to see what was last talked about.
Pros
It is incredibly easy to set up, very simple to use and I like it's integration with Xero.
Cons
Sending email from the system get stored in dropbox, not ideal if you don't use dropbox
Reasons for Switching to Capsule
it was the easiest to use and the price point was great.
Response from

Zestia

Hi Dave,

Chloe from Capsule here. Thanks for your feedback - we're glad you like the integration with Xero. In terms of the Drop Box I have good news as the Capsule Drop Box is not the same as the file storage service Dropbox.com. The Capsule Drop Box is effectively an email address that you use to BCC or forward your emails to which in turn stores them against the relevant contact in your Capsule account. This is what non-google users use for storing emails. You can learn more about storing emails using the Capsule Mail Drop Box here: https://capsulecrm.com/support/setup-and-configuration/storing-emails/#understanding-the-mail-drop-box.
If they are finding that emails aren't being stored on their contacts as expected, could you please email [email protected] and we can investigate further.

Replied 14/9/2020
Industry: Insurance
Company size: Self Employed
Used

Weekly

for

2+ years

Review Source
---
Great Easy To Use Affordable CRM
I have been using Capsue since 2017 and to date I have had no issues with the software even it was updated.
Pros
Easy to use. Price. Date Stamp. Search by name, keyword or phone number. You can up load documents to a specific contact. You can separate contacts using tags. Notes easy to edit. Beginner friendly. Generous Free account. It has an app that syncs perfectly with the online account.
Cons
So far the online has everything I need. I have no complaints. The app could add search by phone number. It would help when a client calls I could search the phone number and address them by name if they are found in my CRM the same way I do when working from my lap top from home
Response from

Zestia

Hi Sheron,

Chloe from Capsule here. Thanks for taking the time to write a review about Capsule. We're glad to hear you're finding Capsule easy to use and love its features. You might be happy to hear that you can search phone numbers in the app. You can find out more about that here: https://capsulecrm.com/support/mobile-apps/capsule-mobile-app/#how-to-use-contacts-in-the-mobile-app. Also, if you have an iPhone we do have CallerID in the app. The Caller ID feature will display your Contact's name so you'll never need to guess who is on the other end of the incoming call - you can find out more information about Caller ID here https://capsulecrm.com/support/mobile-apps/capsule-mobile-app/#caller-id. I hope that help you out.

Replied 15/12/2020