About 3CX
3CX Phone System is an open standards communications solution, suitable for any sized business that wants all the features of an advanced contact center at a fraction of the cost. 3CX can take your business communications to the next level, helping to improve collaboration, boost productivity, increase mobility and enhance the customer experience. Installation and maintenance can be handled effortlessly by anyone, whether installed on-premises on Windows or Linux on an appliance or server, or in the cloud.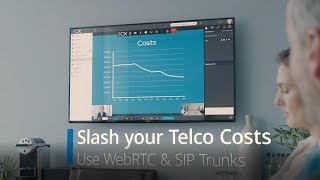 3CX has a free version and offers a free trial. 3CX paid version starts at US$0.00/month.
Starting Price:
US$0.00/month
Industry: Telecommunications
Company size: 5,001-10,000 Employees
Used

Daily

for

2+ years

Review Source
---
One of the best Voip softwares
Pros
light app that can let you move your softphone anywhere
Cons
It takes alot of time to configure for the first time
Response from

3CX

Hi Hussein and thank you for the 5-star review!

Replied 3/8/2022
Industry: Logistics & Supply Chain
Company size: 11-50 Employees
Used

Daily

for

1+ year

Review Source
---
3CX is fine, but it is all about who handles the hosting
3CX feels like it is a step up from a normal landline, but I don't see any wow factors that I feel like I could get from some of the other VoIP names.
If you're looking for something less expensive than Ring Central, Phone.com, and OnSip, then you should be able to find a small VoIP provider willing to offer you a hosted package with 3CX for a lower price.
Pros
3CX is straightforward. It seems to have all the necessary features for a small business. Still, as a business owner who cannot work on the admin side, I can only comment on the usability and stability.
Compared to other softphone apps, I've never had significant issues. I use 3CX as a softphone on an iPhone, through a Yealink desk phone, via Chrome plugin, and on an iPad. Surprisingly, the limitations I see are not due to the daily functions.
There are some features I would like, but there is nothing about this app that hinders my company's ability to operate without delay. We have users in China, Thailand, the Philippines, Jamacia, Venezuela, and the US. All locations work well, and the apps work even with limited internet access.
There are times when the connection is not great, but this is usually due to the internet and not the apps.
Cons
There is no way for my ringer on my softphone or desk phone to be customized to ring differently when someone calls my extension vs. ring group. I wish there were connectivity with Zapier so that I could push contacts from other services into our address book.
It would be nice if the SMS chat feature worked more similarly to a shared inbox, where everyone could see it. You can only transfer the chat to another extension, which makes SMS hard to use as a group.
Overall, the cons are not about the ability to use 3CX but the features I wish it had that could provide a better overall experience.
Response from

3CX

Hi Sam and thank you for your review! We are glad to hear that you are enjoying using our software and that it has helped you stay in touch with your employees throughout the world!
Regarding the points you raised, desk phones can be configured to have distinctive ringtones for Queue Calls, so you should certainly consider switching to using Queues instead of Ring Groups. Apart from this, you would also get better reporting capabilities and a lot more polling strategies to choose from.
For syncing you phonebook contacts, we do currently offer integration with Microsoft 365, but in the coming updates we will have a REST API that may also allow you to interact with the 3CX Phonebook, giving you the maximum flexibility in syncing your contacts between various platforms.
Incoming SMS messages can be sent either to an Individual Extension or to a Queue, in which case all logged in members of that Queue will see incoming messages.

Replied 1/6/2022
Industry: Accounting
Company size: 11-50 Employees
Used

Daily

for

2+ years

Review Source
---
Easy to use
Pros
The software is easily maneuvered, the calls are made once dialled out and the software gets updated frequently. The calls are recorded and recording produce in approximately and hour after completed. You can easily tap in and monitor a call that an agent is on as well as it provides a chat feature.
Cons
What i liked least about this feature is that there was an issue when you log break there is no way of monitoring how long you were logged for. Unless it's done by the master controller 3cx.
Response from

3CX

Hi Tialee. Thank you so much for the 5-star review! We are super glad to hear 3CX provided you with the flexibility and cost-efficiency to help your business.

Replied 22/8/2022
Industry: Telecommunications
Company size: 11-50 Employees
Used

Weekly

for

2+ years

Review Source
---
Effective Phone System For Small, Simple Offices
For under 50 extensions and without any special functionality, 3CX is a very user-friendly platform. However, for any project that requires any custom functionality, 3CX will simply not be able to offer help.
Pros
The 3CX installer on both Linux and Windows is incredibly easy to use and users can go from nothing to a fully-featured phone system in less than 20 minutes. Once installed, the user interface is very clean and straightforward.
The 3CX Softphone that can be installed on Windows and mac computers pairs effortlessly with 3CX provisioning files.
Cons
3CX offers very little customization outside of the user interface, and commonly phone system managers will be simply unable to perform more-complex call routing. As an example, dynamic outbound routes are simply not possible outside of the overly-simple Outbound Routes tab, and you are limited to only prefix, length of destination, and from extension.
Compared to FreePBX and FusionPBX, the ability to customize 3CX is almost non-existent.
3CX Support will 100% of the time deflect any technical issues to the carrier, and after numerous ticket responses later, they will finally admit to being able to help.
SIP SRV records are completely broken and not compliant with the SIP RFC. It's hilarious how catastrophic this lack of functionality is.
Faxing is completely broken. It will be a complete nightmare if you attempt to run T.38 faxing over a 3CX phone system.
Industry: Outsourcing/Offshoring
Company size: 51-200 Employees
Used

Daily

for

1-5 months

Review Source
---
3cX for your call center and VoIP needs
Overall, I have no complaints on 3CX as we are very satisfied.
Pros
I love all the features of 3CX. I love how easy you can set it up, you can find the calls logs and recordings, plus it has a very comprehensive dashboard. Also, when we reach out to them to increase our accounts SC (concurrent calls), they are very responsive as they have a local partner from where I'm from and it was solved immediately.
Cons
The only thing I don't like about 3CX is the provisioning of the softphone as in our setup, people come and go, and we need to provision whenever there's a new employee who'll use it. I think it's better if 3CX can have the login/logout functionality on the desktop app instead of provisioning every time. But it is really negligible and not a deal breaker at all.
Reasons for Choosing 3CX
Freepbx for me is very hassle to setup as it is asterisk based and Dialfire is very laggy on our side.
Reasons for Switching to 3CX
VitalPBX is much more expensive on our current setup and we are not comfortable on using Asterisk based system yet. Also vicidial, it's a great software yet we don't really like the design of the app as it looks outdated.
Response from

3CX

Hi Cliff and thank you so much for taking the time to review 3CX! We are so glad to hear that you love the ease of setting up 3CX and all the great features offered!

Replied 3/8/2022