About Nutshell
Nutshell is an all-in-one CRM and email marketing platform that helps B2B organizations work together to win more deals. Simple enough for any user and sophisticated enough for any business, Nutshell is built for teams who are tired of juggling separate sales and marketing tools and don't want to pay a full-time admin to manage their software. Every Nutshell subscription includes unlimited CRM contacts and data storage, fully customizable reporting tools, free data migration assistance, and world-class live support, all at an extremely affordable price. Nutshell integrates with the software small businesses already use, including Google Workspace/Gmail, Microsoft Office/Outlook, QuickBooks Online, Intercom, and Slack. Nutshell also offers native iPhone and Android apps, allowing sales reps to create, search, and edit contact information while in the field. Launched in 2010, Nutshell serves thousands of businesses around the world and has been named a top CRM for both user-friendliness and affordability. Nutshell has been honored as a "Leader" in G2's Grid® Report for CRM every quarter since Fall 2020. In 2021, Nutshell released Nutshell Marketing, which allows Nutshell customers to design and send beautiful marketing emails and automated drip sequences, and instantly measure their engagement, directly out of Nutshell. Nutshell Marketing seamlessly connects to your CRM data, so you can target custom audiences in a snap and manage all your outreach out of a single tool.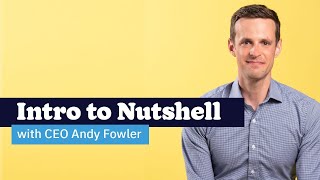 Nutshell does not have a free version but does offer a free trial. Nutshell paid version starts at US$19.00/month.
Starting Price:
US$19.00/month
Industry: Management Consulting
Company size: 2–10 Employees
Used

Daily

for

2+ years

Review Source
---
Great Feature-set Without Complexity
I run a global consulting practice with hundreds of corporate clients and thousands of individual relationships that I manage. Nutshell lets me manage it all. It's my dashboard for everything in my company. It's entry-level rate is worth every penny.
Pros
I've used Nutshell for three separate businesses that I've run or owned. Each one considered a small to medium-sized business. Nutshell is perfectly suited to us because it's lightweight and easy to learn. It doesn't require an in-house expert on the app (like SalesForce). It's basic feature-set is all I've ever needed, and the support is terrific. Real people at the end of the phone, with fast responses. And, it's made in Michigan! It has a lot of simple customizations that I use; workflow, custom fields, leads, etc.
Cons
Integrations are somewhat limited, but still, plenty to work with. I'd like an integration to RingCentral's app. Also, it doesn't' handle subsidiary company relationships well. I've had to create a workaround with tags to help connect them.
Industry: Consumer Services
Company size: 51–200 Employees
Used

Daily

for

Free Trial

Review Source
---
nutshell
It has significantly improved my daily workflow, which has impressed me. The need to more effectively manage our relationships with customers was one of the primary business issues we were attempting to address with this software. We were tracking customer data using spreadsheets prior to Nutshell, which was inefficient and took a lot of time.Since carrying out Nutshell, we've had the option to unify all of our client information in one spot, which has made it a lot more straightforward to deal with our client connections. We can set reminders for follow-ups, automate some of our sales processes, and keep track of all customer communication history using Nutshell's contact management feature. We have increased our overall productivity and saved a lot of time as a result.We've also noticed that Nutshell has helped our team work together better. We can easily share information, assign tasks, and monitor team performance using Nutshell's collaboration tools. We are now better able to work as a team and maintain a higher level of organization as a result of this.I have to say that my overall experience with Nutshell has been very good. The product has assisted us with tackling our business issues by further developing our client relationship the board and group coordinated effort. Nutshell is an excellent CRM system, and I would highly recommend it to anyone.From Spreadsheet Chaos to CRM Bliss with Nutshell
Pros
The software surprised me in a pleasant way. It certainly accomplishes the task at hand.Nutshell's contact management feature was one of its many appealing features. To put it another way, who doesn't like having all of their contacts in one place? It's like having your own rolodex, but you don't have to put any effort into organizing it. In addition, having access to all of your communication history with each contact makes it easy to pick up where you left off.The sales automation feature was another Nutshell feature that I really liked. I mean, who doesn't want their sales process to be automated? It's similar to having a small sales assistant who takes care of all your busy work so you can concentrate on more important things.Furthermore, we should not disregard the portable access include. When it comes to managing sales pipeline and contacts while on the go, who wouldn't want that? It's like having a Nutshell in your pocket, ready to help whenever you need it.I have to say that Nutshell was a pretty good experience overall. It certainly makes managing sales and contacts much less monotonous.
Cons
The reporting and analytics feature of Nutshell was one feature that bothered me. I love data just as much as anyone else, but sometimes all those graphs and charts can be a little overwhelming. It's similar to trying to read a book written in binary code: it's informative, but not particularly exciting.The customization feature was another thing that I found frustrating. While it's great that Nutshell can be customized to meet your specific requirements, there are times when all the options can be a little overwhelming. It's like getting the keys to a car and finding out you have to build it yourself: it's fun, but it also takes a lot of work.Although Nutshell is a good software in general, there were a few aspects that disappointed me. However, who knows, maybe I'm just being picky.
Industry: Accounting
Company size: 2–10 Employees
Used

Daily

for

1+ year

Review Source
---
I don't use a lot of the features, I just simply write notes about customers.
It stores information about my clients. (Though it's not easy to get or use that information later on.)
Pros
I like that's it's web based, and that it can store information about my clients. That's really about it.
Cons
I dislike very much that I cannot search using CTRL + F for stuff on a clients page. I'll have a lot to look though and I'll want to search for a specific word, say "lunch" or "meeting." I cannot search for these words. Instead it just pulls up the search bar for people. Very unuseful for a CRM....
I really hate that when I do search, it rarely finds me what I need, and almost never quickly. It's difficult to find phone numbers, if I search someone's name, it'll pull up everyone's not CLOSE to what I'm search for, but somehow not the specific person....
My daily tasks somehow get clogged by what is in the leads... perhaps there's a way around this, but I haven't found it yet. I can't really rely on tasks or to-dos with Nutshell, so I use Trello for that.
I can mostly use Nutshell for just storing stuff about my clients, and even then finding that information months later is not very easy, frustrating and not very helpful.
Response from

Nutshell

Hi Nicole,

Thank you for your feedback and for sharing your frustrations about search. I have added this info to my product list and we will discuss it internally. We appreciate you being a Nutshell customer.

Amanda

Replied 9/5/2017
Industry: Information Technology & Services
Company size: 11–50 Employees
Used

Weekly

for

1-5 months

Review Source
---
A Comprehensive CRM Solution
Overall, Nutshell is a comprehensive and powerful CRM solution that is ideal for businesses of all sizes.The software provides a wide range of features to manage sales, marketing, and customer service needs in one platform. Nutshell offers a user-friendly interface, excellent integration capabilities with other business applications, and customizable features that enable businesses to tailor the software to their specific needs.
Pros
User-Friendly Interface: Nutshell's interface is intuitive and easy to use, making it an ideal choice for businesses of all sizes.Advanced Reporting Capabilities: It offers advanced reporting features that allow users to create custom reports and analyze their sales data in real-time.Customization Options: Users can customize the platform to meet their specific business needs, including custom fields, workflows, and more.Integrations: Nutshell integrates seamlessly with other popular business applications, including G Suite, Microsoft Office, and Zapier.
Cons
Limited Mobile App: Nutshell's mobile app is basic and lacks some of the features available on the desktop version of the platform.One potential drawback of Nutshell I feel is its pricing, which may be too steep for some small businesses. The Platform's entry-level plan starts at $19 per user per month, which can add up quickly for companies with multiple employees.The Platform can be slow at times, particularly when handling large amounts of data
Industry: Accounting
Company size: 2–10 Employees
Used

Daily

for

1+ year

Review Source
---
A Full Featured Sales CRM
Our sales staff was apprehensive at first as there were lots of bells & whistles and a little worn out with the previous jumps from one CRM to the other. But within two weeks everyone fell in love with Nutshell and completely on board significantly contributing to an increased close ratio.
Pros
This CRM walks the less experienced sales rep through the entire sales process even recommending when to follow up even suggesting additional steps should be taken to get to the close. Upon close it automatically updates the customer database and the task management features facilitate the onboarding process. It also has a neat "Click-to-Call" feature that calls and optionally records directly from your prospect list providing an excellent sales training vehicle.
Cons
We would like to have seen the developers respond more quickly to feature suggestions but as a Sales CRM it is untouchable.