About QuickBooks Desktop Enterprise
QuickBooks Enterprise is an accounting solution designed for SMBs across different industry verticals such as construction, nonprofit distribution, manufacturing, and retail. With QB Enterprise solution, any business owner can expand business operations using advanced inventory, reporting, and invoice tools, in addition to premium support from Enterprise's CS and Payroll teams. Quickbooks includes inventory management, inventory tracking, expense tracking, payroll management, invoicing, multi-user management, advanced reporting tools, and more. QuickBooks Enterprise offers customizable reporting tools that help users analyze data and make informed business decisions. With over 200+ auto-filled templates and 70 industry-specific reports, this Quickbooks accounting software helps businesses find the QuickBooks data to solve any business issue. Quickbooks advanced inventory tools allow businesses to gain visibility and control over the inventory management process with the ability to track inventory movement, automatically scan and update inventory items, manage any purchase order/sales order from one dashboard, and plenty more. QuickBooks Enterprise also allows businesses to control, customize, and automate financial transactions with job costing tools, batch invoicing, invoice tracking, cash flow management, fixed asset tracking, sales tracking, payment processing, and more. Businesses also have to ability to scan and attach multiple documents including receipts and quotes for multiple accounting tasks. The tool enables businesses to arrange documents into categories and keep track of important accounting files. This solution also maintains a change log to record changes within each document with the proper date and time stamp. QB also offers different QuickBooks software such as QuickBooks Premier and QuickBooks Pro that includes include different functionality and features.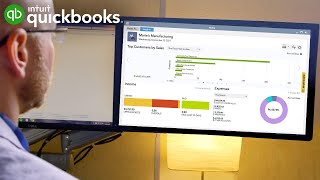 QuickBooks Desktop Enterprise pricing
QuickBooks Desktop Enterprise does not have a free version but does offer a free trial.
Alternatives to QuickBooks Desktop Enterprise
QuickBooks Desktop Enterprise Reviews
Industry: Publishing
Company size: 2–10 Employees
Used

Daily

for

2+ years

Review Source
---
Worth the price tag
I started out learning QuickBooks on the desktop version for a previous job, and the software has come a long, long way since then. The online version is well organized, easy to use, and in the three years I've been using it I've never run into a single glitch.
Pros
QuickBooks online gives me one place to track everything related to money for my small business: income, expenses, taxes, and payroll. It's easy to set up and use, and I like knowing that even when I'm not paying as much attention to some of the bookkeeping as I should, it's still being tracked for when I have time to get to it.
Cons
It's a little pricey and the help/FAQs aren't always that helpful, but those quibbles are greatly outweighed by how easy and useful it is.
Reasons for Choosing QuickBooks Desktop Enterprise
At least at the time I made the switch, FreshBooks didn't support expense tracking or tax software integration.
Reasons for Switching to QuickBooks Desktop Enterprise
One of the things that makes QB worth the price tag is that it includes *everything* a small business needs. Rather than having to track income, expenses, taxes, and payroll in separate places, everything is linked and organized in one place.
Industry: Animation
Company size: 51–200 Employees
Used

Daily

for

1+ year

Review Source
---
Comprehensive Accounting Solution for Large Businesses
Overall, QuickBooks Desktop Enterprise is a comprehensive accounting solution designed for large businesses. Its advanced inventory management, customizable reporting, job costing, and multi-user access features make it a powerful tool for businesses looking to manage their finances efficiently. However, its high cost and steep learning curve may not be suitable for all businesses, and the limited cloud features and integration options may limit its functionality for some users.
Pros
1 Scalability: QuickBooks Desktop Enterprise is designed to cater to the needs of growing businesses. It can support up to 40 users and handle large amounts of data, making it an ideal choice for large businesses.2 Advanced inventory management: QuickBooks Desktop Enterprise offers advanced inventory management features, allowing businesses to track inventory levels, set reorder points, and manage inventory across multiple locations.3 Customizable reporting: QuickBooks Desktop Enterprise provides customizable reporting options, allowing businesses to generate reports tailored to their specific needs. This feature helps businesses make informed decisions based on accurate data.4 Job costing: QuickBooks Desktop Enterprise's job costing feature enables businesses to track expenses and revenue associated with specific jobs or projects. This helps businesses determine the profitability of each job or project and identify areas for cost savings.5 Multi-user access: QuickBooks Desktop Enterprise offers multi-user access, allowing multiple users to access the software simultaneously from different locations. This feature facilitates collaboration and improves productivity.
Cons
1 Expensive: QuickBooks Desktop Enterprise is a more expensive option compared to other accounting software, which may not be feasible for small businesses or startups with limited budgets.2 Steep learning curve: QuickBooks Desktop Enterprise can be challenging to learn for new users, which may require additional time and training.3 Limited cloud features: QuickBooks Desktop Enterprise lacks advanced cloud features compared to other cloud-based accounting solutions. This may limit the flexibility and accessibility of the software.4 Limited integration options: QuickBooks Desktop Enterprise has limited integration options with third-party applications, which may limit the software's functionality for some businesses.
Industry: Education Management
Company size: 11–50 Employees
Used

Daily

for

2+ years

Review Source
---
Still riding market share for over 20 years
Bank transaction downloads, account reconciliation, payment and invoice recording, tax reporting.
The experience has been fraught with frustration, loads of rework, arcane and unexplained entry rules, dead end data experiences, all punctuated by frequent Intuit attempts to reach for more money out of my pocket.
Pros
Basic functions of creating payments, invoices, bills, checks, etc are workable and fairly intuitive.
Banking Center makes initially downloading bank transactions fairly simple.
Once you modify a report to the point where it is useful, QB can memorize it for ongoing use.
As soon as you get beyond those, best to get prepared with an accounting degree, lots of time to do google searches, and some antacid or aspirin.
Cons
1) if you want to do any interaction with exported files or bank downloads, be prepared to be gouged for the price of a new license every 3 years.
2) for that repurchase, you get very little to nothing improved except more ways Intuit can offer add-ons (for a price).
3) reports are available mostly in standard accounting formats. Detailed custom listings are hard to get at best via the transaction lists. For line items you took the time to enter into a Bill, it's literally impossible.
4) Bank Feeds transaction approval screens are an abomination. Modifying/adding columns: not possible. Finding a rule that auto modifies your entry: good luck. Figuring out how to make a new rule: better google it. Figuring out how to reverse an accidental entry: get out the antacid and aspirin. If that downloaded tran should have been a bill pmt, get stronger antacid.
5) transaction lists: hope you only want to see either ALL, Current Period, Last Period or Next Period. Else get used to a boatload of sorting and scrolling, because there's no way to bracket your data within custom dates.
6) Home screen: want a clean simple Home to find your functions quickly? Too bad; Intuit would rather hit you with marketing. Want to see only a few Account Balances and hide those you never use? Sorry!
7) Support: virtually non-existent outside of the QB User forums, so hope that someone else has asked your question already.
Has any developer at Intuit ever held a user focus group or been a user?
Industry: Internet
Company size: 201–500 Employees
Used

Daily

for

2+ years

Review Source
---
An Impressive Accounting Software for Businesses
I've been using QuickBooks Desktop Enterprise for a few years now and it has been a great tool for managing my business. The software is easy to use and understand and has plenty of features that make accounting easier. However, the cost can be a bit prohibitive for some businesses.
Pros
QuickBooks Desktop Enterprise is an incredibly powerful accounting software with a wide range of features and capabilities. It is easy to use and understand, making it a great solution for businesses of all sizes. The ability to customize the software to meet the needs of individual businesses makes it an excellent choice for businesses looking for an accounting solution.
Cons
Although QuickBooks Desktop Enterprise is an excellent choice for businesses, it can be quite expensive. Additionally, the software requires a certain level of knowledge and understanding to operate effectively.
Industry: Transportation/Trucking/Railroad
Company size: 5,001–10,000 Employees
Used

Daily

for

2+ years

Review Source
---
Quick Book usage review
I have been using QuickBooks Desktop Enterprise for about 6 years now and I have to say that I am very pleased with it. QuickBooks Desktop Enterprise has been a great asset for my business and has helped me streamline my accounting processes. The software is user friendly and I have been able to easily customize it to fit my business needs. The support team is also very helpful and responsive, they always make sure that my questions are answered and that any issues I have are resolved quickly. Overall, I am very happy with QuickBooks Desktop Enterprise and would highly recommend it to anyone looking for a comprehensive and powerful accounting software.
Pros
The QuickBooks software was very user-friendly and easy to use. I liked being able to quickly and easily find the information I needed, create invoices and reports, and keep track of my finances. It was also great that I could access QuickBooks remotely and sync my data across multiple devices.
Cons
I didn't like the user interface. It felt clunky and outdated compared to other bookkeeping programs I have used.