About Vodia PBX
Vodia PBX is a hybrid VoIP PBX solution that caters to businesses in industries like healthcare, education, call centers and hospitality. It helps them to manage communications within organizations and with external clients. The solution can be deployed on-premise or hosted in the cloud. For hosted PBX licenses, Vodia supports multi-tenancy operation which allows users to manage several organizations through a single instance of the software. Users can integrate a number of hardware and software components including softphones, mobile phones, email services and text messaging, as well as a number of extensions. Other features include auto-attendants, call recording, mailboxes, automatic call distribution, conference calling, park orbiting and paging. Communication with Voida PBX is encrypted based on TLS and SRTP. It also supports ZRTP end-to-end encryption. Services offered are priced based on extensions and PBX features. Support is available via phone, email and through an online ticket portal.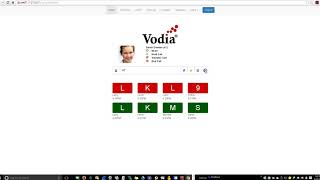 Vodia PBX has a free version and offers a free trial.
Starting Price:
Not provided by vendor
Alternatives to Vodia PBX
Industry: Mechanical or Industrial Engineering
Company size: 11-50 Employees
Used

Other

for

1+ year

Review Source
---
I got an answer from support very quickly, for a question that I spent many hours working on...
Pros
it is hosted remotely, so I don't have to worry about maintaining hardware or software for the phone system.
Cons
It is still very complex. PBX administration is difficult if you are not knowledgeable about it. My shortcoming more than the software
Industry: Information Technology & Services
Company size: 11-50 Employees
Used

Daily

for

1+ year

Review Source
---
Great for 1 -1000 users
I cannot complain, as they offer a great solution for a fair and flexible price. Now that they have integrated Microsoft Teams into their platform, it hjas been a huge advantage to us.
Pros
We started using Vodia because a 3rd party vPBX provider we were using, had this as their platform. We found it reliable and easy to use. We then decided to cut out the middleman and setup our own vPBX solution for our clients. It was simple and easy to setup and offers us the type of solution we were after for our clients
Cons
As with most mature platforms, the documentation is either missing or out of date for some areas. This has not really been a problem as their Forum and Support are easy to search and navigate.
Industry: Telecommunications
Company size: 11-50 Employees
Used

Daily

for

1-5 months

Review Source
---
Feast or Famine
Overall, while I think the system can do everything that I need and want it to do, I can't implement it because they just tell you to consult their documentation which I find to be circular and outdated. If the manufacturer can't support you, then you either have to find someone who can or use another platform. The latter is what we will probably end up doing.
Pros
There are a great many features. System can do just about anything. Properly priced.
Cons
Support -- Although it is US Based, if you choose this software you had better enjoy just tinkering around with things until you get the system to work as you want it to. They will tell you that they do not have the time, manpower or desire to train you one on one. They do offer training classes but then you need to spend money for flight, car and hotel. They have yet to announce any West Coast USA training dates.
Industry: Telecommunications
Company size: Self Employed
Used

Daily

for

2+ years

Review Source
---
Vodia - Great entry to starting your own VoiP business
Solid and is hosted entirely in AWS makes this an unreal service offering. The system has been hardened over the last 15 years and its community is quite supportive.
Pros
The system is probably one of the most flexible systems architecturally speaking whereby you have a true multi-tenant PBX. Setting up domains, live call tracking, CRM integrations with ZTP (zero-touch provisioning) for multiple brands of IP Phones and with pricing that makes sense that is based on simultaneous call paths as opposed to per extension billing makes it a no brainer!
Cons
Missing a mobile soft client that should be part of the offering and a video conferencing piece is what is necessary to round off a solid offering. Although you can program Bria client or another third party client there is no auto-provisioning mechanism in place and requires intervention / client holding.
Used

Daily

for

2+ years

Review Source
---
Vodia is a flexible, expandable multi-client VoIP solution, 10 min to set up and 2 min to back...
Pros
The ease of setting up a new server is awesome! - for hundreds of separate customers each with tens of extensions takes a few minutes. (or tens of customers with 100s extensions)... Then you can backup a complete customer domain with one click, restore it to another server with one click and go live...

We can deploy a new customer (through our simple portal written using the Vodia API) with 10 extensions and DID trunk set up ready to make and receive calls in 10 minutes, with industry standard phones out of the box, without touching any phone to set it up.
Full support for fault finding, tracing logging and great personal support (when you need it)!
We find this PBX software to be the best for any small or large Service Provider to provide best of class VoIP in a very standardized, repeatable and maintainable way to their customers.