About Quickbooks Point of Sale
QuickBooks Point of Sale is a retail point of sale system suitable for various small businesses such as clothing and shoe stores, small franchises, sporting goods stores and gift shops. It offers inventory and customer management tools, merchandise planning and a tablet-compatible POS. Cloud-based and on-premise deployments are available. QuickBooks Point of Sale provides standard point of sale features such as payment and return processing along with inventory management. This allows users to keep track of inventory, monitor items that are close to selling out and place orders for items that need to be restocked. The system also saves customer data to help users track purchase history and buying behavior. Users can configure price tags and receipts, set promotional prices, track layaways, manage rewards programs and ship packages using the Shipping Manager module. The POS system syncs automatically with QuickBooks accounting software. License-based pricing is offered. Support is available through an online knowledge base.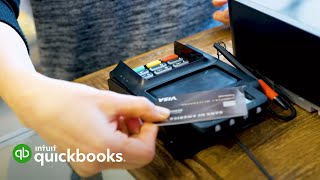 Quickbooks Point of Sale pricing
Quickbooks Point of Sale does not have a free version but does offer a free trial.
Alternatives to Quickbooks Point of Sale
Quickbooks Point of Sale Reviews
Industry: Construction
Company size: 2-10 Employees
Used

Daily

for

2+ years

Review Source
---
My swiss army knife
Its my go to book keeping tool I have used it I "Trust" it and would highly recommend it to any business no matter the industry or size .
Pros
Easy to understand so its easy to train new users I have used this software in my construction business and
a store manager it easily helps me manage multiple pos devices both in store and in the field making tax forms and reports quick and easy to create .
Cons
There is a learning curve for some uses of the software
Response from

Intuit

We're proud to be backing Pace Products inc, Christopher. Thank you so much for sharing your lovely review with us, as it's wonderful to hear that you find the program so easy to use.

I want to ensure you have all of the resources you need to help those you train get past the learning curve that is usually associated with a new program. For this reason, I encourage you to check out the QuickBooks Community website. It's a resource hub filled with a wealth of self-help knowledge articles that cover a wide range of QuickBooks-related topics. The following link will take you there: https://quickbooks.intuit.com/community/US-QuickBooks-Community/ct-p/community-us

Additionally, here's another link that will take you to a list of video tutorials that also cover many of the various features QuickBooks has to offer: https://www.youtube.com/playlist?list=PLVxBmyedTVhTRQRYeZJfVBpz_12zwHc6Z

Thank you again for reviewing our software, Christopher!

Clay, The QuickBooks Team

Replied 19/1/2019
Industry: Transportation/Trucking/Railroad
Company size: Self Employed
Used

Daily

for

2+ years

Review Source
---
The software you need when opening a small business
For those opening a small business, how to process payments is one of the key questions that need a solution and with this you have the ability to get paid from your customer.
Pros
The easy functionality and all the different features that I didn't think about that would be there to help get a company going
Cons
The time it takes to put in all information
Reasons for Switching to Quickbooks Point of Sale
It satisfied my need to be able to collect payment
Industry: Wine & Spirits
Company size: 2-10 Employees
Used

Daily

for

1+ year

Review Source
---
QuickBooks Pro Point of Sale Version 12
I've used QuickBooks Pro in my retail liquor store for about fourteen months. I don't like it, for four main reasons:
First, if I'm making a sale and I notice the price of the product or the on-hand quantity is wrong the software won't allow me to make corrections from the "Make a Sale" screen. It will allow me to change the price, but the change will show up on the receipt as a "discount," and the price will remain wrong in the database. To change the price or the on-hand quantity in the database requires exiting from the "Make a Sale" function and then entering the "Item List" function. This is impractical to do when a customer is waiting to pay and get on his way. It is also inconvenient and cumbersome to switch back and forth when we are checking in replacement inventory items during business hours and we have to get out of the "Item List" and go to the "Make a Sale" function. When we had Microsoft Point of Sale we could do both functions from the same screen.
Second, QuickBooks Pro will not produce a simple report showing what products were sold and how many were sold during a previous period of time, plus how many remain in inventory. I need to know this information so I can decide what items to replace in inventory. QuickBooks Pro will report all the sales during any chosen period, but obviously the same products are often sold multiple times during a day, so when I'm ordering I have to look at every transaction and consider whether to re-buy the same items multiple times, and then look at another report showing how many were sold during the past months. If you were in a business like mine you'd appreciate the difference between looking at several hundred individual transactions and looking at a single list that summarizes what was sold, how many remain in stock, and how many were sold in the past three months. I think a good POS system should be able to produce a list of what was sold in one column alongside another column showing how many remain in inventory, and a third column showing how many were sold during the previous three months or whatever time period the user would choose as a guide to decide how many of each to re-buy for stock. QuickBooks Pro will not do this. Also, QuickBooks will not let you copy the name of an item in a report, which would make reordering easier. Instead, I have to type the name of what I want when I go to the suppliers' ordering systems.
Third, it won't handle some barcodes. There are some that'll work in the "Item List," but not in the "Make a Sale" function and some vice versa. Some won't work in either function. We never had this problem with Microsoft Point of Sale.
Fourth, and worst, QuickBooks drops transactions and changes the quantities of items in inventory. Every night when I do my tallies I have more money in the till than I should have for a number of sales that day as reported by QuickBooks. I've seen no rhyme or reason for this happening—the software just decides on its own to delete a transaction or two every day. It also decides on its own to make changes to the quantities of items in inventory, so I don't really know how many of an item we have in stock without walking to the shelf and counting them myself. I seldom have time to do this, so I frequently order things we already have plenty of, or we run out of things and don't notice it until a customer complains or we just see a hole in the shelf where something should go.
I've tried to imagine a business that would be satisfied with this software. Please don't recommend it to clients with high product turnover and many transactions to keep up with.
Pros
Poor as it is, it does keep working. It hasn't crashed yet.
Industry: Consumer Services
Company size: 2-10 Employees
Used

Daily

for

2+ years

Review Source
---
This pos system exceeds my needs
This program had everything that I wanted not only did it meet expectations that exceeded them and even was ahead of me in being able to navigate problems I didn't even realize I would have
Pros
They think of just about everything and they make it so easy that it almost does it itself
Cons
There's there's a lot of content so it can be a little confusing at first but once you get it going it is smooth sailing from there
Reasons for Switching to Quickbooks Point of Sale
QuickBooks is the better program
Industry: Restaurants
Company size: 51-200 Employees
Used

Daily

for

2+ years

Review Source
---
Quickbooks POS
Pros
We have been using this at managing our warehouse I consider QB as one of the best POS software. It does the job and doesn't disappoint in your hell-busy environment.
The inventory is managed thoroughly with Quickbooks POS the retail stores are set as clients on our POS we bill to our stores which makes it very easy to track inventory and match the in-stock at the month-end just can't imagine life without QB.
Features like user permissions access for users are very useful.
Cons
The number for support doesn't work. App crashes sometimes which needs to be resolved by deleting Entitlement files.