About Applied Epic
Applied Epic is a cloud-based insurance solution that assists agents, brokers, insurance providers and consumers with the exchange of insurance data and information. Key features include policies and benefits administration, license tracking and document management. Applied Epic allows users to compare and verify policies, documents and contracts. Users can design plan summaries using pre-built forms and templates. It also allows users to educate employees on government-mandated benefits and coverage. An agent dashboard helps to manage the sales process and track performance against individual sales goals. The sales automation feature helps sales teams to manage their pipeline and other sales activities. Agents have access to document management that allows them to create multiple folders and client reports in order to maintain and track client history. The solution also facilitates communication between agents and customers via text messages. The solution provides support via phone.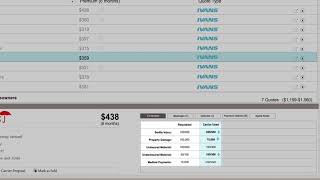 Applied Epic does not have a free version.
Starting Price:
Not provided by vendor
Alternatives to Applied Epic
Industry: Insurance
Company size: 201-500 Employees
Used

Daily

for

2+ years

Review Source
---
Best P&C Insurance Tool on the Market
Pros
Epic is an easy tool to use whether you're using the service side, admin/reporting side or using the accounting features. Since working at my current company, I've used it for all three. It's structured and easy to train on.
Cons
I wish that Epic had a better Benefits setup. I'm hopeful that with the recent purchase of TechCanary Applied will be able to provide a better Benefits tool.
Industry: Insurance
Company size: 11-50 Employees
Used

Daily

for

2+ years

Review Source
---
Tough to learn, lots of great tools
After getting used to the new work flow created with this platform I thought it was great for lead management and reminders for daily tasks. It was not the most friendly for the sales process when it came to wanting to quickly go through your work flow.
Pros
I think the managerial positions like this platform a bit more than the day-to-day salesman. It can run a lot of useful reports and does a great job with lead management.
Cons
It took a while to learn and get into a good work flow. There are a lot of extra steps added in the sales process to appropriately document that I think could be better streamlined.
Industry: Insurance
Company size: 1,001-5,000 Employees
Used

Daily

for

2+ years

Review Source
---
Amazing Software
My overall experience with Applied Epic is amazing. It is a dependable software that allows brokers to operate at maximum efficiency and accuracy.
Pros
I love that this software will allow you to set up your entire days to do list on the front screen. It keeps track of all the documents and emails in one place for each client. It also allows me to help my coworkers out on files by giving me a broad scope of what is going on with the file.
Cons
There really isn't anything that I don't like about EPIC. I find it to be a great help when going about my day and very effective in the industry.
Industry: Insurance
Company size: 51-200 Employees
Used

Daily

for

2+ years

Review Source
---
Best of the Available Agency Management Systems
Over all I think EPIC s ok, but it clearly does not live up to its name as being "EPIC"
Personally I think that Vision did many things better then EPIC, specifically when it comes to search ability of attachments.
Pros
I like how EPIC has built upon its predecessors TAM, Applied and Vision so that some of your past experience on their older systems can be applied to the new system. Attachments and emails are very easy to add to the system to be stored.
Cons
Many features in EPIC are worse than they were in previous versions.
1 - Attachment Folders were much better in Vision then Epic. Easier to find files than it is now
2 - canceling a policy in Epic does not change the expiration date on the policy in Epic as it historically did in Vision.
3- The attachment sorting and search function is worse now then in Vision.
4 - Many functions within policy acords such as import and export are not accessible from some screens that they should be accessible.
5 - System still lacks any real visual way for tracking in process items in ways that are popular with software and program developers.
6- System lacks the ability to easily store underwriter contacts information on a global level
7- Sending emails from within Epic lack most of the functionality within Outlook including signatures.
Industry: Insurance
Company size: 11-50 Employees
Used

Daily

for

1+ year

Review Source
---
EPIC
experience with EPIC was ehhhh… sometimes better than others... Buttt we had an awesome sales gal and she always made sure to listen to us and fully understand what was going on. If there was an issue, she made sure to get it corrected.
Pros
We have 2 agencies and moving to EPIC we were able integrate both, yet still keeping the separate.. giving all employees access to everything in one place.
Cons
We had a lot of issues with downloads, because we have 2 agencies. There was so much set up to go through and it was a process that took more time than anything.