About POS Nation for Retail
POS Nation is built to support retailers, including specialty businesses such as tobacco and vape shops, liquor, wine and beer stores, lawn and garden centers, hardware stores, convenience stores, groceries and markets. The software comes with all the features you need included out of your box, and specific to your industry--not as add-ons. Built-in discounting and sales pricing, the ability to accept and create coupons, age verification, and hotkeys, among other features, help businesses complete faster checkouts and easier transactions. Case- and carton-break inventory tracking, automatically generated purchase orders with reorder thresholds, an unlimited number of SKUs, and more, ensure inventory management is as simplified and streamlined as possible so owners and employees can always know what's in stock. Built-in employee management, customer loyalty, security, reporting and analysis all come within this powerful software to provide a complete retail point of sale system that doesn't just help you manage your store, but grow your business. POS Nation is also outfitted to handle multiple businesses and offers software add-ons such as cloud backup, mobile reporting, quick books integration, and inventory import to seamlessly integrate everything your business needs.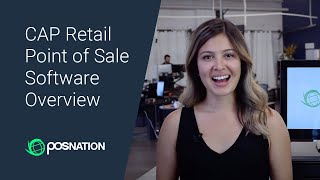 POS Nation for Retail pricing
POS Nation for Retail does not have a free version and does not offer a free trial. POS Nation for Retail paid version starts at US$39.00/month.
Starting Price:
US$39.00/month
Alternatives to POS Nation for Retail
POS Nation for Retail Reviews
Industry: Retail
Company size: 2-10 Employees
Used

Daily

for

2+ years

Review Source
---
Tech Support
CAP POS is great to use but I notice they are few little things as end user myself, we need tech support to help us get though some of glitch & add-on products to the POS sooner & less wait time.
I am always please & special thanks to [SENSITIVE CONTENT HIDDEN] , he have always help solve all issue I encounter in just one call, his knowledge of this software is second to none.
Pros
We have been using Cap software for many years & I found it's easy to use, it have many options available that business manager would love to explore it for their business. I hope CAP will post more video in how to explore all the great feature in it.
Cons
I can't find much of what I like least about this software but I do hope the wait time for tech support is shorter, retail business POS can't be down for too long customers have least patient when system have a glitch and tech support can't be reach right away.
Response from

POS Nation

Paul,

Thank you for your feedback regarding both the software and our technical support team. We want to ensure that we are decreasing our wait time and you are receiving the help you need in a timely manner. Please give our customer success team at call if you find that the wait time has become too extensive. You can reach us at 877-727-3548 Option 2. Thank you again for your kind words and we look forward to working with you in the future!

Replied 18/12/2020
Industry: Furniture
Company size: 2-10 Employees
Used

Daily

for

1-5 months

Review Source
---
Amazing Product!!
This system and the staff have been extremely beneficial to our business, here in Canada. They helped through the purchasing, setting up, and operation of the system without rushing me and only stopping after I was satisfied. Before POS Nation, we were using an old analog cash register that only had new items and used items as categories (the only new items we carry are mattresses), leaving no information as to what we sell in what quantities or values. Now, we can see how many of what we sell and when. This is very important to us and will be a very good aid for as to what donations we will be seeking more or less of.
Pros
The system's best feature is its customizability. Being a used furniture store that also deals with antiques, appliances, collectibles, tools, and pretty much everything except for clothing, we needed a system that we could adjust on the go since our inventory is always changing. We've been using this system for about 3 months now and even today, I'm still making adjustments multiple times a week. My volunteers caught on to its use very quickly, even considering the changes that I keep making to it.
Cons
The two things that I don't like is the inability to remove payment options buttons, such as EBT or Gift Card, as we don't use those methods and I would like to have a 3rd column of TS Lookup. The first on the left brings up the three on the right. I wish it could do sub-categories. For example, if we sell a mattress I'd like another row to pop up and ask if it's new or used and the third to then ask which size, material, etc.
Response from

POS Nation

We appreciate your feedback, Justin. Thanks for being a POS Nation customer!

Replied 23/2/2020
Industry: Retail
Company size: 2-10 Employees
Used

Daily

for

6-12 months

Review Source
---
Terrible team, horrific software and non-reliable hardware!
Pros
Great liars and getting customers onboard.
Cons
Terrible team, horrific software and non-reliable hardware! The system was sold on a lie. The features discussed during phone calls and via email did not match the actual system. They tried blaming the initial issues on the credit processing company but later learned that their software was not compatible when accepting EBT cash. Then the software upgrade (May 29, 2021) began showing the same error and froze both of my POS systems on numerous occasions. Instead of resolving the issue brought on by their upgrade, they asked me sign up for monthly service or pay $239 dollars.
Their keyboard has a mind of it's on. At times the CAP lock is activated or the number lock. Their scanners are worthless. I'm being charged $200+ dollars for a wireless scanner that is available on Amazon for $100 dollars. Scanner reviews on Amazon clearly show that no one invested any time conducting a thorough research.
Lastly, it's missing the automated decimal point and the change due does not disappear automatically when initiating a new transaction.
Instead of helping resolve their software/hardware issues I received an email from Will that they are cancelling my software service.
I emailed my concerns to [SENSITIVE CONTENT HIDDEN], but yet to receive any response.
Do you want to start your day asking yourself if your POS system is going to work or not?
Industry: Retail
Company size: 2-10 Employees
Used

Daily

for

2+ years

Review Source
---
CAP is perfect for managing a retail shop with lots of product and customers
For us, the inventory control is the most valuable. We have a bead shop with hundreds of small items that would be impossible to manage without CAP. We know what's selling, who is buying and when to reorder or put on sale to move out. We know what our overall financial position is constantly.
Pros
Back office is incredible - so nice to have access to everything that we do from purchasing, receiving, tagging, selling, reordering, customer history, discounts, special sales - I could go on forever. I can't imagine what more could be needed.
Cons
We started using CAP when we first set up our business over 20 years ago and have enjoyed the upgrades over the years. Now with the incredible support we are getting today it is wonderful. The program is sophisticated and with so many options it is so much easier to utilize more features with the new support available. I wish we had access to that years ago. I spent a lot of time with trial and error trying to utilize different features but now I can just pick up the phone and within a very short period of time, I've got my questions answered or problems solved!
Response from

POS Nation

Diana,

POS Nation is lucky to have such great customers, like yourself. We cannot thank you enough for sharing your positive experience with our company! We are so happy to hear that you love the Back Office feature and the upgrades over the years. We are excited to continue working with you throughout the years to come!

Replied 16/12/2020
Industry: Retail
Company size: Self Employed
Used

Daily

for

1-5 months

Review Source
---
Intuitive, comprehensive, easy to learn, with a great team behind the product to offer help!
5 stars from day one!
Pros
The whole system rocks. It's easy to learn, the features are exactly what I need - I don't think there is a single feature I would add. Checking customers out is easy, credit card processing is seamless, and the features, like the hot keys, discounts, and ability to examine the data and make decisions based on real time information is key to my profitability.
Cons
The only thing that I would alter is the search feature when looking up an item - the "search" button is above the entry field - when intuitively - most people go to their right where the return button normally is - it's a small thing - but annoying when you're in a hurry. When programming the hot "add" button - which intuitively you'd think would add a hot key - adds a "set" - you have to use the "change" button to add a hot key to a "set" - that is also a bit weird and not as easy to grasp when you're starting out. It's not a deal breaker in any way shape or form - as the hot keys themselves are an awesome feature - it's just two little things that I find a bit annoying.
Response from

POS Nation

Reviews like this really make our team proud. Thank you so much for your kind words, and for being a valued POS Nation customer!

Replied 22/10/2021