About ELMO Software
ELMO Software is a cloud-based solution that helps thousands of organisations across Australia, New Zealand and the United Kingdom to effectively manage their people, process and pay. ELMO offers a comprehensive suite of cloud HR & payroll software solutions that can be configured to whatever your organisation requires, and are available within a single dashboard and single user interface. We help organisations automate and streamline operations across the following areas: HR Core, Payroll, Recruitment, Onboarding, Performance Management and Learning Management. ELMO is also ISO 27001:2013 certified, meaning that information security is prioritised at all levels of the business and is a core ongoing and evolving aspect of our operations and services. With a mission to create best-in-class technology accessible to all workplaces, ELMO is constantly evolving. Our innovative solutions are at the forefront of a disruptive technology industry, driven by the transition of organisations towards online systems which automate processes and aggregate information in new and intelligent ways. Existing ELMO solutions can connect to many popular third-party applications so that you can automate tasks, streamline processes and be more productive.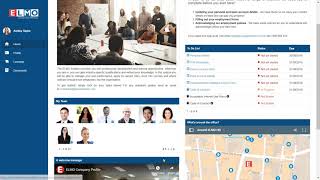 ELMO Software does not have a free version.
Alternatives to ELMO Software
Industry: Wine & Spirits
Company size: 201-500 Employees
Used

Daily

for

6-12 months

Review Source
---
Very happy with the software and the service offered by ELMO
Pros
The implementation was seamless and the staff at ELMO go over and above to ensure you get the most out of the system. We have gained the most benefits out of the Onboarding, Learning & Performance modules.
Cons
Some limitations in the rostering software but ELMO are very proactive in continuously developing and improving the software
Reasons for Choosing ELMO Software
ConnX was unable to support our growth as a business. Found the reporting in Sage to be limited and also wanted one fully integrated HR and Payroll system
Reasons for Switching to ELMO Software
ELMO offered a complete solution and the pricing was very good for what was being offered.
Response from

ELMO Software

Thanks for a great review, Katie! We love to hear that you have found ELMO's Implementation team and cloud-based solutions helpful to your oranisation. We look forward to continuing to support your business. Kind regards, ELMO Team

Replied 27/3/2022
Industry: Facilities Services
Company size: 501-1,000 Employees
Used

Daily

for

6-12 months

Review Source
---
Change your life with ELMO
Time to Onboard has been dramatically reduced and is now no longer a labour intensive process.
I am looking forward to providing meaningful reports to the business.
Pros
This software is so simple to implement and once implemented it has saved myself and other managers so much time. In particular having project based work our Onboarding process has become so streamlined now we can onboard high numbers of employees at the same time.
As a Performance Appraisal system we found ELMO easy to develop and roll out. Our company had not been keen on Performance Appraisals in the past but ELMO was so well embraced we had 100% update on the first appraisal round.
We also find the more you use the system the more proficient you become.
The support provided by ELMO during the project implementation phase has been extremely supportive. We are now using the Help Desk and our issues are usually resolved within 24 to 48 hours.
Cons
If an employee has not completed all their documentation we would like an automatic alert. At this stage we need to manually check on this.
Response from

ELMO Software

Hi Helen. We really appreciate the time you've taken to provide such a great review, and thank you for your continued support. Our customers are at the heart of our business, and feedback like yours is invaluable. We have passed your feedback on to our Product Development team. We hope your organisation enjoys the benefits of ELMO's cloud-based solutions.
Best wishes, ELMO Software.

Replied 8/9/2021
Industry: Hospital & Health Care
Company size: 201-500 Employees
Used

Daily

for

6-12 months

Review Source
---
Good system - more suited to Offices than Hospitals
Easy to use, just have to put in more effort on our part to make it work for us.
Pros
Visually ELMO is easy to navigate and logical to use. Suits us for performance reviews and new starters.
Cons
Reporting. We would like to be able to get learning hours in a report that is "good looking" not having to download a csv file only to then have to filter, sort and "make pretty" for use. This is important to us because learning hour are required for Nurses to keep their qualifications and certifications.
Also, most of the help received by ELMO System Experts could do with some improvement. They don't seem to understand the needs of the client/customer when working with them to come up with solutions.
Response from

ELMO Software

We really appreciate the time you've taken to write a review. ELMO's Dashboards feature, under Analytics, can help you create user-friendly charts that can be easily exported. Your system administrator can reach out to your Account Manager to work out solutions specific to this feature. Kind regards, ELMO team

Replied 6/12/2021
Industry: Health, Wellness & Fitness
Company size: 51-200 Employees
Used

Daily

for

1+ year

Review Source
---
ELMO HRIS: Review Snap-shot
Overall, our feedback is very positive and staff across all levels are happy with the introduced HRIS
Pros
Great customer support team: very responsive and efficient
Cons
Some visibility features are yet to be improved (e.g. display of data, attaching additional data, etc.)
Response from

ELMO Software

Hi Kseniya. Thanks so much for taking the time to leave us a great review. Your feedback has been passed on to our Product Development team. Kind regards, ELMO

Replied 6/12/2021
Industry: Higher Education
Company size: 201-500 Employees
Used

Weekly

for

2+ years

Review Source
---
ELMO Software will benefit your business
Staff acquisition and management is the chief benefit I find, other than its excellent functionality as my personal HR-related portal. It is clear, well set up, ergonomic and logical.
Pros
The staff management and performance review features are logical and easy to use.
Cons
Once enrolled in certain courses by accident, I found they couldn't be removed.
Response from

ELMO Software

Hi Thomas. Thanks so much for taking the time to leave us a great review. We really appreciate it! We hope you continue to enjoy the benefits of ELMO's cloud-based solutions. Best wishes, ELMO Team

Replied 15/2/2022