About ELMO Software
ELMO (ASX:ELO) is integrated cloud HR for Australia and New Zealand, offering payroll and rostering / time & attendance through ONE vendor, ONE dashboard, ONE user-experience. ELMO's suite of HR, payroll and rostering / time & attendance solutions can be used together or stand-alone and are configurable according to your organisation's processes and workflows. The ELMO solution allows organisations to manage their HR and payroll processes within one simple platform, with a single dashboard and reporting suite. ELMO's software applications are multi-tenant, multi-user, on-demand application providing true SaaS delivery. ELMO applications require no special hardware, no software maintenance, and no network administration. This removes many of the costs and headaches associated with large-scale software implementations, provides seamless integration with legacy HRIS / payroll systems, and provides the added benefit of rapid, painless upgrades as new features are released. ELMO helps you to automate and streamline your operations across the following areas: Payroll, Rostering / Time & Attendance, HR Core, Recruitment, Onboarding, Learning Management, Course Builder, Pre-built Courses (400+ course library), Performance Management, Succession Management, Rewards & Recognition, Pivot Remuneration and Survey.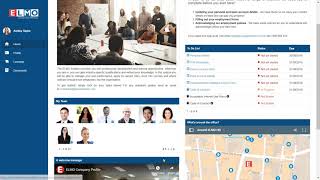 ELMO Software does not have a free version.
Starting Price:
Not provided by vendor
Alternatives to ELMO Software
Company size: 11-50 Employees
Used

Daily

for

1-5 months

Review Source
---
So easy to use
Reduces admin costs since we spend less on paper.
Pros
Performance and Learning modules are made in a very simplified way making them so easy to understand and use
Cons
having in mind the importance of a remuneration module, it would be a very appropriate to aquire one
Industry: Financial Services
Company size: 201-500 Employees
Used

Daily

for

6-12 months

Review Source
---
Great overall quality of platform for money spent with good customer service and support...
Centralised HR Platform where we can design, manage and report on the three critical people stages for us in our business, which are Recruitment, On-boarding and Learning.
Pros
I think the ease of use and implementation of each of the three modules we currently have; recruitment, on-boarding and learning (including course library) is the main benefit for our business wanting to design and deploy learning modules quickly to our employees, but also makes it easier to implement best practice processes for these which improve workplace efficiencies in how we manage our most important resource, our 'people' component.
The features and functionality of the learning management system I think are really seamless and useful in getting learning modules quickly and effectively produced for our network, so then we can data-mine on this for reporting purposes and auditing.
Having nearly everything automated and available in the end-to-end process of HR, makes it extrememly beneficial for a business to manage the processes and have one portal with all the critical information gathered into. In addition, since the system is a cloud-based software and being client-centric, when we have enhancements to voice, the ELMO Team consider these for future changes and iterations of the platform, making it better and evolving it out for the clients it's designed for.
Cons
The ELMO Survey tool and functionality requires some further enhancements to be made to ensure that it provides more granular data for clients (e.g. like Survey Monkey's design), as this will assist us in drilling down further with certain users/learners of the portal to see for example, how long and how many attempts they take for completing compliance modules etc.
Industry: Government Administration
Company size: 201-500 Employees
Used

Daily

for

2+ years

Review Source
---
All in one HR?
It does it's job, but the user interface and functionality leave a lot to be desired. The only way to get answers to questions is through logging a ticket, and this can sometimes take a while to get a response. This can be frustrating when the issue is timely.
Pros
We use ELMO to track compliance courses, as well as track performance appraisals. It does both of these jobs well enough.
Cons
The course building application is woefully restricting and dated. We don't use it anymore, and create eLearning modules in a different program to upload into ELMO.
Industry: Health, Wellness & Fitness
Company size: 51-200 Employees
Used

Daily

for

1-5 months

Review Source
---
Everything is half baked and any feedback is met with..Unfortunately, this is the expected...
Very poor.
Pros
The premise of the application and feature set is great, but the implementation is poor with it really feeling like they have tacked together multiple different pieces of software.
Cons
There are many many many many really poor user experience pieces wasting considerable user time and the answer when saying that is poor is "Unfortunately, this is the expected behaviour of the system"
Used

Other

for

1+ year

Review Source
---
We have the ELMO Learning module - so far, so good! Easy way to get learning out to the...
Pros
PROS: ELMO was relatively easy to install, and the single sign on function is great as it means we don't have to log on separately to use the system. The system has been branded to look the same as our other platforms, and is quite intuitive in terms of navigating around. The ability to deploy learning opportunities from the Library works well, and we're also able to generate our own content using the course builder. The support team have been great - particularly with more presence in NZ! The data and tracking we get from the system has worked well for us and allows us to provide real time analytics to our management team.
Cons
CONS: We have come up against some limitations, particularly around linking learning items together - e.g. if we want to run a webinar using Skype across the organisation, we can't embed the Skype link into an invitation direct from ELMO. We also wanted to be slightly "out of the box" and use ELMO for collation and recording of Driving Licence details for example, or apply for an unlisted external programme using the system. This proved to be more challenging than we thought, but it is probably more to do with an unintended use of the system rather than a particular system issue......