About ELMO Software
ELMO Software is a cloud-based solution that helps thousands of organisations across Australia, New Zealand and the United Kingdom to effectively manage their people, process and pay. ELMO offers a comprehensive suite of cloud HR & payroll software solutions that can be configured to whatever your organisation requires, and are available within a single dashboard and single user interface. We help organisations automate and streamline operations across the following areas: HR Core, Payroll, Recruitment, Onboarding, Performance Management and Learning Management. ELMO is also ISO 27001:2013 certified, meaning that information security is prioritised at all levels of the business and is a core ongoing and evolving aspect of our operations and services. With a mission to create best-in-class technology accessible to all workplaces, ELMO is constantly evolving. Our innovative solutions are at the forefront of a disruptive technology industry, driven by the transition of organisations towards online systems which automate processes and aggregate information in new and intelligent ways. Existing ELMO solutions can connect to many popular third-party applications so that you can automate tasks, streamline processes and be more productive.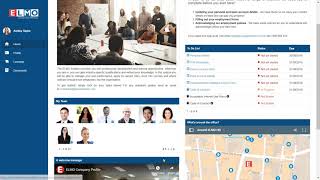 ELMO Software does not have a free version.
Alternatives to ELMO Software
Industry: Education Management
Company size: 201-500 Employees
Used

Daily

for

2+ years

Review Source
---
User review
ELMO has been used by our HR team for over five years. It has gotten progressively better and easier to use. Now, I know exactly where to go in ESS, how to request information or support and have more clarity around my performance management, than ever before.
Pros
I use ESS ELMO software nearly every day in my role; for requesting leave, undertaking mandatory training, keeping an eye on performance KPI's and measurement.
Cons
Finding a payslip from my company is difficult.
Response from

ELMO Software AU

Thanks so much for your review. We really appreciate the time you've taken to share your positive experience when using ELMO's Employee Self-Service module. Kind regards, ELMO Team

Replied 18/10/2022
Industry: E-Learning
Company size: 501-1,000 Employees
Used for

2+ years

Review Source
---
Improved a lot
Very satisfied with the latest version and appreciate the transparency provided for all users across the workforce from planner to user to performance review teams. The interactive aspects within the modules do help to improve engagement with the content (I used to just click past a lot).
Pros
Elmo has come a long way in the past few years from both the user and staff manager views. It was a dread in the past and now it provides a valuable and easy to use tool. This latest version has given me the inspiration to consider how this may be better used to facilitate the training of graduate students.
Cons
It would be interesting to have a "you might like" or optional courses section so that employees etc who might be looking for other areas to grow in can elect to do optional training for example in a university context a person from one of the Arts disciplines might like to learn more about animal care and ethics and thus want to do that module.
Response from

ELMO Software

Hi Andrea. We really appreciate the time you've taken to provide such a great review. Feedback like yours is crucial to the evolution of our solution. I have passed your feedback on to our Product Development team. We hope you continue to enjoy the benefits of ELMO's cloud-based solutions.
Best wishes, ELMO

Replied 8/9/2021
Industry: Government Administration
Company size: 1,001-5,000 Employees
Used

Monthly

for

2+ years

Review Source
---
Great training product
My organisation deals with sensitive issues and it's critical that staff are up to date with the latest requirements of roles. This software reminds us when our training needs to be done and how long we should allow to complete each element.
Pros
This software keeps me up to date with the training and development requirements of my organisation. I get reminders when new training is available and also when my knowledge needs to be updated
Cons
I don't have any negative comments to make about this software.
Response from

ELMO Software

Hi Douglas, we are so pleased to hear how ELMO's Learning Management System has helped you to keep up to date with your training and development requirements. Thank you for your feedback. Kind regards, ELMO Team

Replied 24/1/2023
Industry: Hospital & Health Care
Company size: 201-500 Employees
Used

Daily

for

6-12 months

Review Source
---
Good system - more suited to Offices than Hospitals
Easy to use, just have to put in more effort on our part to make it work for us.
Pros
Visually ELMO is easy to navigate and logical to use. Suits us for performance reviews and new starters.
Cons
Reporting. We would like to be able to get learning hours in a report that is "good looking" not having to download a csv file only to then have to filter, sort and "make pretty" for use. This is important to us because learning hour are required for Nurses to keep their qualifications and certifications.
Also, most of the help received by ELMO System Experts could do with some improvement. They don't seem to understand the needs of the client/customer when working with them to come up with solutions.
Response from

ELMO Software

We really appreciate the time you've taken to write a review. ELMO's Dashboards feature, under Analytics, can help you create user-friendly charts that can be easily exported. Your system administrator can reach out to your Account Manager to work out solutions specific to this feature. Kind regards, ELMO team

Replied 6/12/2021
Industry: Health, Wellness & Fitness
Company size: 51-200 Employees
Used

Weekly

for

2+ years

Review Source
---
Elmo has a modern, clean interface, and can be highly customised
We use Elmo for our Leave applications, personal leave, Annual leave etc., as well as keep us updated on what documents/certificates/checks are needed for our employment.
Also Elmo enables us to provide some onboarding modules for our new staff, so it's great to have that in one place, and means the new staff become familiar with it's operation from the start.
Pros
Ease of use is high. Clean layout within the software is helpful. Customisation means we are not forced to use pre-defined templates as with some other apps, so we can tailor the forms to suit our business processes.
Cons
The other side of the customisation coin, is that the forms seem to need creating from scratch. At least that's the feedback I have had, as a user, from the staff who are creating the forms, but this might be a gap in their knowledge so might be good to look at Elmo/talk with a rep to see what pre-defined templates they may have available.
Response from

ELMO Software

Hi Clinton. Thanks so much for your detailed review. It's great to hear your feedback about ELMO's Leave Management and Onboarding. Please do not hesitate to reach out regarding pre-defined templates, your system administrator or your Account Manager here at ELMO can help. Thanks again, we really hope you and your organisation continue to benefit from using ELMO Software to streamline your HR processes! Best wishes, ELMO Team

Replied 30/10/2022