About ELMO Software
ELMO Software is a cloud-based solution that helps thousands of organisations across Australia, New Zealand and the United Kingdom to effectively manage their people, process and pay. ELMO offers a comprehensive suite of cloud HR & payroll software solutions that can be configured to whatever your organisation requires, and are available within a single dashboard and single user interface. We help organisations automate and streamline operations across the following areas: HR Core, Payroll, Recruitment, Onboarding, Performance Management and Learning Management. ELMO is also ISO 27001:2013 certified, meaning that information security is prioritised at all levels of the business and is a core ongoing and evolving aspect of our operations and services. With a mission to create best-in-class technology accessible to all workplaces, ELMO is constantly evolving. Our innovative solutions are at the forefront of a disruptive technology industry, driven by the transition of organisations towards online systems which automate processes and aggregate information in new and intelligent ways. Existing ELMO solutions can connect to many popular third-party applications so that you can automate tasks, streamline processes and be more productive.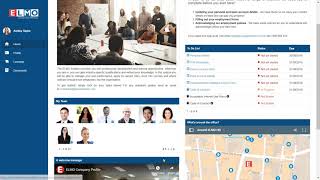 ELMO Software does not have a free version.
Alternatives to ELMO Software
Industry: Education Management
Company size: 201–500 Employees
Used

Daily

for

2+ years

Review Source
---
User review
ELMO has been used by our HR team for over five years. It has gotten progressively better and easier to use. Now, I know exactly where to go in ESS, how to request information or support and have more clarity around my performance management, than ever before.
Pros
I use ESS ELMO software nearly every day in my role; for requesting leave, undertaking mandatory training, keeping an eye on performance KPI's and measurement.
Cons
Finding a payslip from my company is difficult.
Response from

ELMO Software

Thanks so much for your review. We really appreciate the time you've taken to share your positive experience when using ELMO's Employee Self-Service module. Kind regards, ELMO Team

Replied 18/10/2022
Industry: E-Learning
Company size: 501–1,000 Employees
Used for

2+ years

Review Source
---
Improved a lot
Very satisfied with the latest version and appreciate the transparency provided for all users across the workforce from planner to user to performance review teams. The interactive aspects within the modules do help to improve engagement with the content (I used to just click past a lot).
Pros
Elmo has come a long way in the past few years from both the user and staff manager views. It was a dread in the past and now it provides a valuable and easy to use tool. This latest version has given me the inspiration to consider how this may be better used to facilitate the training of graduate students.
Cons
It would be interesting to have a "you might like" or optional courses section so that employees etc who might be looking for other areas to grow in can elect to do optional training for example in a university context a person from one of the Arts disciplines might like to learn more about animal care and ethics and thus want to do that module.
Response from

ELMO Software

Hi Andrea. We really appreciate the time you've taken to provide such a great review. Feedback like yours is crucial to the evolution of our solution. I have passed your feedback on to our Product Development team. We hope you continue to enjoy the benefits of ELMO's cloud-based solutions.
Best wishes, ELMO

Replied 8/9/2021
Industry: Nonprofit Organisation Management
Company size: 51–200 Employees
Used

Daily

for

1+ year

Review Source
---
ELMO Payroll Review
Pros
There are few redeeming features about ELMO Payroll. It appears to have been developed on the run using a 3rd party payroll system most likely from USA
Cons
Features that are critical are least developed such as reports from which to compile a general ladger payroll journal for uploading to an accounting system; termination transactions get included in the pay period of termination reports rather then being able to produce an 'extra' pay period; the conversion from existing to new system was as bad as it could possibly get in terms of communication with ELMO, manual data entry when uploading files fails and inconsistency with leave entitlements computation - ELMO expresses annual leave in days and long service leave in weeks - what happened to hours ??
Industry: Nonprofit Organisation Management
Company size: 11–50 Employees
Used

Daily

for

1+ year

Review Source
---
ELMO Software Is Great
Excellent experience. Deployments have been made easy
Pros
Easy to Navigate and Access. Summary of all data is clear and easy To understand
Cons
Limited only to Australian platforms when it comes to Finance and Banking.
Reasons for Switching to ELMO Software
Convenience
Response from

ELMO Software

Hi Maile, Thank you for sharing your experience with ELMO! It's great to hear you find ELMO's cloud-based solutions so easy to use. Kind regards, ELMO Team

Replied 2/12/2022
Industry: Facilities Services
Company size: 10,000+ Employees
Used

Monthly

for

6-12 months

Review Source
---
Confusing feedback on module test/assessment
Pros
The module is clear, straightforward and provides key information supported with relevant visuals to enhance understanding especially if you are not a non-native speaker of English. Navigation is easy and and progress is recorded and indicated accurately.
Cons
I just used the learning module as a required training path from my employer. In one of the tests' questions, I made a wrong choice and scored 75% in my first trial. As feedback is provided immediately, I can see what the correct option is. So I went back and tried it again, choosing the right option as suggested by the feedback from the software. When I did so, my answer was still wrong. So I tried the third time, using my original answer, and it's still wrong. And I tried it again the fourth time using the suggested correct answer, and it's still wrong anyway. I've tried numerous times and now got confused. To be fair, my original answer would to some extent be right as no indication in the modul that the reading would lead to choosing the other options. Given it is a training module, and all information should be made in reasonable ways to allow readers to make intended conclusion or to assume the intended understanding, when the answers or options are hard to guess from the reading, I think the module needs further checking for content validation and construct reliability so the modul test is relevant to the module content. IMHO. Thanks.
Response from

ELMO Software

Hi Ella, thanks for your review and feedback. Sorry to hear you had issues with that particular learning module, we have passed your comments to our Product Development team. We are pleased you find ELMO's learning modules clear and straightforward. Many thanks, ELMO Team

Replied 2/2/2023