About Katana Manufacturing ERP
Katana offers a manufacturing ERP that makes daily life easier for your business. Bring your manufacturing operations into a single platform for visibility over everything you do and data to make more informed business decisions.
With integrations for sales, accounting, and shipping, you can run your business using the best software for you and your team without added manual work. There's also our Shop Floor App to work remotely with your in-house team, batch tracking for total traceability, and automation for resources and reorders. You can even use barcode scanning to stay on top of stock takes and minimize physical paperwork with digital alternatives across your business.
Here are a few more of the features Katana offers to make manufacturing management simpler:
Live inventory management - Set up reorder points and prioritize sales and manufacturing orders to optimize your inventory. Track the availability of raw materials and finished goods in real-time. Katana follows stock movements across your entire production cycle in multiple warehouses, allowing you to maintain optimal inventory levels everywhere.
Real-time master planning - Katana automates raw material and product allocation for efficient sales order fulfillment. Katana adjusts your production schedule according to demand, aligning your manufacturing operations to ensure maximum efficiency.
Total shop floor control - Optimize and monitor floor-level operations in Katana's Shop Floor App. Easily create, set up, and remove shop floor operators and receive real-time floor-level insights to easily track manufacturing costs and productivity based on your product recipes or bills of materials (BOMs) and production operations.
Omnichannel order management - Manage your made-to-order and made-to-stock workflows in tandem. Katana supports e-commerce and B2B operations and integrates with a wide range of CRM and e-commerce tools to streamline order fulfillment.
End-to-end traceability - Batch tracking for manufacturing, purchasing, and sales orders, ensures industry compliance and visibility when it comes to tracking your perishable stock. Get end-to-end traceability for your products and materials at all product lifecycle stages.
Visual and intuitive - Katana's color-coded platform allows you to easily stay on top of your business vitals, from sales to manufacturing operations. Get a quick and accurate overview and help when you need it through our Knowledge Base and live support team. You can also enlist the help of a Katana Partner for help with implementation, automation, and more.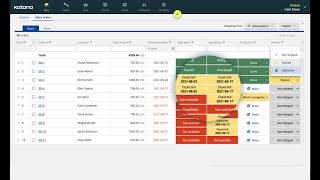 Katana Manufacturing ERP pricing
Katana Manufacturing ERP does not have a free version but does offer a free trial. Katana Manufacturing ERP paid version starts at US$99.00/month.
Starting Price:
US$99.00/month
Alternatives to Katana Manufacturing ERP
Katana Manufacturing ERP Reviews
Used

Daily

for

1-5 months

Review Source
---
I learned this product by using it; few hints from the online help. I decided on day one to...
I can now run my business without spreadsheet hell. I can actually make more product. This is not an exaggeration. I was stressed before using this software. I actually could not work out what I needed to order to satisfy our production demands.
Pros
It answers my questions easily, what purchase orders do I need to make to satisfy the orders I have coming in. What should I work on next and when will it be ready for the customer! I can see delays in deliveries and the effect on production. It manages very complex bill of materials for our vast number of products. and it does so with a user experience that is simple and easy.
Cons
Where there has been anything I didn't like about the software, I chat instantly to the development team and they listen, they come back to me with an instant work around; then in the longer term they have provided updates that fix the problem. They are an adorable bunch of people and really want to make this work for our busy little workshop.
Response from

Katana MRP

Thank you Gaz for all the support!

Replied 9/9/2019
Industry: Consumer Electronics
Company size: 2-10 Employees
Used

Daily

for

6-12 months

Review Source
---
Perfect for where we're at right now
We chose Katana after trying out a couple different MRP's which were either overly complex, over-priced, or didn't fit our needs. We've stuck with Katana based on it's ease-of-use, intuitive design, and delivery of everything we need it to do.
Pros
It's great to be able to log in on any computer without having to install software, and it's done an amazing job of keeping our inventory tidy and up-to-date. The Purchase Order generator has also made us look very professional to our suppliers. The integration with Shopify is also a huge plus to us as it prevents us from having to manually transfer Shopify orders and automatically removes all parts from the BOM from our inventory. Highly recommended!
Cons
There aren't many, if any things we've come up against yet that Katana didn't support.
Response from

Katana MRP

Thank you for the feedback!

Replied 13/2/2020
Industry: Chemicals
Company size: 51-200 Employees
Used

Daily

for

1-5 months

Review Source
---
Overpriced and insecure
Too expensive, cheaper to purchase some of the Tier One options out there. Insecure as your users have wide open access to all features - including the dreaded "delete all" function.
Pros
The software has the **potential** to be good.
Cons
There are only 2 user levels "Superusers" with access to all levels of creative and destructive features, and warehouse operators, with access to make to BOM instructions. The lack of "sales team" and other intemediate levels of access is a killer.
Response from

Katana Technologies

Hi Bill,

We're aware our user permissions could be improved, and just around the corner in Q3 '22 we're launching a new and improved version with much more flexibility. We're currently building this out as we've received similar feedback in the past, thanks for your feedback on the topic too!

I'd also like to clear up how user permissions are working currently too, we have 3 levels of users;
Owner - access to all functions, including billing and delete all button.
User - access to all functions, excl billing and delete all button.
Operator - only shop-floor app access.

Additionally, it takes 4 separate steps to clear all account data in settings, including typing out your email address in full and is restricted to only the owner of the account.

If you need any help with users or have additional feedback to give, please chat with us in app as currently it's a great time to incorporate feedback specifically for this feature!

Replied 15/6/2022
Industry: Retail
Company size: Self Employed
Used

Daily

for

1-5 months

Review Source
---
Cannot recommend this app enough
Honestly has changed my life for the better. I'm no longer running out of supplies and having to do emergency orders (hello, extra shipping fees!). This keeps me organized and helps me to better my time management. I can see every open order that I need to fulfill and planning out supply orders is a breeze. I've recommended this app to every other maker I know because I am that in love with it. I'll use this app for the rest of my life because it is the best thing that's happened to my business in a long time.
Pros
This software legitimately changed the way my business runs. It keeps me accountable for the hundreds of supplies I use on a daily basis and keeps me organized in a way that no lists, or other apps, ever have.
Cons
I can honestly say nothing, this app works so seamlessly and wonderfully. Maybe the load speeds can be a little laggy, but that's mostly because I have a lot of materials I've input. Definitely not an app downfall or issue at all.
Response from

Katana MRP

Thank you for the support!

Replied 2/6/2020
Industry: Consumer Goods
Company size: 2-10 Employees
Used

Daily

for

1-5 months

Review Source
---
Very Useful
The overall experience has been excellent so far. Katana has helped us transition away from using spreadsheets to track our manufacturing operations and really professionalise our processes. It's an integral part of our everyday operations.
Pros
Katana has multiple features which have very useful in improving our manufacturing processes. The ability to create recipes for each product has been a huge help for us as we have quite a lot of raw materials in each finished product.
The Shop Floor app has been brilliant for us to track production/assembly time more accurately. This has been a great help in pinpointing an accurate cost per unit.
Cons
The only aspect that hasn't met our expectations so far has been the batch tracking feature. This is an excellent feature and one that would be so helpful for us. However, we need it to work automatically with our Shopify orders and at the moment sales orders can only be attributed to particular batches if you fulfil them on the Katana dashboard. We need this to happen automatically when our Shopify orders are fulfilled.
Reasons for Switching to Katana Manufacturing ERP
Katana was much more suited to our needs in terms of the receipt creation features for each product. The interface was also much simpler than the alternative products we considered.