About FollowUp CRM
FollowUp CRM offers sales tracking software for the construction industry, and is suitable for companies of all sizes. FollowUp CRM offers features such as the ability to track pipelines, set goals for team members, view reports and coordinate workflow within the organization. The system keeps track of projects, bids and leads that are in the pipeline, and users can view personalized information regarding their leads. Follow-up reminders can be sent to users at scheduled intervals. FollowUp Power also houses a historical interaction database and provides a library of analytical reports. Users can select reports directly from the library or configure them as needed. Additional features include workflow automation tools and multi-bid functionality. User security levels which administrators to determine which users have access to specific tools and data. FollowUp CRM also provides an online training portal. Pricing is per user per month. Email and phone support are available.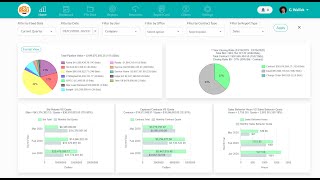 FollowUp CRM does not have a free version.
Alternatives to FollowUp CRM
Industry: Construction
Company size: 51–200 Employees
Used

Daily

for

6-12 months

Review Source
---
FUCRM
Decent so far. Had some problems with pulling accurate reports for a month.
Pros
Keeps me up to date with tasks. I enjoy the overall functionality.
Cons
Seems to be a little strange on the mobile app. Sometimes saves many times for same entry. I'm used to Salesforce and this has many stripped down features that I would like to see.
Industry: Construction
Company size: 51–200 Employees
Used

Daily

for

1-5 months

Review Source
---
My experience after 24 years in my industry and my own company for 18.5 years
I have been in business for over 18 years and recently merged with Code Red Roofers, and with my having an average of 43 employees full time for so many years, I felt I knew just about every item in the productivity fields until I was truly amazed at the Follow Up Power system here.
It not only shows management who is producing and tracks how much time they are entering data but shows the closing ratio of each salesman as well as tracks profit margins on jobs sold. Additionally, each salesman can see his own progress and that when he puts in more time on the system he is getting credit company-wide for time put in.
It is impossible to interact face to face on a daily basis, in my industry, with eight to ten new clients a day and remember each of their concerns, questions and what is needed on my part to clarify their questions. FollowUp Power also appears on our dashboards in the system so that each time we speak or leave a voicemail or meet a client we set a date to touch base with them again and when that date arrives the dashboard system shows their name in red to remind us to FollowUp with that client. That is a vital part of closing a deal. It is too easy to forget to do so otherwise.
Having an online access point that I can go to at any moment without trying to find a piece of paper with my notes has excelled our company in our industry greatly. Not only can I see my notes, but other associates as well as the owner can look at this data as well and quickly gauge if the client is a fit or a high maintenance client that never returns calls etc.
By being in this industry for over twenty four years and having my own multi-million dollar per year business, it takes a lot for me to be incredibly impressed and in awe of any system, and FollowUp Power has done just that.
This system is not only impressive but being asked by FollowUp Power for areas that can be tweaked and our input as a user causes FollowUp power to continue to become even more productive and help us to be more on the edge in our industry. Great job, and keep moving forward.
Jon Duren
Sales Associate
Code Red Roofers Inc.
Pros
It keeps an easily visible progress report for the employee and his employer.
Cons
When I reached out to customer service one time the person I ended up messaging was unable to answer the basic question of how I would download it to my Ipad. the person kept asking me for my telephone number and could not answer my basic question. I told him I am already a current user and that I just wanted to know how to re-download it on my new ipad, and he finally admitted that he was not sure how to do so. He promised to pass this on to a support team for them to call me and I also asked him to pass on the transcript of our notes as well and he said he would and I never got a call from FollowUp. I feel that he saw that he looked poorly so never passed on my message. It is important for customer service online support to have the basic knowledge of the system them are promoting. I even took screen shots of the conversation so that there is proof of it, as my gut feeling was that it would never get passed on etc...
Response from

Followup CRM

Wow Jonathan! Thank you for sharing this incredible review!

If there is anything better we can do from a customer support side please let us know!

I noticed your rating there was lower than the rest so please let us know what we can improve
, thank you!

Ryan

Replied 23/2/2017
Industry: Construction
Company size: 11–50 Employees
Used

Daily

for

6-12 months

Review Source
---
Lack of thought in scheduling process
Pros
Can sort through all jobs quickly and reminders are very nice
Cons
This program doesn't account for times on the days of appointments. Insane that I have to skip to the notes on the bottom to look for a typed appointment time. Times should be immediately under each day. Also jobs list need ability to define in another color for ease of visually segregating.
Response from

Followup CRM

Hi Jason,

Thank you for providing us with your feedback. We're so glad Followup has been able to help you navigate through jobs quickly! The time feature is currently in the works and is something that will be rolling out soon. I'd also like to let you know about one of our new features that allows you to pin notes to the top within a project. You can learn more about that here: http://help.followupcrm.com/en/articles/4262263-how-to-pin-a-comment-to-the-top. We appreciate your input and will certainly take your notes into consideration as we continue to improve our platform.

Thank you,
Courtney, Growth Marketer

Replied 18/11/2020
Industry: Construction
Company size: 11–50 Employees
Used

Daily

for

6-12 months

Review Source
---
Great way to track sales
FollowUp Power has been great for our team to stay in front of prospects. As a lean company, we didn't have a dedicated sales team; therefore before we implemented the system, our team was proposing on projects and moving on to the next deadline which meant we never followed up on our proposals. Plus, we also would only stay in front of past clients and potential clients with long lead opportunities when we had time - which was rare. This resulted in missed opportunities because we didn't have a tracking system in place.
Now, with FollowUp Power, we can set follow up dates, keep each other updated on the status with the notes section, and we also have a way to remind our selves to reach out to past and potential clients. Our follow up has improved dramatically!
The only reason I didn't give Followup Power 5 stars is because I would like to have more of a Contact Management System integrated. Currently, there is no way to save a contact unless you have a project opportunity connected to it. With our new Business Development person on board, we like to meet with contacts in the industry to educate them about our company - they don't always have a project to link to.
Pros
Being able to see who I need to follow up with and any other project related deadlines on my dashboard. The note section is vital to remind me what I talked about with the prospect during our last interaction. I also like being able to see what the rest of the team is following up on and any deadlines that are past due so I know where I can help them out.
Cons
There isn't a good contact management system integrated into the software. This would be extremely beneficial. Also, there are a few issues with running reports - for example if our team doesn't put a bid date and they put in an estimate due date (which is what they are concerned with), the bid report doesn't show the project. There are some areas required for duplicate entries which our team grumbles about.
Also, the categories entry areas are not customizable. Therefore, we don't use have of the Sales Behavior section because we don't manage permits, submittals, and warranties with this system.
Industry: Construction
Company size: 51–200 Employees
Used

Daily

for

1+ year

Review Source
---
Great CRM for Sales
This CRM has helped us to more efficiently track leads and sales.
Pros
I like how it integrates with Outlook. The ability to collect metrics and generate sales reports is very useful.
Cons
I did not like how it organizes emails and comments in each project file, I wish it had features to mark certain comments or emails as favorites to make them easier to find and sort. Also, the task feature needs improvement. If you receive 5 tasks in a day there is no way to mark them as complete.
Response from

Followup CRM

Hi Bryan,

Thank you for taking the time to share your feedback with us. We're so glad our software has been able to help you efficiently track your leads and sales. We are always looking for ways to improve and grow and appreciate any suggestions we receive from our users. Please use this link to provide any suggested features you'd like to see next: https://followup-crm.upvoty.com/b/product-roadmap/.

As far as the task feature goes, you should have no issue marking 5+ tasks as complete. You'll just need to make sure you're clearing the follow-up by hitting the "X" mark first. If you're still having issues or have any questions, please reach out to our Customer Success Manager at [email protected] and she would be happy to assist. Thank you again for sharing your experience with us!

Sincerely,
Courtney Fuller, Growth Marketer

Replied 30/6/2021