About Agile CRM
Agile CRM is a cloud-based customer relationship management (CRM) solution designed for small and midsize businesses. It offers contact management, telephony tools, appointment scheduling, marketing automation, project management, a landing-page builder and knowledge base functionalities. The contact management module lets users record and access customer data such as contact information, interaction records, social-media accounts and lead scores. The software also offers email integration, which allows users to sync data with email services including Gmail, Microsoft Exchange and Office 365 and IMAP services. Users can track website visitors to analyze customer behavior, and marketing automation tools help users create marketing workflows with a drag-and-drop interface. Users can also send automatic reminders based on time and contact options. Agile CRM also includes task management functionality. Users can drag-and-drop tasks in lists, sort tasks, add notes and update task status. Social media integrations allow users to publish and respond to posts on social channels such as Facebook, LinkedIn and Twitter. Pricing is per user per month. Phone and email support is available.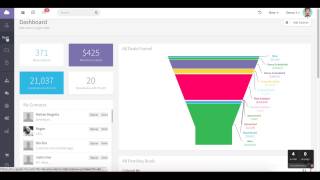 Agile CRM has a free version and offers a free trial. Agile CRM paid version starts at US$8.99.
Alternatives to Agile CRM
Industry: Information Technology & Services
Company size: 11-50 Employees
Used

Daily

for

2+ years

Review Source
---
Feature rich, easy to use application that combines Sales Management & Marketing Automation.
We were looking for a solution that allows us to work out of a single system for both, marketing automation and sales management. We wanted to make sure that we don't have to piece that combination together using plugins and add-ons but wanted a natively integrated solution. We tried many CRM's and ultimately ended up with agile CRM and have been happy users since. As your confidence in the tool grows, you will be surprised how much it can handle and how configurable it is without becoming a too complex. The support staff has also been world class. Our requirements have always been tended to promptly. Last but not least, it is incredibly well priced, easily 50%-75% cheaper than other, comparable vendors.
Pros
- integrates sales management and marketing automation natively
- easy to use
- feature rich with a lot of add-ons
- very well priced
- great support team
Cons
- Small wish that I have: we have users that would be support users only, while others are sales users only. Would be nice if we could separate license fees on a role basis. But then the overall price we have to pay is still very low so that it really isn't a big issue for us.
Industry: Information Technology & Services
Company size: 51-200 Employees
Used

Weekly

for

1+ year

Review Source
---
Agile CRM Review
Overall, I'd say I've had a pretty satisfying experience with the product, nothing out of the world, but gets the job done.
Pros
- Contacts import and export is very simple
- Calendar and other time management tools are pretty neat
- Great integration across multiple marketing tools
- Social media and email campaign management is a great add
- Detailed report-generation.
Cons
- Organisation of different compartments within the tool can be a bit difficult
- Rich feature-set leads to a challenging learning curve to go over.
Reasons for Switching to Agile CRM
Had the right feature-set and price balance for us at the time.
Industry: Cosmetics
Company size: 51-200 Employees
Used

Daily

for

6-12 months

Review Source
---
Agile CRM is by far the most versatile and efficient option on the market
I am thoroughly impressed with Agile CRM and would highly recommend it to any business looking to streamline their customer relationship management. The amount of features offered is unmatched and the ability to automate many of the repetitive tasks has been a lifesaver. I feel more organized and in control of my customer interactions than ever before.
Pros
Agile CRM has been a game-changer for my business, providing a one-stop-shop for all of my customer relationship management needs. The user-friendly interface and intuitive navigation make it easy to stay organized and on top of my customer interactions.
Cons
I have had some technical difficulties with the system at times, but their 24/7 support team has always been quick to resolve the issue.
Industry: Real Estate
Company size: 2-10 Employees
Used

Daily

for

1-5 months

Review Source
---
Stay away - will IRREPARABLY DAMAGE your ability to send emails to even your existing customers
In a word, awful. Setup is confusing. First you're presented the option to link your gmail account--I did. But it did not work. Engaged chat support. They tell me to disable the link, and to use a very convoluted process to first enable 2FA on our entire company's google account users, then set up a App Password in Google Account, then provide it to Agile as p/w when setting up IMAP/SMTP instead. I had followed the nagging setup icon instructions to create MX and TXT records as well, which chat support specifically told me to remove.
I then sent an initial email in two batches of 15 receipients - existing customers we communicate with often in our business (they're tenants of our property management company). Gmail accounts received, Yahoo accounts got a 554 Permanent Error rejection response. I tried a stripped down version from within gmail (not Agile)--but then got the same 554 error. Sent a freshly composed email to a yahoo account of mine, as a test--same 554 error. These are all yahoo email addresses that have lots of prior back-and-forth with our company gmail account. Now however, Agile has created this 554 email leaving us completely unable to communicate with about 1/3 of our tenants. This is an irreparable harm. NOTHING IS WORTH THIS.
Pros
I was drawn in by the lure of a free product.
Cons
I'm now unable to send even regular text-only emails from our company's gmail account to any yahoo account, regardless of the number of prior emails back and forth between the two. We effectively now cannot use email to communicate with our existing customers reliably.
Reasons for Switching to Agile CRM
Cost (free) and what seemed like a lot of good reviews.
Industry: Financial Services
Company size: 501-1,000 Employees
Used

Weekly

for

2+ years

Review Source
---
Fantastic and HIGHLY customizable
Agile is a highly customizable CRM platform for someone (or team) who wants detailed customization of not only the pipeline management but also automated (or semi-automated) email, phone/text integrations also.
Pros
This is one of the most highly customizable CRM's I have found. the customizations and integrations are fantastic. Integrations of 3rd party software appears to be growing and is still a bit lacking but the key integration of google contacts sets if far apart from the competition.
Cons
It can be a bit on the tedious side to customize and set up. It is not simple enough for many would-be users and does require some above-average computer skills. On the plus side, the ability to customize so much more than other CRM's is also what sets it far apart from the competition.