About bob
Bob is the HR platform that simplifies people management and modernizes the work experience for every employee —driving engagement, culture, and productivity. Bob is configurable for the way you operate—onsite, remote, or hybrid work. It empowers HR and managers to increase performance and retention, leading to healthier and more productive teams. With Bob, you can streamline your core HR processes such as onboarding, performance management, and compensation management using automated workflows to increase your efficiency, cover all touchpoints, and save precious time. Bob provides real-time quantifiable data that can inform strategic decisions that impact the bottom line. Bob helps dynamic companies bring out the best in their employees. Hibob's dedicated teams across the US, UK, Europe, Israel, and Australia are working every day to serve over 1,400 modern, fast-growing, mid-sized businesses.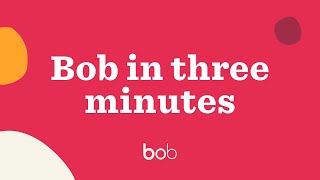 bob has a free version and offers a free trial.
Industry: Information Technology & Services
Company size: 201-500 Employees
Used

Daily

for

6-12 months

Review Source
---
Great all-around people management software
Pros
bob team is extremely agile and receptive to feedback. New features are pushed frequently and we feel heard when talking to the client service.
Cons
Most definitely the application's speed. It's sluggish, and the login takes forever.
Reasons for Switching to bob
bob seemed to have the best balance between customizability and provided/fixed frameworks of people management.
Industry: Human Resources
Company size: 51-200 Employees
Used

Daily

for

1+ year

Review Source
---
I've chosen bob over another great product I was using in the past and haven't regretted!
ease of HR management, also our finance team benefits from easy holidays/absenses management, payroll reports and such.
I'm doing all admin in bob, from contracts to onboarding, org structure, salary changes etc
Pros
It's very easy to use - user friendly interface, intuitive navigation, you can find whatever you need in the matter of seconds even if it's your first experience with the platform
It's beautiful - our employees love it too
The support team is amazing - they not only resolve any issues quickly, but they also listen to suggestions and implement them within reasonable time. I love getting product updates as I know that there will be something I asked about.
The system features everything you'd want from a modern HRIS and even more - we love club feature and about section - it helps employees learn more about each other and find common interests.
There's some functions that I'd love to have but they are not yet there (such as pre-boarding or e-signature) but the guys are constantly working on them and I've seen that for example e-signature is coming within next few weeks.
Cons
If we are talking about bob as HRIS there's very few things that I don't like, or rather I would like to have and they are not yet there - prebording being one example.
I'd love performance module to be more sophisticated but the guys have just introduced it and I see that it gets updated constantly, which is great. also, it's not a separate platform for performance management so I wouldn't expect it have all the features that other platforms dedicted to performance only have.
There are other small things (such as I can't send a survey to 1 person only), but they are small compared to all the benefits and again, I know that sooner or later those will be resolved too.
Industry: Insurance
Company size: 51-200 Employees
Used

Daily

for

2+ years

Review Source
---
Looks pretty but not an effective HRIS
I inherited the system from my predecessor who was non HR. It looks pretty to the end user but on terms of functionality it is limited and feels totally detached from what HR professionals actually need
Pros
There are very few positives I can draw on
Cons
The software feels like it has been created in the absence of any HR feedback. Forms dont flow, modules arent effective (talent management for example is completely 2 dimensional and not aligned to any global talent frameworks), org planning is almost impossible.
Industry: Information Technology & Services
Company size: 1,001-5,000 Employees
Used

Daily

for

6-12 months

Review Source
---
Bob - A robust tool for HR, employees and managers
Pros
A great platform for an employee that has an information and tools to grow, develop and connect. It is just like any other social media account which is internal to an organization. It provides multiple features like goal settings, PTO tracking, employee information and many more
Cons
No such cons as such. works like an internal social media of an organization
Industry: Entertainment
Company size: 51-200 Employees
Used

Daily

for

1+ year

Review Source
---
A great up and coming app
Pros
LOVE! It is a main staple on most tools to be integrated with, slack is easy but also other payroll, engagement and HR/Tech tools integrate seamlessly.
Love the UX, simple, colourful and engaging.
Customer service is great too! Keep doing what you're doing, bob :)
Cons
The pricing model for new features could be a bit more adaptable. We wanted to add timesheets just to a set number of employees but they wanted to charge us for the whole company!
Reasons for Switching to bob
Price and product offering!