About Accounting Seed
Accounting Seed Financial Suite is a cloud-based accounting solution catering to the needs of various industries including healthcare, insurance, manufacturing and consulting. The solution enables users to bill customers, accept payments, create custom financial reports and manage project accounting. Accounting Seed lets users create invoices from sales orders and set recurring customer bill generation. The solution can be integrated with Salesforce CRM for managing credit disbursement, tracking collections and customer interaction. Additionally, the solution can also be integrated with Stripe to collect online payments. Dashboards enable data visualization through charts and graphs for accounting and order management. Management reports can be configured with drag-and-drop editing and can be exported to Excel. The solution offers consolidated general ledger and project accounting for tracking project expenses and deliverables as well as project-based reports, budget reports and more. Accounting Seed Financial Suite is available on a monthly subscription basis and provides customer support through knowledge base available on the website, phone, email and online messaging.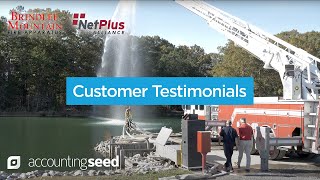 Accounting Seed does not have a free version and does not offer a free trial.
Alternatives to Accounting Seed
Industry: Hospitality
Company size: 11–50 Employees
Used

Weekly

for

2+ years

Review Source
---
Great Integration with Salesforce
I'm so glad we chose Accounting Seed. If you like Salesforce, it "just feels right" and is quite intuitive. Very easy to customize, and to run reports with additional info already in Salesforce. Customer support has always been helpful.
Pros
I love the native integration with Salesforce. This allows us to easily create reports with information about our accounts that are unrelated to a traditional accounting software. Having a central source of truth of all Account information, and that source being Salesforce, makes operations and financial reporting a breeze.
Cons
"Bank Direct Connect" process to import transactions from our bank account can be glitchy and buggy and at times have caused us many extra hours of work and caused us to delay our monthly close.
Reasons for Switching to Accounting Seed
Native Salesforce integration.
Industry: Computer Software
Company size: 11–50 Employees
Used

Daily

for

2+ years

Review Source
---
HIG Capital Backing Moving Accounting Seed to the Next Level
I have been working on the Salesforce platform for 17 years and with Accounting Seed for 10 years in accounting for my Legal Funding, Real Estate Rental and Professional Services businesses.
It is the ability to leverage the strength of the Salesforce platform that makes the experience strong and the HIG Capital investment and Partner environment that makes the future look stronger.
Pros
In 2021 HIG Capital made a majority investment in Accounting Seed that is moving this native Salesforce application to the next level. This investment has allowed the organization to move beyond an excellent leveraging of the Salesforce object architecture to add the competitive functionality of their more mature enterprise competitors such as Sage Intacct and Oracle Netsuite.
Newly release features include Multi-Ledger Consolidation with Elimination Entries, further advancements in reporting. Focusing on the importance of the partner channel has brought much needed integration with Bill.com, Partner Portals and applications.
Project Accounting is also been made stronger through a Project Management platform developed by the partner community.
Cons
The Accounting Seed Orders and Entry do not add up to the functionality required in an enterprise resource planning application. One needs to use an outside partner integrated application such as Legendary Supply Chain. The budgeting and commission functionality could still be improved although several partners are stepping up in this area as well.
Reasons for Choosing Accounting Seed
There was no CRM capability integrated with the Intuit platform and it was a step backward from QuickBooks Enterprise edition.
Reasons for Switching to Accounting Seed
The power of the Salesforce platform and the ability of Accounting Seed to leverage it
Industry: Transportation/Trucking/Railroad
Company size: 51–200 Employees
Used

Daily

for

6-12 months

Review Source
---
Accounting Seed Review
Honestly a product without good support is no good to me. Anytime something comes up I know I have to figure it out myself or waste time trying to correspond with someone.
Pros
Ease of importing data through the data import wizard
Cons
Customer support is terrible. The guy that was answering my support tickets was not understanding me and would not call on the phone. I never once talked to him through anything but messages in the ticket portal. My ticket was not resolved for over a month.
Response from

Accounting Seed

Hi Nichol,

Thank you for your feedback. We have contacted our Support Team regarding your feedback and we understand they have reached out to you in order to further discuss the ticket that you had submitted. We apologize for the inconvenience.

In the future, please do not hesitate to contact our Customer Success team by emailing [email protected].

Replied 16/2/2021
Industry: Nonprofit Organisation Management
Company size: 11–50 Employees
Used

Daily

for

2+ years

Review Source
---
Customer Support is not always "responsive"
Overall, I have been happy with Accounting Seed. The latest question about how to display "total budget" column on a profit and loss statement took 7 days to get a response. You would think this would be a standard feature, but it is not. You would also think that there would be documentation how to accomplish this common report column but there was not. I received the directions for a "work a round" solutions, seven days after the initial request.
Pros
The Accounting Seed knowledgebase is very good if you like to "dig" for solutions. It's not always easy to find, but most answers are there.
Cons
Antiquated knowledgebase materials are not always removed so you have to sort through old stuff to find the solutions for the newest version of the software.
Industry: Construction
Company size: 51–200 Employees
Used

Daily

for

1+ year

Review Source
---
Great API and ability to customize. Standard out of the box is functionality is average.
The software works and the API gives you the flexibility to do what you want for the most part. Normal retail businesses or consultant companies shouldn't have any issues integrating the software. For heavily customized users - know what you're getting into from an investment standpoint before moving forward.
Pros
The API has been instrumental in allowing us to make this accounting software work with all of our heavy salesforce customizations. We have a custom quoting tool, project management tool, and project profitability tracking tool that all work with Accounting Seed. The integration with SF has been a game changer for data reliability and work flow. Overall it's pretty easy to use once you know what you're doing.
Cons
For about a year they had no way to allow for multiple tax ID's with Avalara and the API wouldn't work for it either. The last release has fixed that and made the lives of our accounting team much better. Their online tutorials and instructions aren't the easiest - improved search would help finding things. For us, since we had so many customizations with SF already, it was quite expensive on top of the Accounting Seed cost to get it to work for our company.