About USATestprep
USATestprep is a tool that is designed for test preparation to help support teachers in classrooms by providing personalized learning and curriculum resources for K-12 schools. The features include custom assessments, instructional resources, district reporting, performance monitoring and test prep questions. This app is a classroom assistant that manages student performance improvement on national and state standard scales. It facilitates self-directed study in classrooms and at home, with the ability to set customizable benchmark assessments and tests. District administrators, department heads and teachers can use the data gathered by this platform to perform detailed analysis of districts, classes and students. The instructional resources are state-aligned and are built into the USATestprep user interface. The video vault on the app features vocab worksheets, interactive puzzles, vocab flashcards, comprehension questions, printable worksheets and games. It also has a class scoreboard with student motivation and participation-enhancing tools. There are more than 150,000 test questions in the repository which can be used to generate custom assessments and quizzes.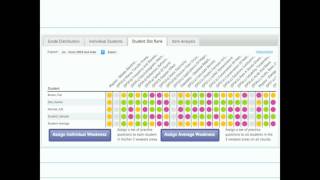 USATestprep does not have a free version but does offer a free trial. USATestprep paid version starts at US$3,350.00/year.
Starting Price:
US$3,350.00/year
Alternatives to USATestprep
Industry: Primary/Secondary Education
Company size: 10,000+ Employees
Used

Daily

for

2+ years

Review Source
---
Excellent and Fun Software for Test Practice!
Simply an excellent experience overall.
Pros
My 6th graders love practicing their skills on USA Test Prep! They are challenged by some questions but the hints help them and they love that part! They are so ready for the testing in the spring that they tell me how easy the Milestones is for them. The students tell me that the best part of USA TEST PREP is that the questions use the same wording as Milestones, so they get used to the wording and know what to do when they see it. Overall an EXCELLENT product!
Cons
If I had to find something that I don't like, and this is being picky, every once in a great while there is a question with a word that the kids don't know. It's never a word that's vital to the question yet not knowing it causes the kids to stop, get a little off track with the math, and try to figure out the word. I am trying to remember an example but cannot....
Used

Daily

for

2+ years

Review Source
---
USATestprep allows me the. opportunity to gather real time data to differentiate my instruction...
Pros
I like the fact that student get immediate feedback. It allows me to which elements they are weak in. I am able to assign different assignments to students in the same class.
Cons
I do not like the following:
- unable to share assignments with teachers from other schools
- unable to time assignments
- students are able to copy and paste questions in web bowser
Response from

USATestprep

Hi Jacqueline, Thank you for your review! The only type of assessment that can be shared among schools is a district-level benchmark, which is typically managed by a district administrator. As far as sharing all other assignment types, those can only be shared among teachers at the same school. However, I¿ll be happy to pass along your suggestion.

Every student result shows the start and end time, along with the elapsed time so that you can quickly see how long it took for the student to complete the assignment. As far as a timer option goes, that is something our development team has considered adding to benchmarks only.

Unfortunately, this is a potential downside to anytime a student is working on the internet. Our programmers are planning to block copy and paste functionality in certain areas of the site, such as vocabulary and short answer terms. Since free response questions are teacher-graded, we leave those answers up to your discretion whether they seem valid.

Replied 2/8/2017
Industry: E-Learning
Company size: 51-200 Employees
Used for

6-12 months

Review Source
---
Basic Test Prep
With so many test prep programs available, USATestprep would not be my first choice. It is extremely basic and my students were not motivated to use it. But, the basic nature could be a positive in certain circumstances. Using it with easily distracted students (some programs have TOO much going on) could be beneficial.
Pros
The teacher feedback tools are useful for finding out where your students stand on various concepts.
Cons
I did not like the read aloud feature. It is very robotic and math expressions are read strangely.
Response from

USATestprep

Hi Bonnie,

Thank you for your review. We take all teacher feedback seriously. I will pass on your comments regarding the read aloud feature to our product development team.

One other thought - we're wondering if you're using all the resources on the site? We offer a wide array of robust services. If you'd like a 1;1 online demo with one of our customer success managers to review what's available, we'd love to hear from you!

Replied 2/8/2019
Industry: Education Management
Company size: 11-50 Employees
Used

Daily

for

2+ years

Review Source
---
USATestPrep is an exceptional tool for teachers to utilize in the enrichment of daily lessons.
Easy data analysis with ease of teacher training. This product definitely improves standardized testing scores and student test stamina. As a daily lesson enhancement tool, this software is top notch.
Pros
I like having the ability to differentiate instruction and testing utilizing this software. I served as the administrator for my school and creating professional development opportunities was a breeze as the teachers were able to effectively use the software in their classrooms. As well being able to troubleshoot problems was easy. Students found that the activities were engaging and not overly time consuming. The test data was displayed in such a way that analyzing was made simple whether the teacher is a first year or a veteran.
Cons
I honestly do not have any cons for this software. I have utilized it and administered it in three different schools and I LOVE IT!!!!!!
Industry: E-Learning
Company size: 11-50 Employees
Used

Daily

for

1+ year

Review Source
---
Great for differentiation in classrooms!
I have enjoyed using USAtestprep in my classroom, I will continue to use it as long as we have it here at my school.
Pros
I like that the curriculum is rigorous and straight to the point. My students can work on targeted areas of weakness and strength so that I can give them work that they need. Each student can have a login and not worry about being singled out for needing to work on a lower area.
The tests are also awesome for setting of assessments that are preparing them for the end of the year.
Cons
When the website crashes, it throws the routine off. It doesn't happen often, but it sometimes has caused problems.
Response from

USATestprep

Hi Kelly -- Thank you for taking the time to leave a review. (We know how busy teachers are!) It means a lot to us to hear how our product is working for students and you've obviously got a strong grip on one of the best features - personalized learning for students. Thanks again, and we hope you have a great school year!

Replied 30/8/2019