About Sellercloud
SellerCloud is a multi-channel e-commerce platform designed for organizations of all sizes. It synchronizes online inventory and distribution, provides real-time reports, and generates shipping information. The system's single-source catalog provides users a single entry point for product specifications, which can retrieve product information from multiple sources, including Amazon listings and vendor feeds. SellerCloud's automatic inventory feature supports multi-warehouse management, tracking of inventory from the time of receiving to shipping, and automated low stock alerts. The multichannel feature allows publishing of products to multiple sales channels via integration with shopping carts, such as Magento, Shopify, BigCommerce, and others. The end-to-end automation of orders helps users manage multiple sales channels from a single interface. SellerCloud automatically imports orders, keeps channels updated with revised available inventory, and provides shipping/tracking confirmation. Other features include sales performance reports for products across multiple channels and integration with QuickBooks.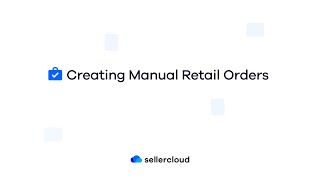 Sellercloud does not have a free version. Sellercloud paid version starts at US$1,000.00/month.
Starting Price:
US$1,000.00/month
Alternatives to Sellercloud
Industry: Retail
Used

Daily

for

1+ year

Review Source
---
Fantastic platform capable of doing more than software 10x its price. Very pleased with it!
This software has opened up doors we did not think were possible to open for our company. We have seen massive growth since we implemented SellerCloud, and we are able to work more efficiently than ever before. When I say we have seen massive growth, I mean we have seen our sales about double where they were before we implemented SellerCloud. Though there are other factors that have contributed to this, one of the biggest factors has been our ability to increase our channel presence. Moreover, we are able to meet our increased production demands without a substantial increase in our HR overhead.
Almost everything we do goes through the web. About .01% of our sales occur in person. We have to manage pricing, inventory, photos, and content for half a dozen different marketplaces. SellerCloud has made this process manageable and efficient. From hosted photos to predictive purchasing, SellerCloud has shown us that it has the ability to provide what we need. As I mentioned in another section of this review, SellerCloud worked with us to develop plug-ins that meet our unique needs. This is something we could not find with another solution provider. I would really like to see their service improve and their GUI get a little update, but this is a phenomenally great application overall!
Pros
My favorite thing about Sellercloud is their willingness and ability to customize the platform. For us, that meant building up the integration with Amazon custom and formatting the data that comes through in a way that is easy to use. They also built a custom invoice that makes it easier for our production team to fill orders accurately. Sellercloud has many integrations and features that I cannot even begin to touch on in 1,500 characters, but what I said about customizing the software to meet our needs is my top pick. This is a very robust and complex platform that I would highly recommend to a business that handles many online SKUs and orders from different sources.
Cons
The GUI could use some work. This platform is very complex, and it shows all too well in the GUI. Once you get the hang of it, you are able to navigate the software pretty efficiently. However, there is a learning curve. For us, that learning curve was WELL worth it!
Industry: Information Technology & Services
Company size: 2–10 Employees
Used

Daily

for

2+ years

Review Source
---
Offers Flexibility in eCommerce Industry
Offers flexibility on managing all your listing on different markets/channels. Updating product information makes more easier and more reliable that leads to creating more sales.
Pros
You can manage your listings in one place. One update to your listing can be posted to different sale channels/markets instantly. It removes the burden to update the listing on different channels one at a time. You do not have to worry your inventory on each channels since sellercloud will do this job for you.
Cons
It would be more convienent if pushing new product listing in Amazon channel to be directly posted via SellerCloud and eliminate the process of creating ASIN first on Amazon seller central.
Reasons for Switching to Sellercloud
Sellercloud offers more functionalities in managing different sale platforms.
Industry: Retail
Company size: 51–200 Employees
Used

Daily

for

1+ year

Review Source
---
Great application...poor exicution
3p integrations, and easy product management.
Pros
Integration with just about every 3p shopping site you know of and many you don't. Sellercloud has worked to integrate with many popular 3 shopping sites, and even can do drop ship Management. It is rumered that they are releasing a major update which with any hope will resolve the cons below
Cons
Combersome, poor documentation, and not very user friendly. Every step you take within the application often takes 3 or 4 steps, and the obvious next step is generally not what you would expect.
Industry: Retail
Company size: 51–200 Employees
Used

Daily

for

2+ years

Review Source
---
Best overall option for marketplace management
It allows you to manage, list and sell products across over 11 platforms simultaneously, it also allows you to manage the shipping of those orders directly through the application unlike other options such as ChannelAdvisor for a far cheaper price.
Pros
The features and flexibility are definitely what sets this product from the rest. I was able to work out access to our own database where all of the data sits so that I was able to vastly extend the abilities of Seller Cloud. There are also hidden features that you can request access to that may not be shown out of the box. For example, we set up seller cloud so that any incoming eBay order would look for inventory in an Amazon FBA warehouse and if there it would automatically create a fulfillment order to the customer at the correct shipping speed. It was able to do this with multiple Amazon accounts. This is just a small insight into available features.
Cons
The old design was very un-intuitive and the new design is still missing some basic functionality. I haven't checked the new design in a few months, so it is possible that these issues have been resolved by now. Another issue that I have with the new design though is that a lot of data is dispersed over multiple tabs while I would like to view certain things together and I haven't seen the option to customize yet. I therefore still use the old design which is less intuitive.
Industry: Automotive
Company size: 11–50 Employees
Used

Daily

for

1+ year

Review Source
---
Fantastic Cost-Effectice Multi-Channel eCommerce Software
Pros
Everything was smooth sailing from integration to adding new channels 2 years in. Seamless system to handle multi-channel eCommerce sales. Skustack Inventory Management system means nothing is ever not where is supposed to be, so order fulfillment is fast, easy, and customers are always satisfied. Sellercloud is always willing to look at new channels that we may be interested in adding. Customer Service is always willing to answer questions and is looking to solve problems within our workflow.
Cons
Integration from one software to the other always takes some time, but I thought Sellercloud's intergration was quite intuitive. SC has two UIs, one of which is very easy to use, but doesn't have the same features available as the older one yet.
Response from

Sellercloud

Hi Chris,
We appreciate the time taken to leave this review and are happy to be able to provide you with tools that can facilitate the growth of your business.
Your feedback is always welcome and as always, we will continue to develop and improve our features and services.
Looking forward to further growth and success for your business!

Replied 13/10/2020