About Ringover
Ringover is the no.1 business phone system that gives you unlimited calls to 110 countries, video conferencing, SMS and group messaging, call recording, call whispering and more features focused on improving your teams productivity. No expertise needed. Integrate Ringover with major CRMs (Salesforce, HubSpot, Pipedrive etc.) or with your helpdesk tools in just a few clicks. With Ringover, your professional communications are possible anywhere in the world - all it takes is an internet connection. Greatly scaling up in growth and adopted by over 10,000 users, Ringover is on track to become THE leader in European Cloud telephony, primed for rapid international development in the markets for Spain and the United Kingdom.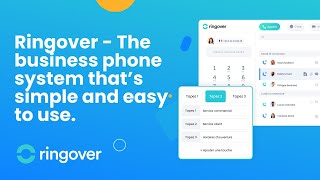 Ringover does not have a free version but does offer a free trial. Ringover paid version starts at US$24.00/month.
Starting Price:
US$24.00/month
Industry: Marketing & Advertising
Company size: 51-200 Employees
Used

Daily

for

1-5 months

Review Source
---
Might be the perfect solution for SMEs
Pros
If you have a team that needs to work from the same number all the time, well Ringover does that job. Apart from the team we had at our offices, we also had an international team. Ringover was the first cloud-based phone solution that we used as a team. It worked well.
Cons
Well, we were on trial and decided to try for some months. We ended up with another software because Ringover didn't have as many features that we needed at the time. We were quite a big company, so it might be the perfect solution for SMEs.
Response from

Ringover

Hello,

Thank you for this great note !

We are happy to know that you liked our solution!

And that Ringover did the job for your local and international teams.

Indeed our complete cloud base phone solution works really well, I am sorry and really surprised to find out you have decided to leave us for some missing features.

We do work alongside big companies too and I am very confident that if you had contacted us for this features we could have probably meet your needs.

Knowing that you like our product, I would invite you to contact us again to discuss about this features. At Ringover we always aim to improve our performance and quality.

I thank you again very much for your comment, and wish you well in your future endeavour's.

Best Regards Ringover Team,

Replied 23/8/2022
Industry: Events Services
Company size: 2-10 Employees
Used

Daily

for

1-5 months

Review Source
---
RingOver as SKYPE alternative
My overall experience tells that with Ringover, I can get great call rates+evaluation tools for team performance.
Pros
Absolutely friendly customer support. Call rates is almost same with Skype. But the quality is much better. No complicated pricing plans or VOIP device requirement. I was surprised why they are not popular like other companies. You can easily track the number calls of yours and your team members. For sales team admin it is essential feature to evaluate the team's engagement. You can receive voice messages via the virtual number. Basic Plan includes virtual switchboard. All the features are easily managed by admin dashboard. Mobile App version works properly. They offer free Trial and they did not charge me for package installation.
Cons
Now I do not have problem with Ringover. But during purchasing and installing the package you need a contact with someone from team. It is not a con but can be automatic process.
Reasons for Choosing Ringover
Well, Internet access was limited in my country. I had to use VPN to access my paid Skype subscription. But they blocked my account. I wrote to customer support but they did not help. Overall, I paid for the subscription which I could not use. So I discovered RingOver with the better rates and more functionalities.
Reasons for Switching to Ringover
I checked all these softwares and even more of them simply dont remember their name. All of them were complicated or expensive. I even could not use Viber for trial period. Zoom phone did not even offer trial period and sales representative was not responsive enough. Some of them offered long term plans without trial period which was expensive and quality was under question. And charge even for package delivery to the account was expensive.
Response from

Ringover

Thanks for taking the time to share your review.

Team Ringover

Replied 21/12/2020
Industry: E-Learning
Company size: 11-50 Employees
Used

Weekly

for

6-12 months

Review Source
---
Ringover is my preferred VoIP Solution
We have fully integrated Ringover with our automated outbound sales campaigning as well as inbound service desks, the API is well documented and the team at Ringover is to 99% super responsive and helpful!
Technical issues are being treated very transparent and are usually quickly resolved.
Pros
Ringover is one of the few providers that operate their own network, in comparison to many other providers that use third parties. This hands you a couple of advantages e.g. amount of available phone numbers.
Cons
Currently Ringover does not support user account for support functions free of charge. So if I have to give access to an accountant or technician inside my organisation I have to have a paid licence for them which I find very annoying.
Reasons for Switching to Ringover
Best value for money and flexibility in scaling up their product insight our organisation
Response from

Ringover

Hello,
Thanks for leaving such wonderful feedback. We are happy to learn that you're enjoying using Ringover. Looking forward to continue working with your team!
Regards,
Team Ringover

Replied 18/6/2021
Industry: Photography
Company size: 11-50 Employees
Used

Daily

for

1-5 months

Review Source
---
VOIP system that keeps us selling more
Generally, it is a great opportunity to have a better alternative as we used Skype for years. After having smoothness in the working process with updates it will be the best of the market
Pros
It has a great interface that enables me to find what I need from a tool list. It has a feature of recording that I do not need to buy another app for recording my calls as I did before when I was using Skype. It offers various platforms for use that make it pretty easy to get into the app wherever I am.
Cons
I did not lot the coverage of the package I did purchase Europe for my calls but it did not include Turkey so that I should buy the Turkish package separately and with this, the amount I will spend will exceed my budget.
Response from

Ringover

Hello Rashad, Thank you very much for your review ! We are happy to see that you are satisfied with your experience with Ringover.
Have a good day and see you soon.
The Ringover Team

Replied 21/12/2020
Industry: Marketing & Advertising
Company size: 2-10 Employees
Used

Daily

for

6-12 months

Review Source
---
Nice tool to use, some key features for us were missing
Pros
- Easy to use
- Nice customer success
- Easy to setup
Cons
- No Power Dialer type feature integrated with the CRM at the time, we had to use a csv file
- Some countries were not available (to have a phone number from)
Response from

Ringover

Hello Nessim,

Thank you for such a positive note!
We are happy to see that you are satisfied with our service.
Your comments are taken into account, and we will make sure we improve even more.

Have a good day and see you soon.

The Ringover Team,

Replied 27/9/2022