About Drip
Everything you know about the traditional marketing funnel is wrong. Not long ago, it was enough to convert a website visitor into a lead, turn that lead into a customer, and hope that customer would become a brand advocate, waxing lyrical about you on social media and third-party review sites. Drip is the world's first direct-to-people platform that empowers the best e-commerce brands to take direct ownership of each stage of their customer's journey, from visitor to subscriber, subscriber to buyer, buyer to brand advocate—all within a simple but powerful, fully-unified dashboard. In today's uncertain world, however, it's a different story. For brand-focused marketers, it's no longer enough to "convert" people; you have to delight them. When people feel delighted, they engage with a brand, and that's when they "convert" and become part of the community you're building. From its simple and intuitive drag-and-drop builder to its customizable, prebuilt email templates; hyper-specific rule engine to robust emails workflows, Drip is the number one platform for brands that see their audience not as subscribers on a list but as people who want to feel seen and recognized. Try for 14 days and see why top e-cmmerce brands are switching to Drip. (No credit card required.)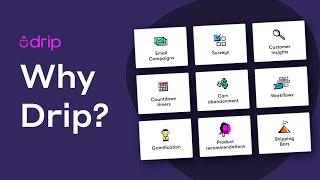 Drip does not have a free version but does offer a free trial. Drip paid version starts at US$39.00/month.
Starting Price:
US$39.00/month
Used

Daily

for

1+ year

Review Source
---
Best email marketing automation software I've used...and I've used A LOT!
Pros
I've seriously tried it all over the past 5 years. From Campaign Monitor, to Get Response. Infusionsoft to Mailchimp. Convertkit, Active Campaign, and that's just the well-known ones. Some for small stints (think 1 - 3 months) others for longer stints (6 - 12). Drip is the only one that I've been using for well over 12 months and am feeling very comfortable with. Down to why this software is great - simply put, most of it's core functionalities are well thought out and easy to use. But then advanced things can still be done even if you're a novice to marketing automation. Sending drip campaigns, setting up subscribe forms and linking with other software to create automatons, all super easily done. Overall is a really well thought out piece of software, and the easiest to use considering its power.
Cons
Some things are quite tricky to do. For example, you would expect to be able to set a simple trigger link in an email, except that requires setting up a completely separate automation. You can't set triggers to happen at certain times, and it can be a pain to get your email template looking good (plain templates are awesome but sometimes you just want to be able to adjust things to make it more personal). Adding call-to-action buttons to emails is also insanely difficult, simply getting the colors to match your own brand is impossible. But all these are minor gripes in the grand scheme of things!
Response from

Drip

Hi Steve,

Everyone here at Drip appreciates the time you took to write us a review!

Since your review just a couple of months ago, we have actually launched the Visual Builder for all of your emailing needs! No more trouble adding call-to-action buttons or getting the colors to match your brand. The new Visual Builder allows you to easily build big, beautiful emails outfitted with images and brand styling for when you need to do more showing instead of telling¿ All the formatting. Zero coding.

Thanks again,
Sam from Drip

Replied 22/8/2018
Industry: Marketing & Advertising
Company size: 11–50 Employees
Used

Weekly

for

6-12 months

Review Source
---
A good ecommerce email system, but not without some flaws
Drip was not an easy switch from MailChimp. I will probably go back to MailChimp pretty soon.
Pros
Drip is a good ecommerce email system, particularly for Magento. It's relatively easy to set up automations and manage ecommerce contacts, purchases, and other data. It's similar to other email platforms in terms of set up, templates, and flexibility.
Cons
The demo made it seem like the integration with Magento was the easiest thing in the world, but there were several hiccups at launch. The reporting leaves a lot to be desired, and the automations don't work as seamlessly as I'd like.
Industry: Information Technology & Services
Company size: 2–10 Employees
Used

Daily

for

1-5 months

Review Source
---
Difficult to use - Extremely slow and poor customer service - Dubious pricing model
Very, very disappointing. I've tried several automated email marketing platforms platforms before Drip and had high hopes for Drip when we made the move over with one of our top client sites. I was actually genuinely excited to implement this system. In retrospect I wish I had stayed with my previous platforms. Even after several months of spending hours and hours reading support articles, raising numerous support tickets, waiting for unacceptably long delays for a response each time, we are still trying to get a basic setup implemented. This is the most frustrated or disappointed I think I have ever been with a technology provider, and I've used a lot of them over the years.
Pros
Very powerful system and integrates easily with Shopify.
Cons
Drip's pricing model is and system design is geared around charging you for people who are "active" in their system even if they are unsubscribed from email marketing and you can't legally email market to them. So you end up with an ever growing list in Drip that you are paying for, but not able to market to. You can implement rules/automations to overcome this, however it is extremely complicated to do and their system will reactivate previously deactivated people when a new orders comes back in from Shopify. So you end up with a tangled web of rules and automations just trying to maintain a reasonable list size of customers who you can actually market to. I don't know, but maybe they have designed their system to be unnecessarily complicated to maximise their revenue by charging for people you can't market to? Support is extremely slow and generally only half answers questions. There seems to be absolutely no regard for customer satisfaction or any assistance to actually onboard customer adequately. I won't be referringing any other client sot use Drip.
Industry: Hospitality
Company size: 2–10 Employees
Used

Weekly

for

6-12 months

Review Source
---
Drip automates our email flows
Slow start due to steep learning curve, but very capable and advanced once mastered.
Pros
We use Drip for always-on campaigns, like our website's lead magnet. In fact, creating an attractive lead magnet for our site was super easy to do.
Cons
There is a learning curve for both terminology, and how to set up campaigns and workflows. But once you get the hang of it, it's a really advanced software.
Used

Daily

for

1+ year

Review Source
---
Drip is the best email/marketing automation software on the planet! I know as I have tested...
Drip integrates with just about everything and it is pretty easy to use.
The future of marketing from your website is "website personalization" which will create a unique experience for each and every person.
Your business also needs to track prospect/customer activity across multiple channels and deliver a customized experience.
Nothing makes me leave a website faster than when a website asks me to download something i have already downloaded.
The days of one size fits all marketing have come and gone.
With Drip, and a few 3rd party apps, I believe you can deliver an online experience like no other that will surely get you noticed and help you stand above your competition.
Pros
Drip is the dream marketing software I was dreaming of back in 2012 when I first started with another expensive email/marketing automation platform.
Out of the box, Drip doesn't need 3rd party apps to format data like making sure names are capitalized.
I am a marketing automation geek, and Drip allows you to add just about any other type of marketing software layer like surveys, onsite retargeting, send text messages, and even integrate Facebook messenger and Facebook ads just to name a few. (Some 3rd party apps required)
Using Drip and a few items I mentioned above, you can passively profile and lead score all of your prospects to see:
- which ones are hot (Drip can send an email to your sales team so they make contact),
- which ones are still in research mode (send these leads more content to help them make a decision via email, SMS or a Facebook message),
- and which ones are just tire kickers.
No sense running paid ads to tire kickers, right?
You can even personalize your website so that people who downloaded your freebie, don't get asked to download it again. That is powerful! (3rd party app needed)
I have moved all of my clients over to Drip from 3 other platforms and we are seeing much better results.
If you are considering email & marketing automation automation software for your business, take a good look at Drip.
They have a certification program, so you might want to check out graduates to lend you a hand if needed.