About SimplePractice
SimplePractice is a cloud-based practice management system built to make the business side of private practice easier. Our easy-to-use and HIPAA-compliant software helps health and wellness professionals automated their day-to-day processes like scheduling, payment processing, documentation, and more. Key features include free, unlimited appointment reminders, insurance claim management, online appointment requests, and a Client Portal to simplify client communication. Send paperless intake forms through the Client Portal—making it easy for your clients to review, sign, and make payments all in one place. Use the online appointment requests feature to let clients request a time that works for them. From there, you can approve or deny any request. Once your appointments are scheduled, reduce your no-shows by sending free, unlimited voice, text, and email reminders to all your clients. The integrated telehealth platform allows you to see clients from anywhere, with no extra logins or links. Streamline your note-taking process with the robust template library, or create your own templates to spend less time on paperwork and time in sessions. You can load your preview notes, make any edits, and then lock and sign your note, and you're done! Now you don't have to spend time in your sessions discussing payments. Simplify online payments with AutoPay and secure online credit card processing. Plus, credit card payment processing is fully integrated with your SimplePractice account—no need for extra logins or hassle. SimplePractice also has the tools you need to successfully market your practice like the Professional Website. Choose from professionally curated themes, colors, and photos to build a simple, beautiful website in minutes. Plus, the Professional Website seamlessly integrates with your account, so you don't need to enter all your practice information twice. Your SimplePractice account also integrates with the Monarch directory, so prospective clients can easily find your practice, request an appointment, and get the care they need.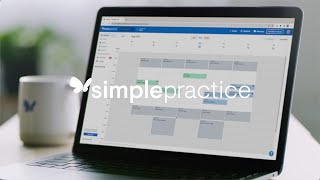 SimplePractice does not have a free version but does offer a free trial. SimplePractice paid version starts at US$29.00/month.
Starting Price:
US$29.00/month
Alternatives to SimplePractice
Industry: Medical Practice
Company size: Self Employed
Used

Weekly

for

1-5 months

Review Source
---
Does a lot.
Good overall. The one other thing I would like to mention is that you can't get a live help from Tech support in real time. You can "attend" virtual classes, sign up for live classes (which I haven't done. Time thing) and if you have a question, you can submit it to a chat community (not helpful, not enough docs so they responses are non-relevant) or you submit an email to technical support and they write back. Here's the catch. You have to respond to their response right away or if you miss the 2; hour window they consider your request "satisfied" and they move in. My suggestion would be to hire more live real time tech support. And if you want to add physicians, consider adding eprescribe and a lab interface. Just my suggestions. There are lots of reasons to not cater to doctors, but if Simple Practice would want to do that, a few small fixes could make this a very usable and more complete package.
Pros
Nice and plain in a lot of ways yet let's you do these things:
Set up your own intake forms, diagnostic codes, billing forms, scheduling, a secure patient portal so when patients contact you, you can send them a secure link they can use to sign your consent forms, pay you using a credit card which you don't have to handle, schedule a session, and do a telehealth visit in a secure HIPAA compliant way. There is also a way to do billing so bills can be submitted to an insurance company.
Cons
Simple practice is designed for mental health professionals and non-MD's mainly, so as a psychiatrist, it does MOST but NOT ALL of the things I need for a telepsych practice. For example, I cannot e-prescribe, order labs or review lab results using simple practice. But that's okay. They never claimed it could be used for this. So I am still getting off the ground with my own practice and will probably just use some work arounds such as writing paper scripts for now, and this is fine unless I get a patient who needs clozaril, lithium or delante, at which time I will need to get lab ordering and reviewing capabilities from somewhere else. So the thing is this. Simple Practice does a lot of things. For a psychotherapist non-prescriber, it would pretty much do everything you could ever want a platform to do. For a psychiatrist, it hits about 2/3 of the total function domain needed. For internal medicine, family medicine or endocrinology I would definitely recommend doing something else. They make no claims to physician specific and the main reason I picked it is for the telehealth and the billing simplification and the collect payment without touching money feature.
Response from

SimplePractice

Lisa, thanks for your positive SimplePractice review. We¿re glad that SimplePractice is working for your telepsyche practice - you can always submit suggestions to our team on how to improve SimplePractice even more at simplepractice.uservoice.com.

- Gillian from SimplePractice

Replied 8/2/2019
Industry: Mental Health Care
Company size: Self Employed
Used

Daily

for

2+ years

Review Source
---
Love this practice management system and it keeps getting better
Simple Practice is an all one solution for small private practices- it's not only a user friendly electronic health record, but an insurance billing platform, staff tracking if you have independent contractors or employees, secure messaging system, telehealth platform, source for quality continuing ed, weekly inspiration, revenue tracking, and all the tools you need for a easy digital client onboarding process.
Pros
As an experienced clinician and small private practice administrator I find this software easy to use and the SP team really does take user feedback seriously and updates and adds features regularly. The roll outs of changes are thoughtful, with good lead times, and always a net improvement in user experience (so far). Reports are detailed enough for me to keep an eye on revenue, independent contractor services, and I can easily update forms and communicate with team members and clients confidentially. Also, online scheduling and the Client portal make client onboarding a breeze without hiring a receptionist.
Cons
I wish I could run reports based on services provided and/or detail of services provided to clients with specific payors.
Reasons for Switching to SimplePractice
I previously had a lot of experience with Care Logic when working for a larger agency. SP offers a much simpler and tech savvy solution for a small practice.
Industry: Health, Wellness & Fitness
Company size: Self Employed
Used

Daily

for

1+ year

Review Source
---
Unwanted new features to justify significant price increase.
My experience was poor overall. I initially loved them and recommended to others but I will be leaving simple practice for another EMR after this sudden and senseless price hike as I'm sure this is a pattern they will continue. They were very dismissive of my concerns and let me know that there would be no refunds. I did not feel I could trust them to make decisions in the interest of the consumer. As a product developer myself I typically send out surveys and conduct focus groups on new products. I don't think they did this judging by the pile of negative reviews on trust pilot within the last few weeks. A price increase is fine but a price increase above 10% of the base cost in a time of crisis is price gouging.
Pros
I liked the original pricing plans. They were reasonable and had the basic features my practice required (online booking widget, documentation, and appointment reminders).
Cons
Simple Practice gave little notice when they hiked the price by 50% for some basic features. They stated that the new features justified the price hike however we don't use the new features, didn't request them, don't need them, and don't want them. What we require is the plan we chose upon choosing this EMR. An added website isn't useful when you already have a website and don't need two. Telepractice isn't useful when their system is inferior to zoom and you already have a system in place.
Reasons for Switching to SimplePractice
Used it in the past and liked it
Response from

SimplePractice

When changing our pricing, we conducted extensive research on how to charge customers at a rate that was commiserate with the services we provide and the labor it requires. We also conducted research on the necessary features and most utilized functions and segmented that data based on the stage of private practice the customer was in: how long they'd been in private practice, if they were a solo-practitioner, small group, large group practice, client case load etc. The new Essential Plan is very similar to our sunset Professional Plan, but it's meant for a solo-practitioner. We've tailored 3 distinct plans to better fit the stages our customers' private practice journey - including an affordable Starter plan. We added many new, highly requested, features in 2021, and extended options for customer support. We appreciate your feedback as we continue to build our product and introduce more customization in our subscription plans in the future.

Replied 18/4/2022
Industry: Hospital & Health Care
Company size: 51–200 Employees
Used

Daily

for

Free Trial

Review Source
---
A solid option
I am considering choosing it to be my primary EHR, however I'm still comparing it to the other competing EHRs to see which is the best deal for the services I require.
Pros
I like that Simple Practice can provide every need for an EHR - a one-stop shop.
Cons
Expensive, compared to other options (though those other options may not be as good).
Industry: Hospital & Health Care
Company size: 201–500 Employees
Used

Daily

for

6-12 months

Review Source
---
simplifies all processes to a level that allows us to focus on actual client care
Simple practice was introduced to me and my [SENSITIVE CONTENT] during a medical conference we attended during the early stages of setting up our private practice. Thankfully, it came at a time when we were still developing our core processes and workflows, so it was able to shape our systems right from the very beginning.
Pros
Simple Practice is very easy to learn and get comfortable using. All the various features easily link up to others that follow or proceed in the logical process of service delivery, making product navigation extremely user friendly and smooth.
Cons
The period allowed for the free trial is a bit short and does not allow potential buyers enough time to test all the core elements before having to make a decision on whether to purchase or not.
Reasons for Choosing SimplePractice
Simple practice had a more comprehensive set of features and more applicable uses for the stage we were in as a new practice
Reasons for Switching to SimplePractice
The recommendations we received from our network of associates and administrators were in favor of Simple Practice