About Pipedrive
Pipedrive is a web-based Sales CRM and pipeline management solution that enables businesses to plan their sales activities and monitor deals. Built using activity-based selling methodology, Pipedrive streamlines every action involved in converting a potential deal into a successful sale. As a cloud-based application, the solution can be accessed from anywhere 24x7 using any web browser or dedicated mobile apps. Pipedrive provides sales personnel full visibility of different sales pipelines. A robust interface displays the progress stages for each deal with the complete details for next actionable items. The activity & goal feature allows users to track the pending activities in each pipeline. Pipedrive also offers custom sales reporting tools to monitor individual and team level targets, analyze sales data and generate visual reports. Pipedrive's mailing system seamlessly integrates with multiple email service providers including Outlook, Gmail and Yahoo. Users can send and receive emails from multiple accounts using their Pipedrive account. The solution also integrates with various leading CRM tools to transfer contact details, communication history and other information across applications. Apart from these, the solution also integrates with Google Maps, MailChimp, Trello and Zapier.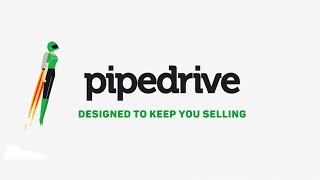 Pipedrive does not have a free version but does offer a free trial. Pipedrive paid version starts at €14.90/month.
Starting Price:
€14.90/month
Alternatives to Pipedrive
Industry: Information Technology & Services
Company size: 11–50 Employees
Used

Daily

for

1-5 months

Review Source
---
Pipedrive - selected ahead of HubSport
Very happy so far with PipeDrive - agonised initially about using it because of weaker marketing automation features and 1000 email limit on emails, but still its quick and easy to use and less 'how do you do that' than any of the other five or so CRM's we experimented with.
Strongly recommend.
Pros
Well integrated CRM that works. Clear, easy-to-navigate from company to lead to deal.
Does not try to pretend to be a jack-of-all-trades. An excellent integrations universe provides options for superior specialist apps to provide improved functionality in that area of speciality. Looking at you Ontraport.
Pricing is reasonable:- we are paying £150 for three users. Not cheap - its on the edge of our own affordability, but not as expensive as the frankly ridiculous HubSpot pricing.
Nice free trial process and easy to start without nonsense of having to be sold to be some US-based rep for which I just do not have the time. Keap lost out to us here...
Cons
Maximum of 1 000 names on an email. Even as a small SaaS business we will be hitting this limit with six months. The work around is relatively simple: we have used MailChimp, for which there is a great integration in PipeDrive.
Using MailChimp means we do not need PipeDrive Professional (and MailChimp is cheaper than the extra cost of Professional over Advanced) but I would rather pay a bit more for an integrated solution.
Design is perhaps not as slick as HubSpot, but the ease of adding additional fields to contacts, jumping between companies and contacts is better.
Weak/no LinkedIn integration. Surely this must be the most important tool for B2B lead gen? Really should be more tightly integrated (e.g. add a lead directly from LinkedIn)
Reasons for Choosing Pipedrive
HubSpot is just too expensive. As a startup with just three sales people we just cannot justify close on £1000 a month for CRM and email functionality. I think HubSpot have drank the 'charge more' KoolAid and believe once you are trapped you will not escape. Pipedrive with suitable companion apps provide equivalent (or even superior) functionality to HubSpot at 20% of the price.
Reasons for Switching to Pipedrive
Hubspot - price.. oooh that price. Ontraport - too much other stuff we will not use (what has a second rate ecommerce to do with a CRM...) SalesForce - old Keap - purchase process too complex Zoho - Jack of all trades master of none Freshsales - Jack of all trades master of none
Industry: Education Management
Company size: 5,001–10,000 Employees
Used

Daily

for

Free Trial

Review Source
---
Flexible and Useful CRM Software
In general, I can say that it is a powerful and user-friendly CRM software that can be implemented quite simply and quickly.
Pros
It is very valuable to be able to customize and follow our process stages as we want. It is also a flexible solution for the user to be able to make the markings we want and update between processes with the drag and drop method.
Cons
Costs per user can be expected to be slightly more affordable.
Industry: Information Technology & Services
Company size: 501–1,000 Employees
Used

Daily

for

6-12 months

Review Source
---
The best customer relationship management (CRM) software
Overall, Pipedrive is a great CRM software for businesses that want a simple and customizable solution to manage their sales pipeline. It offers various features, integrations, and real-time sales reporting, but may not be suitable for businesses that require more advanced features or have a limited budget.
Pros
Sales Pipeline Management: Pipedrive allows users to visualize their sales pipeline, track deals, and monitor progress.Contact Management: Users can manage their contacts and view their contact history with Pipedrive.Deal Management: Pipedrive lets users track deals and set up customized deal stages to fit their sales process.Sales Reporting: Pipedrive provides real-time sales reporting and analytics.Email Integration: Pipedrive integrates with various email providers, allowing users to track emails and schedule follow-ups.
Cons
Limited Features: While Pipedrive offers a range of features to manage sales processes, it may not have all the features that some businesses require. For example, it doesn't offer marketing automation or lead scoring, which may be important for some businesses.Pricing: Pipedrive's pricing plans can be expensive, particularly for businesses that require multiple users. The more advanced features are only available on higher-tier plans, which can make it difficult for small businesses with limited budgets to access all the features they need.
Industry: Marketing & Advertising
Company size: 11–50 Employees
Used

Daily

for

2+ years

Review Source
---
Avoid this software unless you like terrible support + constant problems with features.
The fact is, there are SERIOUS issues with this software, their support do NOT know what they are doing at all... if you report an issue, their 'engineering' team will tell you its 'supposed' to work like that instead of fixing the issue (for example, you can select a calendar in google calendars, it then doesn't work right, and they will blame how the calendar was created, but there is no guide on how to create a calendar properly, you can select the calendar that is of a wrong time, and there is no warning that it wont work correctly to scheduler people until you start getting double booked.)
As an experience development agency owner of 15+ years, these guys need to seriously learn what customer centric design is, and train their engineering team as they seem to live in some kind of 'programmers' bubble. Their first tier support staff need serious training as they cant do anything troubleshooting wise and expect you to spend hours upon hours to troubleshoot the issue for them even if they can replicate the issue.
Customers would be VERY UPSET to know the issues we've uncovered that were never announced, like MASS email delivery issues... in a sales environment that would cost company's thousands, its cost us at LEAST 10's of thousands in sales before we realised and now send important sales emails via another method
Pros
The pipeline management is good in this tool, it has a good base feature set, the problem is however, that many core things are MISSING or dont work right out the box.
Cons
From the outset, this product looks good value, which is likely why it has so many great reviews, however, the more you use it and the moment you need to contact support, you realise the trouble you've got yourself into. If you are a team greater than one, then DO NOT use this software (remember, you might want to grow in future too).
Reasons for Switching to Pipedrive
We choose Pipedrive because of its pricing at the time, and its base feature set was enough for us to grow into, however, during this time we've grown to a large team and uncovered dozens of massive issues, to switch would cost us a considerable investment time and money wise, we feel stuck and cheated as this company is too busy spending money on flashy new features that don't work properly to fix major issues with their workflow and existing feature set.
Industry: Marketing & Advertising
Company size: 2–10 Employees
Used

Daily

for

2+ years

Review Source
---
I always End Up Coming Back
We've decided to now go all in with Pipedrive, we have a sales team starting and we're consolidating into it with some 3rd party apps linking to it such as Aircall, Apollo.io and PandaDoc but we'll be staying this time for sure.
Pros
I started usig Pipedrive 3-4 years ago, I get shiny object sydrome and end up with another CRM, but always end up going back to Pipedrive. Insane value for money, and the UI and UX is incredible.
Cons
Uploading lists from CSV can be a bit of a pain at first but once you've done it you're all good just save the template. Someof the new features like email automation have development to be done on them to get to status of something like Lemlist but it's still usable.