About NinjaOne
NinjaOne (formerly NinjaRMM) is the leading unified IT operations solution that simplifies the way IT teams work. With NinjaOne, IT teams can manage all their endpoints and support end-users within one fast, modern, intuitive platform, improving technician efficiency and user satisfaction. NinjaOne supports over 7,000 customers around the world, and is consistently ranked #1 for our world-class customer support. The NinjaOne platform gives IT teams proactive endpoint monitoring, remote management, remote control, patch management, software management, IT asset management, backup, IT documentation, and IT service desk capabilities all in a unified solution with a fast, modern, intuitive interface.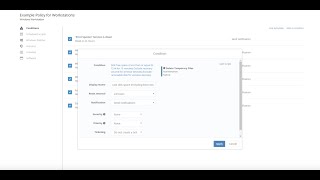 NinjaOne does not have a free version but does offer a free trial. NinjaOne paid version starts at US$3.00/month.
Industry: Higher Education
Company size: 1,001-5,000 Employees
Used

Daily

for

1+ year

Review Source
---
Well-rounded and easy to implement
Pros
We purchased Ninja to support our staff when everyone was sent home during the covid19 panic. It took mere hours to configure our instance and be ready to roll out to our users. My IT staff needed just one hour of training to get going on the software before they were able to locate the necessary features to provide excellent support using this tool
Cons
It's very much still being developed, and there are a few annoying ways that patching and scripting are set up that is unlike any other software I've used in the past. This had a learning curve, and eventually some limitations on how we implemented certain fixes for issues we encountered. Highly encourage to make full use of the trial period to make sure your needs are fully met by this platform.
Industry: Information Technology & Services
Company size: 11-50 Employees
Used

Daily

for

1+ year

Review Source
---
Migrating to NinjaOne was the best choice for our firm
We use a majority of the functionnalities (monitoring, scripting, remote control, update management) on a daily basis, but still have the pleasant feeling of discovering new ways to deploy, retrieve information on the clients park and save time on time-consming tasks.
On the human level, discussing with the NinjaONe team has always been a real pleasure, as they are accessible, from the commercial team to the back office team (support & expert team) . After more than a year and a half working with their tool and having regular exchanges with the NinjaOne team, I have never experienced the classic and destestable one way relationship : provider to client. I can truly say that the relationship with the NinjaOne team represents a real collaboration between two companies.
Pros
Compared to the RMM Platform we used for more than 4 years (which was a must in the market), I discovered with NinjaOne a complete tool bringing a real sense of modernity in this RMM sector. I'm still wondering how their team managed the difficult task of combinging a fully developed tool with and an interface easy to apprehend.
Cons
So many functionalities that it was sometimes frustrating for my team to figure out how to totally manage the tool.
Industry: Computer & Network Security
Company size: 11-50 Employees
Used

Daily

for

1+ year

Review Source
---
Software per MSP
It has greatly simplified the work of technicians. It has improved all prevention work and especially the ability to handle multiple devices at once.
Pros
What is interesting is the ability to automate so many repetitive and tedious functions for an IT person. Centrally manage patches of windows and third-party software.
Cons
The thing that perhaps needs improvement is that when running tasks at set times there is no option to have an email arrive with the outcome of the task.
Reasons for Choosing NinjaOne
Because Ninjaone in my opinion handled the update patch better. Furthermore, the price includes a ticketing system
Reasons for Switching to NinjaOne
Price, simplicity, functionality and product offer
Industry: Information Technology & Services
Company size: 51-200 Employees
Used for

Free Trial

Review Source
---
RMM with not enough going on for it
None. We choose not to use this software as it didn't do what we wanted it to do.
Pros
I like the overall look of the user interface and it is quick and speedy.
Installs quickly without much delay, provides good information about computer specs.
Cons
Hard to figure out how it works.
Uninstall option simply didn't work.
RMM software installs NOT in the system tray.
Patching is a joke. You cannot block patches easily, its either all of a cateory, ALL or none.
User interface navigation is terrible.
Was completely unable to figure out how scripting works.
No native remote control.
Not enough options.
We have been using Kaseya for 5+ years and it is so much better and easier to use.
Industry: Computer Games
Company size: 51-200 Employees
Used

Daily

for

1-5 months

Review Source
---
Huge bang for your buck!
We started with a demo that was great and then the setup was made as easy as possible. The price is outstanding, I really did expect to pay quite a bit more. I don't write a lot of raving software reviews, but I have to hand it to them.
Pros
It's really easy to use, and SO MANY ways to track what's going on behind the scenes.
Cons
It's not really a problem that's specific to NinjaOne, but this kind of product takes a while to set up.
Reasons for Choosing NinjaOne
We wanted something that was all inclusive and designed to work together. We were able to save money and get a lot more information from their products than the multiple tools we were using before.
Reasons for Switching to NinjaOne
GoTo/Join were both more expensive and less responsive.