About ExpensePoint
ExpensePoint is a cloud-based solution designed to help small to large businesses automate employee expense reporting. It enables users to generate, submit, approve and process reports for multiple expenses on a unified platform. Primary features of ExpensePoint include multi-currency support, reading and imaging, approval routing and policy implementation. It allows enterprises to categorize and code reports with custom rules. The system lets users import credit card details from any billing system and send automated emails for newly imported charges. Additionally, users can scan, upload or fax receipt images via the system and link them to individual expenses. ExpensePoint enables businesses to analyze corporate spending via analysis reports. The platform integrates with various accounting applications such as QuickBooks, Sage, Xero, Forte, and Great Plains. The product is available per user per month subscription plan, and support is extended via phone, email and other online measures.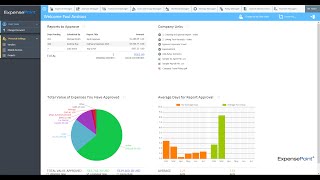 ExpensePoint does not have a free version but does offer a free trial. ExpensePoint paid version starts at US$8.50/month.
Starting Price:
US$8.50/month
Alternatives to ExpensePoint
Industry: Medical Devices
Company size: 11–50 Employees
Used

Daily

for

2+ years

Review Source
---
Great Piece of Software
Each employee is able to assign their own expenses to the correct project and then break it out for the correct department expense. We have all of our transactions automatically uploaded into our system so I know if an employee forgets to turn in expenses. This is a very beneficial aspect of the software that I would not want to lose.
Pros
I have been using this software for 3 years now and rarely ever have service issues. When I do have an issue, the tech support team at ExpensePoint takes care of it immediately. I like the functionality of the software and ease of use, but what I like most is the people in tech support. The expense reporting needs of our company can be complicated, but the tech support team has always been able to create something for us to make it easier.
Cons
We are limited to to a certain credit card company that will allow us to have our transactions automatically uploaded.
Response from

ExpensePoint

Dear Trey,

Thank you for taking the time to review ExpensePoint. We appreciate your generous feedback. I will be sure to let our support team know they are doing a great job. Your business is important to us and we are so happy to hear that this software has helped to automate your processes with the different functions and ease of use. Thanks again and have a great day.

Respectfully yours,
Sherry McKeen VP-Global Client Relations

Replied 15/10/2019
Industry: Nonprofit Organisation Management
Company size: 11–50 Employees
Used

Weekly

for

1-5 months

Review Source
---
A great solution for our business
The customer service has been outstanding - responsiveness, knowledge, caring. It was everything we hoped for when we signed up!
Pros
Expense Point has simplified a process for our company that had become very cumbersome for all - staff members needing to submit reports, approvers, and the accounting department. We have offices in more than one location, so getting the needed reports and supporting documents to the correct person was much more difficult than it should have been.
Cons
As with any new software and process, there is a learning curve. We just completed our first month using the system. It went very well with minimal issues to correct. I am confident that it will only get easier going forward.
Reasons for Switching to ExpensePoint
We had a demo of a couple of them. Some had great features, but more than we needed for our company which was reflected by their cost. When I was doing research, Expense Point had enough information in the video on their site that I was able to send the link to some selected staff members to get their input prior to our demo. Their feedback was very helpful in the selection process.
Response from

ExpensePoint

Dear Nancy,
On behalf of the ExpensePoint team I would like to thank you for your generous review. We are happy that you feel ExpensePoint is a great solution for your business. The benefits you have mentioned such as simplifying processes and outstanding customer service are music to our ears!
Respectfully yours,
Sherry McKeen VP-Global Client Relations

Replied 17/4/2020
Industry: Financial Services
Company size: 501–1,000 Employees
Used

Weekly

for

1+ year

Review Source
---
Expenses for Executive
It is a very good software to work on and if there is any trouble the support office / agent are very helpful. I recently has some issues and the support agent was very patient and helpful.
Pros
I like the wallet receipt. It is nice to go paperless.
Cons
The conversion from US Dollars to Canadian Dollars how accurate is it?
Response from

ExpensePoint

Dear Reema,

Your review of ExpensePoint is important to us. I especially appreciate your remarks about the Receipt Wallet. I'm glad you are enjoying going paperless. It makes expense reporting so much easier for everyone involved in the process. Thank you for the positive comments about our service team. I will be sure to forward them on to our team. In regards to the conversion from U.S to Canadian dollars, I can assure you it is accurate. However your credit card company may be charging you a premium. Thank you for choosing ExpensePoint as your automated expense reporting solution.

Best regards,
Sherry McKeen VP-Global Client Relations

Replied 15/10/2019
Industry: Nonprofit Organisation Management
Company size: 11–50 Employees
Used

Daily

for

1-5 months

Review Source
---
Water First
Very good. Our contact has been very helpful and accessible, she has answered every question quickly.
Pros
It's fairly easy to use, any issues have mostly been related to the complexity of our GL coding which has nothing to do with ExpensePoint.
Cons
The analysis capabilities could be more flexible. I would like to be able to add columns (data fields) to existing reports or create my own reports from scratch using any data field available but it seems limited at this point.
Response from

ExpensePoint

Thanks for your review, Cindy. We appreciate your business. Thanks for the positive feedback regarding ease of use and the support you received in your onboarding. Please contact our support team to discuss the possibility of a customizable report for your needs. We would love to develop that for you.

Happy expense reporting!
Sherry McKeen

Replied 2/3/2023
Industry: Health, Wellness & Fitness
Company size: 201–500 Employees
Used

Weekly

for

2+ years

Review Source
---
Good Support
High quality implementation and support.
Pros
Ease of use, product support, reporting capability.
Cons
Wish we could set more restrictions on coding. Conditional drop downs would be great.
Reasons for Switching to ExpensePoint
We chose an off the shelf product as opposed to creating one internally. Cost was reasonable and requires little maintenance.
Response from

ExpensePoint

Dear Lisa,
Thank you for your fantastic review of ExpensePoint. I am pleased to know you have found the program easy to use, the report capability helpful for your business and that the support team has met your needs. I also appreciate your feedback regarding restrictions on coding and drop down options. I have passed all these recommendations on to our development team leader. Thank you for being our client. We really appreciate your business.
Kindest regards,
Sherry McKeen- V.P. Global Client Relations

Replied 2/10/2019