About Sprigg
Sprigg Performance Management is a cloud-based human resource solution for small and midsize companies. It caters to insurance, banking, hospitality and manufacturing industries. Primary features include goal management, performance review, feedback management, 360-degree feedback, onboarding, time and attendance. Other features include compensation tracking, performance reports and dashboard. The goal management feature allows users to create employee goals, competencies, development plans and aligns employee objectives to company objectives. Users can provide real-time feedback on an individual or team performance. It allows users to collect 360-degree feedback from both internal and external sources. Sprigg allows administrators to communicate with employees by use of a company message board that provides updates in real time. It can be accessed on tablets and mobile devices. It is offered in a subscription pricing. Customer support is offered via online helpdesk, FAQs and video tutorials.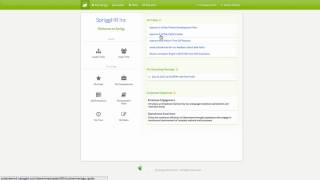 Sprigg does not have a free version but does offer a free trial. Sprigg paid version starts at US$250.00/month.
Starting Price:
US$250.00/month
Industry: Computer Software
Company size: 51-200 Employees
Used

Daily

for

2+ years

Review Source
---
Makes Vacation Planning a breeze
Their Customer service has been great. We merged with another company and they provided new training for our new larger staff
Pros
We find that the ease of use for both admin and users are simple to use for the vacation tracking. it makes it easy to see at a glance allotments and usage
Cons
Some of the review process' are more complicated and requires a "buy-in" from your top management to make sure people are using it
Response from

SpriggHR

Many thanks for your post Joanna. Good to see the My Time feature is meeting your needs. We are here to support you at any time in creating that intuitive Review process experience - it's important to us any and all users can easily navigate the system and we honestly welcome your insights and further feedback. Thanks for taking the time and letting us know.

Replied 16/7/2020
Industry: Human Resources
Company size: 11-50 Employees
Used

Weekly

for

2+ years

Review Source
---
Useful but with some room for improvement
Sprigg has been pretty good and straight forward. I like the way we can modify performance reviews. The customer service has been good too.
Pros
It is fairly easy to use for booking time off and not overly complicated. I like having company documents available for everyone such as the employee manual and virtual benefits booklets.
Cons
This software isn't set up for companies that have alternative work schedules like ones that work weekends. I nice feature to add would be issuing the schedule through this so that time off requests and schedules could be in one place.
Response from

SpriggHR

Many thanks Kiersten, good to see that My Time Vacation Tracking is helpful to you and that the storage and access of documentation is utilized. We will soon be releasing an update that accommodates weekends!

Replied 11/11/2020
Industry: E-Learning
Company size: 11-50 Employees
Used

Daily

for

1+ year

Review Source
---
Review for organization
Medium
Pros
Ease for one place and all details team did not follow implementation had to force fit it
Cons
Lack of use of association using the tool but did force sit it which worked
Response from

SpriggHR

Thank you, Joy - your candour is appreciated. Please let us know how we can work more closely with you to improve the value to your organization.

Replied 11/11/2020
Industry: Human Resources
Company size: 51-200 Employees
Used

Daily

for

2+ years

Review Source
---
High Value Product
In almost all of our applications we have simplifies and reduced administrative burden and costs compared to existing processes.
Pros
Ease to use, easy to customize fields to reflect your own needs, easy to train staff. Has all the features a SME employer will need.
Management and Employee self serve is simple and effective
Cons
None to mention. We have worked with SPRIGG many years and have made suggestions. SPRIGG is very receptive to feedback and where there is a broader benefit have implemented the suggestions.
Response from

SpriggHR

Thanks so much Mike for your review of Sprigg. We are really pleased to hear about ease of use and the overall cost effectiveness for your clients. As you indicated, we are very open to suggestions and frankly, it's that kind of input that shapes our best practices. Thanks again and we look forward to continuing to support you and your Sprigg user needs.

Replied 21/7/2020
Industry: Human Resources
Company size: 51-200 Employees
Used

Weekly

for

2+ years

Review Source
---
A Sensible Solution for Start-ups, Small and Mid-Sized Businesses
Overall I have found that Sprigg is relatively easy to administer, customize and train users on. The customer support is quite responsive and open to feedback, including development/enhancement requests.
Pros
Relatively easy to customize, implement and train users to start using right away. For users it is mostly intuitive and has lots of resources built in relating to Help and next-level customer support. The time-off program administration, performance appraisals and developmental/training plans are some of the most useful features to start using quickly.
Cons
It does not include a time and attendance system, which would be useful for hourly employees. Also the MyTime (time-off administration) feature is designed mostly for salaried employees that are allotted a set number of vacation or sick days at the beginning of the year. Currently it is somewhat cumbersome to update time-off allocation data for hourly employees that are set up to accrue time-off throughout the year.
Response from

SpriggHR

Thanks Gavin! Great thoughts on the hourly function for the My Time feature - I know it's on deck to be added! Thanks again for taking the time to share your thoughts.

Replied 15/7/2020