About Bitrix24
Bitrix24 is an online workspace for small, medium, and large businesses. It features over 35 cross-integrated tools, including CRM, tasks, Kanban board, Gantt chart, messenger, video calls, file storage, workflow automation, and more! Switching to Bitrix24 eliminates the need to be subscribed to a bunch of different SaaS solutions. You get all you need in a single package — all at a flat rate. With over 12 million users, Bitrix24 is one of the most popular business software solutions in the world. Bitrix24 is a client management solution that provides a platform for businesses to organize and track interactions with potential or existing clients and partners. The software allows users to log and manage client interactions, capture and store lead data, generate sales reports and perform segmentation of target audiences. Leads received from a user's website (for example, from an order or feedback form) can be fed directly to the CRM. Users can then create message templates, send individual or group emails to leads and contacts, capture notes on client interactions, schedule meetings and assign tasks. Users can create personalized invoices for clients by automatically inserting client information and sending them directly to the client's email address. Bitrix24's sales funnel functionality offers an overview of sales transactions in progress and their respective stages. With the sales dashboard, sales agents can see how many deals they've won, how many clients haven't been invoiced yet and an agent's rating in comparison with other sales team members.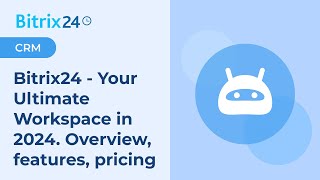 Bitrix24 has a free version and offers a free trial. Bitrix24 paid version starts at US$61.00/month.
Industry: Internet
Company size: 5,001–10,000 Employees
Used

Daily

for

2+ years

Review Source
---
Reliable CRM platform
We have a great experience deploying Bitrix24 as our main platform to organizing and managing our customer related service. We also use the task management tools provided as our alternative task management platform and to manage my basic daily task.
Pros
Bitrix24 has almost everything that a "Customer Relationship Management" needs and it is very easy to implement this platform to work flawlessly with our current system. It has a very good tool for contact management that we use to manage our employees profile, customer ticket and contact details.
Cons
There are some report details that are left out in the report generated that are very important for us to have a clearer analytics and insight. They should also fix the integration feature, as some of the integration is not properly integrated and no data are shown in the software after it is connected.
Industry: Financial Services
Company size: 10,000+ Employees
Used

Daily

for

1+ year

Review Source
---
Project management managed well with Bitrix24
Working with Bitrix24 has very many benefit, almost everything that i need is available in this software and i don't need to integrated it with other service or survey to make it a complete software. Storing document and files can be done easily within the software without having to use other cloud storage software.
Pros
Bitrix24 really has help me and my colleague managing task and project that we are running and collaborate. Communication the most important feature for collaborating project, and this software has provide us to have video calls and chat platform build-in inside the software. It helps us to connect easily with each others.
Cons
Work-time tracking is one of least tools that we don't ever use to measure our working time. As long as the work is done according to the time frame that has been decided, how long we are working online everyday is irrelevant. They better add milestone tracking rather than work-time tracking in my opinion.
Industry: Financial Services
Company size: 51–200 Employees
Used

Daily

for

2+ years

Review Source
---
Online Time Clock: Bitrix24
Real-time file sharing.Team collaboration.Task and project management.
Pros
It combines CRM, file sharing, time tracking, task and project management tools in one central repository.
Cons
I have used Bitrix24 for quite long now and I pike how the vendor technical team respond rapidly to our queries whenever we have issues.
Industry: Marketing & Advertising
Company size: 11–50 Employees
Used

Daily

for

2+ years

Review Source
---
Good Product but Poor Service - Definitely not located in USA
I'm a partner, their sales team is in UTC+2 9:00 AM to 6:00 PM. Support is UTC 8 - 5:30, tech support is UTC+3 8:30 to 5. You have to be awake between Midnight and 4 to get support from them or even a simple response. If a thing doesnt work for their customers they have to goto their partners. and subscribe a paid plan for them to fix it. OTP was working and suddenly stopped working. and Only my account was setup with OTP and not my clients. Client wants to do monthly plan and bitrix wants me to sign them for quarterly plan. Poor ethics. Partners cant sell you one month, they have to sell only 3 months minimum. I lost a client because of my client wanted one month and bitrix wants me to sign them up for three months. there are way better CRMs which will support you in US time zone. Bitrix sales and tech support uses google translator for responding. so if they dont understand what you are saying them, its googles fault. Its lot of hassles, and if you have great customer service you can manage any software. try few other crms and read a lot of reviews before going for bitrix else you will be stuck like my customer after an year half way down deep.
Pros
User Interface.
Easy navigation
Less Learning Curve
Cons
They use google translator for responding. so if they dont understand what you are saying them, its googles fault.
You have to be awake between Midnight to 4 to get support from them or even a simple response.
Most of them are Untrained and Inexperienced support techs.
Reasons for Choosing Bitrix24
Just a better interface, but zoho support makes it all worth to be using zoho.
Reasons for Switching to Bitrix24
Just better user interface
Industry: Information Technology & Services
Company size: 2–10 Employees
Used

Daily

for

2+ years

Review Source
---
Why we use Bitrix24
Will not be ale to run my business without it
Pros
Bitrix24 runs our entire operation. From contact management to tasks and communication, all in one system
Cons
Sometimes some bugs do appear, but is manageable