About EcoOnline Platform
EcoOnline EHS is recognised as the most user-friendly EHS software solution on the market. With an innovative approach to user accessibility and business intelligence, EcoOnline engages all users to efficiently record data and obtain critical information wherever they are working, on whichever devices they choose to use. Our suite of feature-rich modules including incident management, risk assessment, audit management, observation or event reporting, asset register, advanced root cause analysis and point of work risk assessment provides the perfect application of EcoOnline core capabilities. Gain instant oversight of your EHS data. EcoOnline's powerful reporting & dashboard capabilities allow you to gain deeper and more intelligent insights/accurate conclusions from your EHS data. Our frictionless mobile functionality helps to ensure that you can achieve the universal levels of adoption that will result in easily accessible, key business intelligence whenever and wherever you require it. Configure your processes your way. As a best-practice solution, huge considerations have been made to ensure that EcoOnline is as feature rich as it is easy to use. Customisable forms and workflows, as well as flexible data relationships make EcoOnline highly configurable. A connected solution can integrate with a number of mobile, web, or internet enabled applications to EcoOnline - creating a platform to connect applications unique to you and your business. Drive proactive safety decisions. Working with legacy software can often feel like a battle to get the insights that you need. EcoOnline works with practitioners to provide the kind of data that saves lives. The EcoOnline EHS solution is only one element of the EcoOnline EHS platform. Our comprehensive platform provides EHS, chemical safety and training solutions under one roof. The functionally rich integrated platform ensure real time decision support and EHS analytics - drive efficiency, whilst safeguarding your workforce, customers, and company reputation. Chemical Safety The most user-friendly chemical safety software on the market that gives control back to employees who manage chemical safety. Take control of your SDS Management, risk assessments and chemical reporting. Environmental Safety EcoOnline's environmental reporting software modules allow you and your organisation to track and reduce organisational emissions, optimise raw material usage and automate and schedule regular reports. Learning Manager Streamline and simplify the way you educate your teams. Digitally plan, track and report employee training and access an extensive library of relevant courses created by EHSQ experts. Book a demo today!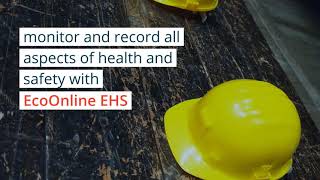 EcoOnline Platform pricing
EcoOnline Platform has a free version and offers a free trial.
Alternatives to EcoOnline Platform
EcoOnline Platform Reviews
Industry: Pharmaceuticals
Company size: 201-500 Employees
Used

Weekly

for

1+ year

Review Source
---
Great product for building a chemical register
Pros
The system allowed for the integration of vital safety information on chemicals for multiple work environments, templates can be made to make chemical risk assessments site and area specific. Reports on chemical hazard groups, OELs, etc can be generated easily and exported to excel.
Cons
When uploading new chemicals you must go through the Eco Online team, which are great to deal with, but would like the capability of doing this myself.
Industry: Philanthropy
Company size: 201-500 Employees
Used

Daily

for

6-12 months

Review Source
---
MSD Dunboyne Biologics review
[SENSITIVE CONTENT HIDDEN] has been super helpful and proactive to work with. Her replies to ad hoc emails are almost instant and shes been a great representative.
Pros
The automatic generation of a chemical risk assessment
Cons
Having to have different new chemical approvals for products which are the same but have different manufacturers has been difficult for us. Also its not easy to search for a chemical risk assessment unless you know for definite a chemical that's in it.
Industry: Airlines/Aviation
Company size: 201-500 Employees
Used

Daily

for

1+ year

Review Source
---
Chemdoc
From demo stage to companywide use it is a great asset to te organisation.
Pros
Gives easy access to safety data sheets and we can always be assured the most up to date version is uploaded.
Cons
Risk assessment templates but in time I'm sure they will be modified to suit our needs.
Industry: Biotechnology
Company size: 501-1,000 Employees
Used

Daily

for

1+ year

Review Source
---
ONT ChemDoc review
ChemDoc staff very helpful and respond very fast to all queries.
Overall system is quite user friendly, especially for COSHH assessments. I would say it is less user friendly for process risk assessments.
Pros
The automatic extraction of data from SDS.
The product search feature with SDS and COSHH assessments attached.
Cons
Would like to extract more data from SDS. Would like to be able to add the risk rating (rainbow system) into more of the customised fields, currently you have to have the standard ChemDoc table for this to happen.
No email notification for managers once selected as approver for COSHH.
Copying approved COSHH assessments between departments requires a new approver/sign off. The departments on ChemDoc correspond to different labs within the company which users mix between quite regularly between so quite tedious if someone wants to use for example methanol in two different labs they need to copy RA and get approval (sign off) twice.
To duplicate a process RA in the copy field the name of the assessment doesn't appear just the chemicals that appear in that RA. Which makes it quite difficult to select the right RA to copy if several RAs contain the same chemical. For example, 10 risk assessments contain chloroform then chloroform is listed ten times in the duplicate tab and i dont know which is the RA i want to copy until i select one of the chloroforms and press duplicate.
Be good if admins could control read and understood function.
Since our departments correspond to different labs some experiments are conducted across multiple labs but to copy process RA all the chemicals in the RA need to be in both labs. Whereas, sometimes we store the chemicals in one lab then use them/formulations of them in different labs.
Used

Daily

for

1+ year

Review Source
---
I really find this a great and easy user-friendly system, easy to teach new users.
Pros
When Hazards are spotted/identified and logged I find its very easy to close out/ track the said hazards.
Cons
The drop-down box (housekeeping, hot works)and the like could do with more options, this would cover more site topics /hazards