About Beesbusy
Beesbusy is a collaborative planning tool. Easy to use, it allows to federate expert users and occasional users. - The planning of the tasks is materialized in a schedule in the form of a Gantt chart (view When of the project), which remains simple and easy to adapt. The multi-project views allow you to have an overview of all your activities. - Resource planning is done in a view displaying all resources and associated tasks on a schedule (Who view). This view allows you to distribute the workload and to plan it, considering the occupation rates and the constraints of the resources. This planning view by resource also exists in multi-project mode, greatly facilitating arbitration when distributing work to different projects. By planning tasks AND resources, you activate the levers that allow you to build realistic schedules. You regain visibility on your activity, and everyone gains in serenity. SIMPLICITY IS THE KEY TO A SUCCESSFUL DEPLOYMENT Beesbusy's interface is easy to handle, allowing each user to quickly understand how to organize himself. This is the essential element for a tool to be really used by all, especially by the occasional users and/or those who are not at ease with the computer tools. MANAGE YOUR PROJECTS The main steps of project management are as follows: 1. List the tasks to be performed. 2. Evaluate the workload required to complete each task. 3. Assign real or virtual resources to the tasks and allocate the workload to each resource. 4. Plan the tasks by materializing the sequence of tasks and milestones in time and by integrating the constraints and the occupancy rate of each resource. 5. Update the schedule very regularly according to the progress of the work and in particular the remaining time on the tasks which can be re-evaluated during the project. Beesbusy has advanced functionalities that allow you to perform these steps and to take the height on several projects at the same time: - What view: task lists. - When view: dynamic Gantt chart, visualization of a project in time. - Who view: team planning, visualization of the distribution of tasks and the workload of collaborators with their occupation rate and availability. - Multi-project: all current projects, customizable filters. - Dashboards: customizable indicators and creation of project portfolios for monitoring in reporting mode. - Agenda: view all tasks by day, week and month with their occupancy rates, and manage their constraints (unavailability, vacations, weekly work schedules). MANY USEFUL FEATURES FOR EVERYDAY LIFE To help you work efficiently, whatever your activity, many features are at your disposal: - Duplicate projects, allowing you to create template projects and be efficient when the activity is recurring. - Drag & drop the tasks to easily reorganize them. - Prioritize tasks within a task list. - Record comments on the task and exchange with your team. - View the progress of a task with its percentage of completion. - Notify in a targeted and relevant way thanks to the buzz system. - Schedule reminders on tasks to ensure their completion and follow-up. - Establish a recurrence so that a task is repeated at the chosen frequency. - Detail the actions to be performed in a task in a checklist fashion. - Add useful documents to complete a task. - Synchronize your tasks with your Google calendar or your Outlook calendar (MO365).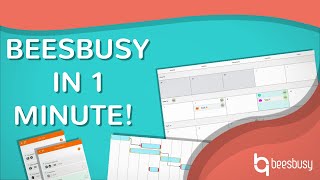 Beesbusy has a free version. Beesbusy paid version starts at US$9.99/month.
Starting Price:
US$9.99/month
Industry: Higher Education
Company size: 10,000+ Employees
Used

Daily

for

6-12 months

Review Source
---
The Best of All of Them
Pros
I actually teach project management at a university. When you first start using Beesbusy, the simplicity of the product tends to mask the power of the product. It has an extremely intuitive (almost too simple) "What, When, Who" style of user interface design. As you start using the product, however, it becomes apparent how well it works even for larger projects or project portfolios.
Beesbusy does a stellar job at project/task visualization--better than anything else I've seen. You can filter and sort on virtually anything allowing you to see, at a glance, your workload or your team's workload, or drill down in individual projects. Most everything is "Ganttified" including personal workload calendars. So, for instance, it is easy to see how many things are on your plate over time--allowing you to balance or shuffle tasks. Tasks can also be viewed in a Kanban layout. A couple of other things it does well are time tracking and team communication.
I have reviewed (and have subscriptions to) several other project/task management SaaS apps. Beesbusy absolutely outperforms anything else I have tried. They seem to be a well-funded company with a pretty impressive portfolio of clients and they have put quite a bit of thought into the product. So if I had to pick a socially-driven project management app, this would be it.
Cons
It would be nice to have a desktop app but the product is stellar in a browser.
Response from

Beesbusy

Hi,
Thank you for this review!
We are still working to improve Beesbusy. As major new features this year (2022) we already released the special fields, very useful for reporting, and the budget feature.
Best regards.

Replied 13/7/2022
Industry: Information Technology & Services
Company size: 2–10 Employees
Used

Daily

for

1-5 months

Review Source
---
BeesBusy provides an affordable and easy to use alternative to popular project management...
As I have mentioned in this review, BeesBusy is a well-designed project management tool. It is easy to figure out and I like the way that it can be customized, including adding our own logo to all the pages. For a web-based application, it is also fast. On the downside, I am disappointed with the support and I know there must be a way to configure the page text to always be in English and not the default French.
Pros
BeesBusy's layout and configuration is well-designed and easy to figure out. If you have previous experience with other project management systems like Trello and Asana, you will have no trouble using BeesBusy.
Cons
My big peeve is whenever I go to log into BeesBusy, the text on the pages is in French. I have to click on a British flag button to convert all the text to English. Other members of my team had the same project. There were two members who spoke French and they liked it. I have contacted support and they have not returned my messages. It appears that support does not work on weekends and works a limited number of hours during the week. The other problem is BeesBusy does not provide a way to use your own subdomain, like [SENSITIVE CONTENT]
Reasons for Choosing Beesbusy
I have been using the free version of Trello for many years, and I was looking for an affordable project management system that I could configure and add my company logo.
Reasons for Switching to Beesbusy
It was more affordable and easier to use.
Response from

Beesbusy

Hi,
Thank you for your review.
We would like to fix you issue, so please contact us again at the [email protected] email. Is you could send us some screenshots it would help. Or if you prefer we could schedule a video-conference to explore the issue together.
Kind regards.

Replied 13/7/2022
Industry: Research
Company size: 501–1,000 Employees
Used

Daily

for

1-5 months

Review Source
---
The tool you can rely on!
Pros
Portfolio view is super great to see all projects at once. Multiple different levels of compatibility are awesome to organise our projects.
Cons
The desktop app would be icing on the cake.
Response from

Beesbusy

Hi,
Thank you for you review.
I will share it with the dev team.
Best regards.

Replied 13/7/2022
Industry: Information Technology & Services
Company size: 2–10 Employees
Used

Daily

for

1+ year

Review Source
---
Killer application
Pros
The design
Very fast and easy to use from the smartphone for a quick check
Nice design and rich fontions from the webapp for business purpose
Cons
Nothing compared to the competitors. I prefer to manage everything from the smartphone but the device is not good enough for that.
Response from

Beesbusy

Thank you for your very positive review of Beesbusy!

Replied 26/11/2019
Industry: Design
Company size: 2–10 Employees
Used

Daily

for

6-12 months

Review Source
---
A tool for your team
I use it daily to see my work of the day, it's very convenient to have a full view of all my projects and my team, and it's easy to change dates and re-organises things.
Pros
It's colorful and you can have a lot of different views of all your projects
Cons
It's can be a bit confusing on certain features (delete a project or create a group)
Response from

Beesbusy

Thank you for your review and feedback! We will take this into account and keep on improving these features.
We would love to get in touch to know more about your ideas. Please feel free to contact us directly.

Replied 25/11/2019