About Noteable
Noteable is a complete solution for behavioral services companies including community-based counseling providers, group homes, and in-home or clinic-based ABA. With Noteable, agencies can create and customize treatment programs, including case note and report templates, automate complex billing logic, customize clinical supervision workflows and monitor activity across multiple programs and locations using Noteable's practice analytics tools. Noteable offers a data collection and analysis suite, either standalone, or included in the full EHR that lets behavior analysts design individualized goals and objectives, collect data in-session using 8 collector types, discover insights with advanced graphing and analysis tools and report on progress. Noteable is proven to be ideal for agencies of all sizes, from small counseling teams and aba clinics to large, multi-location agencies providing many different types of services. The interface was carefully crafted for ergonomics. Clinical staff can access client details in one click, and start a note in two. As notes are entered, claims are tracked in real time so authorized units are utilized efficiently. Noteable's unique "red dot" task tracker guides staff right to the work they need to do. Advanced audit protections ensure that from notes to claims, agencies remain compliant. Other features include remote counseling and supervision using integrated video and screen sharing, electronic faxing, digital signature capture and time-based tracking of client medications, insurance, funding, home situation, diagnosis and treatment goals.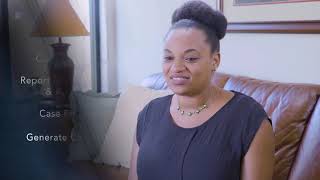 Noteable does not have a free version but does offer a free trial. Noteable paid version starts at US$12.00/month.
Starting Price:
US$12.00/month
Pricing Details:
The Noteable ABA Data Suite is a flat rate of $12 per client per month. The Noteable Behavioral Service Platform starts at $50 per user per month for the first 10 users. Then the price per user is reduced to $40 for users 11 through 20, $30 for users 21 through 30, $20 for users 31 through 40, and $10 per user after that.
Industry: Mental Health Care
Company size: 11-50 Employees
Used

Daily

for

1+ year

Review Source
---
The best EMR for Community Based Services
I have used several EMR systems and this has been by far the best. They are so easy to work with. I like that I use my forms and not use some prefab forms that don't feel original.
Pros
It is very easy to use and grow with. They will fix anything immediately as things sometimes need to change or be updated.
Cons
Something that can improve is the employee chart. I would like to use it more for their compliance.
Industry: Mental Health Care
Company size: 11-50 Employees
Used

Daily

for

1+ year

Review Source
---
Welcome Home Community Services, LLC
Overall, Noteable has been the best EHR system we have used (they were our third product). We appreciate their exceptional support and knowledge as our agency navigates this system and learns the best way to utilize it. During COVID 19 pandemic, Noteable instituted a telehealth system. Noteable was instrumental during this pandemic time with telehealth which supported our staff maintain confidentiality in healthcare and remaining in compliance with the state and federal statutes. It has been a lifesaver for us!
Pros
Noteable team does a wonderful job with training, providing immediate support, listening, and implementing recommendations. We were able to integrate this system based on the services we provide with ease.
Cons
Most of the applications that are in the Noteable system are easy to use. The difficulties we experience are when our staff makes an error and the system blocks us from completing progress notes. However, this is an agency issue and not Noteable's. When we address these issues with them, they were quick to respond to help us resolve these concerns immediately to allow us to provide our continuity of care to our mental health consumers.
Reasons for Choosing Noteable
These systems were not intuitive enough for the work we intended to do with the agency. In addition, their costs kept increasing however the supports needed was not provided.
Reasons for Switching to Noteable
It provided all the supports we needed. We are a behavioral health agency providing both mental health and developmental disabilities services. Most other products only provided support for one or the other service. But Noteable provided the solution we needed to add all of our services to their EHR system. This allowed our agency to cross-train our staff and use one system where they can use to document support for all individuals serve. Thus far, this is the only company we found that provides this exceptional and wonderful support.
Industry: Hospital & Health Care
Company size: 51-200 Employees
Used

Daily

for

2+ years

Review Source
---
Medical Billing
Pros
I like that Noteable has a category to create a billing run. The billing run can be exported to Excel that transfers all the information needed to create a claim. I also like the analytics category, which I use often to identify consumers that are seen over approved units.
Cons
I do not use Noteable enough to identify what features I do not like
Industry: Mental Health Care
Company size: 501-1,000 Employees
Used

Daily

for

2+ years

Review Source
---
Game Changing Program for the ABA Field
Pros
Noteable has such an intuitive, creative, and easy user interface which makes using this product (and teaching on how to use this product) such a breeze. There are so many built in features that ensure you, as a practitioner, have an easy job in managing and ensuring quality care. I love how creative I can be when planning treatment for my clients, whether it's managing behaviors or creating thorough and precise treatment objectives. I get to easily build out phases of treatment with assigned data collection, and all of my creations can instantly become reports or accessible in the app for my direct care staff. Since switching to Noteable, I have found clients and families are more actively engaged in treatment and make progress faster due to the speed and ease in which I can adjust, alter, and edit treatment needs. Additionally, families and staff more quickly and readily access graphs and can see progress each day. Having a mobile data collection app also allows for quick collaboration between the supervisor and direct staff - changes can be made quickly and progress is seen and accessible to all parties. Graphs are quickly added into monthly and quarterly progress updates with the click of a button, and Noteable also allows for quick faxing of documents to all providers with another click of a button! All the staff I work with continually rave about how easy and fun Noteable is to use - which in turn allows us all to have more fun in the work that we do.
Cons
Another thing I love about Noteable is how open the development team is to suggestions and feedback. The things that have been cons are features that will now be added by the end of this year, like session planning tools and ABC data collection in mobile & web versions.
Industry: Mental Health Care
Company size: 11-50 Employees
Used

Daily

for

2+ years

Review Source
---
The Best
Connecting Communities' experience with Noteable has been absolutely amazing from the very incipient stages to current day. They remain consistent in best practices, customer care, and service delivery.
Pros
The accuracy of the billing component. The ease of use of the system overall. I am not the most tech savvy and I am able to maneuver through the system with ease. I am able to explain how to use the system seamlessly during our on-boarding. Ability to review all of the client's charts that are serviced by the same employee.
Cons
The only feature that I think would be beneficial to add is resubmitting denied claims through the system. This is currently being look into for possible implementation. I really hate referring to it as a con because the system overall is so great.