About LiveAgent
LiveAgent is an online Help Desk solution for e-commerce businesses at the small and midsize levels. The platform offers live chat application, ticket management, online self-service portals, and change and license management, all as either in-suite or standalone applications. LiveAgent offers a selection of broader customer relationship management (CRM) applications, such as marketing and sales force automation in cooperation with a variety of third-party software companies. It is a customizable solution that can scale as small companies grow their customer base and online services. The software provides a ticket management system where the ticket contains the complete stream of chat messages, emails, phone calls, or messages from other communication channels between the customer and support staff of the company. LiveAgent for Startups: Startup program is free for the first 6 months for startups that apply. This is an exclusive opportunity for startups to get access to the best customer support software in the market with no upfront costs. After the first 6 months, startups can continue using LiveAgent at a discounted rate. LiveAgent is offered as both web-based (cloud) software and on-premise installations. The cloud option is priced on a pay-per-user basis by a number of agents, and the on-premise options use the up-front pricing model, based solely on the number of agents. Start with a 14-Day free trial, no credit card needed, no contracts.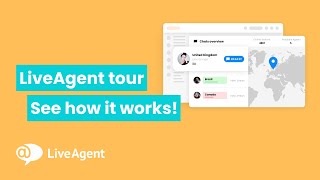 LiveAgent has a free version and offers a free trial. LiveAgent paid version starts at US$9.00/month.
Alternatives to LiveAgent
Industry: Internet
Company size: 1,001–5,000 Employees
Used

Daily

for

2+ years

Review Source
---
Great customer service and simple ticketing software
If you are thinking about using LiveAgent, one piece of advise I can give you is to spend some time figuring out how to use the tools that it provides. For some of them, it isn't exactly obvious how to do it, but if you put in the effort to figure it out, you'll find that the service is more than worth it.
Pros
I really like the platform, since it is really simple to operate and I can thus practice my customer support agents on it. The platform has a wide variety of appealing features, some of which are detailed in the following list: The ability to share a mailbox, improved lead capture and engagement, heightened efficiency, outstanding value for the money, and a great deal of additional benefits are also included.
Cons
Only the most expensive tier, which often comes with numerous features and options that you might not want, offers a link to social media; however, if you wish to add any of these features à la carte, doing so will be expensive on its own.
Response from

QualityUnit

Hello Shayla! Thank you very much for giving us 5-stars :) We are always glad to see that LiveAgent is helping our customers save time, increase productivity and manage their customer communications better.

For any inquiry regarding functions or integrations that might further improve your experience, feel free to reach out to our 24/7 support.

- LiveAgent Team

Replied 20/6/2022
Industry: Nonprofit Organisation Management
Company size: 51–200 Employees
Used

Daily

for

2+ years

Review Source
---
Customer care solution at the peak. LiveAgent is the surest help desk software.
The overall experience that LiveAgent has given us has been very satisfying and worthy. It has delivered to us more than we could ask for when it comes to customer support. Its has proved to be a vital Help Desk tool for customer care and support services making it easy for us to connect to customers and solve their issues quickly.
Pros
I really like the customer support available in LiveAgent, The support team is always 24/7 hours available to assist you and answer any questions you have. It is a flexible and robust tool that allows you to integrate it with your communication products Facebook, Twitter, Mail, Instagram among many others making it convenient for your customers to reach out to you and for you to connect to them easily. The live chat function has excellent chat features which makes it very useful and always prove to be helpful as it makes it fast and easy for you to interact with your customers. It is easy to use for both you as the user and for your customers. It allows you to deliver personalized customer support services to your customers allowing you to reach out to all your customers at personal level depending on their specific needs. It gives you an option to include self-support function in your customer portal to by including knowledge-base articles for your customers.
Cons
I like all the features made available at LiveAgent. They all work incredibly and am all satisfied with each and every single of them . There is nothing that i like least about it.
Response from

QualityUnit

Hello Robert! Thank you for your positive feedback about your experience with LiveAgent! We're thrilled to hear that our help desk tool has exceeded your expectations and made it easier for you to connect with customers. We're committed to have a great customer service product and we are glad that we've been able to deliver on that promise for you.

- LiveAgent Team

Replied 9/3/2023
Industry: Marketing & Advertising
Company size: 11–50 Employees
Used

Weekly

for

1-5 months

Review Source
---
Provide customer service easily
Pros
Effectively provide the service your customers need, without hassle
Cons
Turnaround time of messages sometimes longer than they should be
Response from

QualityUnit

Hi Grace! Thank you for taking time to write us your feedback.

- LiveAgent Team

Replied 14/2/2023
Industry: Market Research
Company size: 51–200 Employees
Used

Daily

for

2+ years

Review Source
---
The most effective multi-channel online customer service solution
I use LiveAgent daily to log and resolve customer-reported issues since it allows me to keep track of the essentials while streamlining the process. Making a list of things you need to do and keeping track of whether or not they've been done makes the process far more manageable. It gives me access to a highly feature-rich support chat that allows me to effectively communicate with any client via video, audio, or text. It's great for businesses of all sizes since it's scalable and flexible, with plenty of useful extras that won't break the bank.
Pros
I appreciate how simple and adaptable it is to use. It's simple to incorporate into existing domains to provide a unified service to your clientele. Because it is hosted in the cloud, LiveAgent is equally effective as an internal and external help-desk solution. It offers multi-channel support through various channels, and its extensive capabilities, user-friendly design, and reasonable price make it a viable option.
Cons
Nothing I've found to hate about this platform has helped me do great things and bring many benefits to my employer.
Response from

QualityUnit

Hi Kian,
Thank you very much for your feedback. We are glad to hear that LiveAgent has been the right choice for you and that you have been satisfied with the benefits and features it brings to your everyday work life. Remember, you can always contact us in case of any questions - we are available 24/7!

Replied 18/1/2023
Industry: Retail
Company size: 1,001–5,000 Employees
Used

Daily

for

1+ year

Review Source
---
Efficient Customer Support with LiveAgent
I've been able to solve a variety of customer service-related problems with the platform. For example, LiveAgent has allowed me to efficiently manage and organize incoming customer inquiries from a variety of channels, such as email, phone, social media, and chat. This has helped me respond to customer inquiries more quickly and effectively, which has improved customer satisfaction.In addition, LiveAgent's ticketing system has allowed me to easily track and manage customer inquiries, ensuring that no inquiries fall through the cracks and that all customers receive timely and effective support. The platform also offers a variety of useful features, such as customizable chat widgets, canned responses, and real-time visitor monitoring, which have helped me streamline my customer support processes and provide a more personalized and effective support experience.Overall, I've found that using LiveAgent has allowed me to improve my customer support processes, reduce response times, and ultimately improve customer satisfaction.
Pros
I would say that what I like most about it is the ability to provide immediate assistance to customers. The chat feature allows us to quickly respond to customer inquiries and resolve issues in real-time, which has resulted in a high level of customer satisfaction.I also appreciate the chat routing feature, which ensures that customer inquiries are directed to the right department or agent. This helps to streamline our support process and ensure that customers receive the assistance they need as quickly as possible.In addition, the chat feature allows us to easily integrate pre-written responses and templates, which helps to save time and ensures consistency in our support messaging. The chat transcripts and analytics also provide valuable insights into our customer interactions, allowing us to continuously improve our support processes and provide an even better customer experience.
Cons
I must say that what I least liked about the platform is that I have occasionally experienced connection or stability issues while using it. Although this doesn't happen frequently, it can be frustrating when it does, especially if we're trying to provide real-time support to a customer.I have also found that some of the advanced features can be a bit difficult to understand and configure. Although the platform is generally quite intuitive and easy to use, it can take time and effort to learn how to use some of the more advanced functions.However, overall, these issues are relatively minor and haven't significantly impacted my overall experience with LiveAgent. The platform is still very effective and efficient for providing customer support and has allowed me to improve customer satisfaction and response times.
Response from

QualityUnit

Hello Maximiliano! Thanks for sharing your thoughts on LiveAgent! It's great to know that our chat features and routing have been helpful for you in delivering quick and efficient support to your customers. We always aim to make a positive impact on your customer service experience. We are sorry to hear about connection or stability issues you've encountered. Sometimes, these issues can be caused by internet connection problems. However, if they persist, please don't hesitate to contact our support team. We're constantly working on enhancing our platform's performance to ensure a smooth experience for our users.

Thanks again for your review, and we're glad to have you as part of the LiveAgent family. We'll continue to do our best to help you provide top-notch customer service.

- LiveAgent Team

Replied 22/3/2023