About GloriaFood
GloriaFood is an online ordering and food delivery platform that helps restaurant owners manage orders and streamline point-of-sale operations. It comes with an administration panel, which enables professionals to select multiple locations for deliveries, define minimum order amount and set zone-based delivery fees. GloriaFood allows enterprises to create and customize digital menus by adding food categories, images and pricing information. Managers can embed widgets into business websites and official Facebook page, improving brand visibility across multiple channels. Additionally, it lets users receive automated notifications about new orders and accept/reject order requests as per food availability. GloriaFood facilitates integrations with various third-party applications such as QuestTag, Tookan, GetSwift, ItsaCheckmate, Ordermark and more. The product is available for free and support is extended via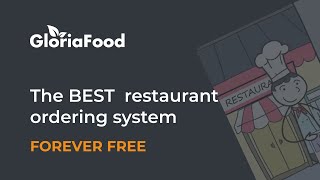 GloriaFood has a free version and offers a free trial. GloriaFood paid version starts at £7.50.
Alternatives to GloriaFood
Industry: Marketing & Advertising
Company size: 11-50 Employees
Used

Daily

for

2+ years

Review Source
---
What a GREAT delivery system
Pros
It capabilities to multi location and draw delivery areas are great. They offer lots a possibilities when setting up promotions and discounts. It is a no brainer if you are looking to set up a delivery system for your business
Cons
Would be great if they could offer more 3rd party integrations such as online payment systems.
Industry: Food & Beverages
Company size: 2-10 Employees
Used

Daily

for

1+ year

Review Source
---
Lifesaver during the first and second Covid-19 Social Distancing in Vietnam
As I mentioned GloriaFood helped our restaurant a lot. It was a surprise feature during the first social distancing campaign here. A competitors system went offline the first week and this GloriaFood system really helped. Right now we are using both this system and GrabFood. GrabFood may get more orders but per order, GloriaFood brings in higher revenue. Our loyal customers will use GloriaFood even though they know they can always get a good discount with GrabFood.
Pros
The software is easy to setup and implement with Facebook or website (WordPress in our case). We got it up and running just in time for the first social distancing which closed the restaurants except for deliveries. Customers were easily able to adapt to this app. Training the staff to use it was a breeze.
What is good about this software was the ability to add photos to each food item if needed. Our customers needed it.
The reports and heatmaps are another valuable asset to the this app as well. We can see exactly where we need to focus on our deliveries more.
Cons
Not related to the app but if a customer ordered via Facebook, then they tended to message us on whether we got their order or not. Other issues, if there was bad bandwidth, the restaurant would tend to blame me, rather than the bandwidth, if there were issues with the app.
One thing I would like to see are tabbed menus. Restaurants like the one I manage the IT for have many food items. A tabbed menu will be helpful.
Reasons for Switching to GloriaFood
The software boutique took forever to get a basic menu to delivery system ready. In the end, I chose GloriaFood because it was the easiest, and fastest, to set up.
Industry: Food & Beverages
Company size: 2-10 Employees
Used

Daily

for

1+ year

Review Source
---
Amazing service
Pros
It's very easy to use and very customizable. Taking orders with the software is so simple and so convenient.
Cons
We can't take orders through PC. I would love to hve this option.
Reasons for Switching to GloriaFood
Cheaper, better design, same convenience
Industry: Restaurants
Company size: 2-10 Employees
Used

Daily

for

1-5 months

Review Source
---
It's a good app but just one vital problem is plagueing it
Setting up was easy. Using it is intuitive. Only issue is order management and that awful forced max volume alert. Every other food ordering app (Ubereats, Skip, Fantuan, Doordash, and their direct competitors) have volume control and notification settings! I don't understand why GloriaFood think they need to force this on owners. Their only recommendation is to add an external bluetooth speaker but you know what? You aren't the only food ordering app, we can't add a bluetooth speaker JUST for you when restaurants typically use multiple food ordering apps at a time... seriously arrogant developers. Otherwise the app is good. If it weren't for this single problem that makes the app simply unusable in our quiet restaurant, we would've highly recommended this app.
Pros
The base features are free allowing you to test the application before committing to a subscription. The set up was easy and the website builder creates a nice looking website. The ordering process works fine. It's also available in multiple languages which is nice.
Cons
As per the title, there is one outrageous issue with the software and it's fully intended by the developer. The notification/alert is an very obnoxious sound and it is on FULL volume. Even if you lower your devices volume or mute it, it doesn't matter. The app will force your device back to full volume and blast the hideous alert repeatedly until you accept/deny the order.
This is a fully intended "feature" by the developers. If you look at the reviews on the application store, there are loads of reviews requesting this to be turned off or add a setting to control the volume. However the developers say it's intended so restaurants do not miss the order. But that's an extremely ignorant take on the issue. First of all, every restaurant has a different level of ambience. Some are crowded and bustling which could use the higher volume while some have a quiet and relaxing ambience which would be destroyed by the shrilling alert. Some devices can have an extremely high volume at max settings. It's utterly ridiculous that this widely complained problem is the hill that the developers choose to die on. I understand they don't want restaurants to miss an order, but it should be up to the restaurant how they choose to do so not the developer.
Again, I can't stress how loud the hideous alert is. It makes customers at the front desk JUMP, every head in the restaurant turns to see what this god awful sound is coming from, and my employees are begging me delete this app.
Industry: Consumer Services
Company size: 2-10 Employees
Used

Daily

for

2+ years

Review Source
---
Comprehensive review of GloriaFood from long-time partner
Despite the missing features and some quirks, I would rate my experience with GloriaFood as hands-down a very good experience. The addition of multiple tablet support, an accurate calculation of delivery fees, and a more flexible promotions template would make this the very best system in the world, in my opinion.
Pros
Menu builder, integration with third-party delivery dispatch systems, multi-lingual interface, easy to use by customers, easy to use by restaurant staff, mature product with large installed user base, ability to add ordering capability to existing website, Google Profile and business Facebook page, availability of free WordPress plugin if integrating the product into a WordPress website. Among the optional PAID features, the automatic payment system and the ability to create multiple promotional offers is very helpful.
Cons
Restaurant is limited to only one tablet (no ability to have one tablet at front of house and another tablet in the kitchen), unable to calculate accurate delivery fees based on actual driving distance (this is the #1 complaint from a majority of my clients). Certain promotions cannot be adequately defined with the available formula templates. For example, it is not possible to define a FIXED DOLLAR AMOUNT discount on delivery fees (only a percentage discount is allowed). While the support staff is sympathetic to those reporting "missing features", the reality is that the product roadmap is inflexible and I have had no success obtaining features that have been requested for almost five years.
Reasons for Switching to GloriaFood
CloudWaitress actually offers more features than GloriaFood and at a very competitive price point. There were only two factors that made it a less-desirable solution for my purposes: 1) Their payment processing integrations were far more limited (CloudWaitress, being based in New Zealand, seems to be more concerned with providing support for payment processors common to their geography and do not support the primary payment processors in Canada) and 2) while their menu builder is actually far more feature-rich than that of GloriaFood, that extra capability comes with more complexity, so for the typical restaurant that does need all that extra functionality, it becomes more difficult to build and maintain menus with CloudWaitress.